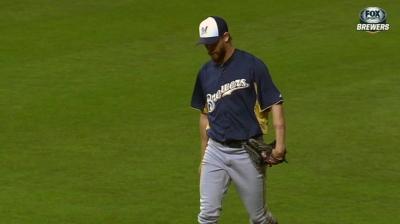 Lohse exits early after apparent hand injury
MLB.com
Updated Apr 22, 2013
Brewers right-hander Kyle Lohse was removed from Monday's game against the Padres when he sustained what appeared to be an injury to a finger on his left hand while running to first base after he laid down a bunt.
Upvote
Share
Tweet
Ross brings 'warm feeling' back to San Francisco

Cody Ross, who has migrated to the D-backs, said before Monday's series opener between Arizona and the Giants at AT&T Park that he encountered numerous well-wishers while strolling through downtown before the game.

Upvote Share Tweet

CNNSI.com

Apr 22, 2013

BALTIMORE (AP) -- Jake Arrieta couldn't get his mind right on the mound and had difficulty throwing pitches over the plate, and now the Baltimore Orioles right-hander will attempt to rectify those shortcomings in the minor leagues.

Upvote Share Tweet

Monday night's series opener between the Braves and Rockies at Coors Field was postponed due to snow. The game will be made up as part of a split doubleheader on Tuesday.

Upvote Share Tweet

Dodgers' batting order likely to take many turns

By swapping Matt Kemp and Adrian Gonzalez in the batting order on Sunday, Dodgers manager Don Mattingly apparently gave a strong clue as to how he will try to awaken his struggling offense.

Upvote Share Tweet

It's about time we re-examine what we think we know about San Francisco Giants pitcher Barry Zito. Since coming into baseball, Zito's image was goofy — the SoCal kid who loved surfing, playing guitar and his good-luck teddy bears. Zito, who will be 35 n

Upvote Share Tweet

Rockies, Red Sox are most unexpected positive early developments

CNNSI.com

Apr 22, 2013

The Red Sox are in first place. So are the Rockies. Chris Davis looks like Albert Pujols. Those are just some of the surprising early developments. Cliff Corcoran wonders if they'll last.

Upvote Share Tweet

Justin Sellers Was Up To No Good In The Dodgers' Dugout Yesterday

deadspin.com

Apr 22, 2013

We haven't the foggiest what Justin Sellers is up to in this video, other than fondling an invisible boob and rolling an invisible doob. That's more than enough for us to give it the Deadspin Video treatment.Read more...

Upvote Share Tweet

Three up, three down: Rox, Crew making noise

The Rockies had their eight-game winning streak snapped on Sunday, but they still share the best record in the big leagues (13-5) with the Atlanta Braves, and weather permitting, the two teams will open a three-game series at Coors Field on Monday night…

Upvote Share Tweet

SweetSpot TV: Managers On The Hot Seat

Apr 22

Eric Karabell and David Schoenfield discuss which managers are on the hot seat.

Belt, Giants Walk Off

Apr 22

Brandon Belt's first career walk-off hit lifts the Giants past the Diamondbacks and to their seventh straight home win.