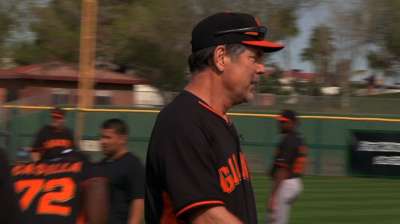 Without Helton, leaders must step up for Rox

This year, for the first time since 1996, the Rockies begin Spring Training without Todd Helton. Shaking out the leadership and tone of the club is part of the agenda.

Upvote Share Tweet

Slimmer Panda won't be replaced late in games

Giants manager Bruce Bochy said Wednesday that Pablo Sandoval, who in the past had often been removed in late innings when the team was tied or ahead, will play entire games at third base more frequently.

Upvote Share Tweet

Spot in batting order 'all the same' to Cuddyer

Rockies manager Walt Weiss wants to experiment with the batting order this season, and the presence of versatile Michael Cuddyer allows him to do it.

Upvote Share Tweet

Padres' Cabrera must 'come back from zero'

ESPN.com

Feb 19, 2014

Everth Cabrera realizes he has a lot of work to do in his comeback from a season-ending suspension for performance-enhancing drugs.

Upvote Share Tweet

First baseman Brandon Belt has reached agreement on a $2.9 million, one-year contract with the San Francisco Giants to avoid salary arbitration.

Upvote Share Tweet

SweetSpot TV: Position Battles

Feb 19

Eric Karabell and David Schoenfield break down some key positions that will be filled this spring.