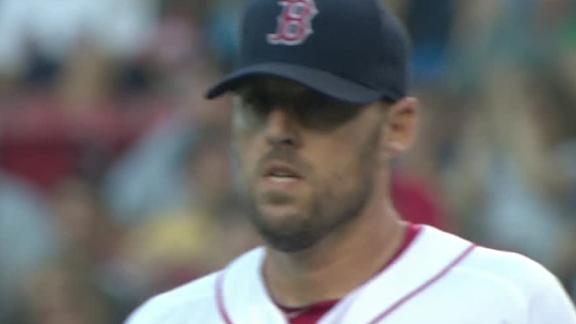 Brandon Snyder hit a bases-loaded double and John Lackey struck out six over eight strong innings for the Boston Red Sox in a 4-1 win over the slumping San Diego Padres on Tuesday night.
Share
Tweet
Less than a year ago, right-hander Homer Bailey threw the 15th no-hitter in Reds history. On Tuesday against the Giants, he was just as sensational in repeating the feat, throwing the club's 16th no-no and the first in the Majors since his historic effo…

Share Tweet

Rehabbing Crawford, Lilly nearing return to big leagues

MLB.com

Jul 2, 2013

Carl Crawford could rejoin the Dodgers as soon as this weekend and Ted Lilly could be one rehab start behind him, but manager Don Mattingly indicated neither automatically gets his job back.

Share Tweet

DENVER (AP) -- The Colorado Rockies have placed outfielder Dexter Fowler on the 15-day disabled list with a bone bruise on his right hand.

Share Tweet

Bradley sentenced to nearly 3 years in jail

ESPN.com

Jul 2, 2013

Former Los Angeles Dodgers outfielder Milton Bradley has been sentenced to nearly three years in jail for abusing his estranged wife.

Share Tweet

deadspin.com ESPN.com

Jul 2, 2013

Everyone loves Yasiel Puig, because Yasiel Puig has done nothing but be completely awesome since being called up by the Dodgers one month ago. Everyone except Phillies closer Jonathan Papelbon, that is, who thinks that it would be "a joke" if …

Share Tweet

The Chicago Cubs traded former closer Carlos Marmol to the Los Angeles Dodgers for reliever Matt Guerrier on Tuesday.

Share Tweet

Miguel Montero shows us how to pick the best bat — with his mouth

yahoo.com

Jul 2, 2013

Miguel Montero has an, umm, interesting method of finding the right bat to use, as he showed us Monday when the Arizona Diamondbacks played the New York Mets. He sticks it right up in his face and lets his nose, tongue and mouth decide. This is how we i…

Share Tweet

yahoo.com

Jul 2, 2013

The Juice returns for season No. 6! It's almost eligible for free-agency! Stop by daily for news from the action, along with great photos, stats, video highlights and more. After the Arizona Diamondbacks took great care to avoid pitching to John Buck an…

Share Tweet

ESPN.com

Jul 2, 2013

Todd Frazier homered and drove in four runs Monday night, leading the Cincinnati Reds out of their offensive slump to an 8-1 victory over the San Francisco Giants in a game shortened to six innings because of rain.

Share Tweet

Bailey Throws No-Hitter

Jul 2

Highlight Of The Night: Homer Bailey throws the second no-hitter of his career, the first no-no of the season, to lead the Reds to a 3-0 win over the Giants.

Lackey Dominates Padres

Jul 2

John Lackey struck out six in the Red Sox's 4-1 win over the Padres.

Puig's All-Star Candidacy A 'Joke'

Jul 2

Phillies pitcher Jonathan Papelbon said it would be a "joke" to put Yasiel Puig on the NL All-Star team.

SweetSpot TV: Trade Bait

Jul 2

Eric Karabell and David Schoenfield take a look at Chase Utley, Andre Ethier and the Yankees as the trade deadline nears.