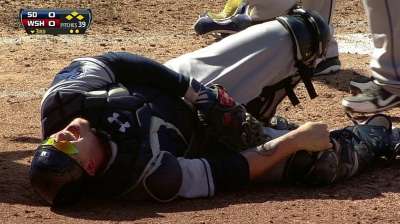 ESPN.com

Jul 8, 2013

The Colorado Rockies have placed pitcher Roy Oswalt on the 15-day disabled list with a strained left hamstring.

Share Tweet

No team began the season with higher expectations. No team was more of a disappointment for 72 games. But now look at the Dodgers, who entered Monday's action alone in second place in the NL West.

Share Tweet

Ricky Nolasco joined the Dodgers Monday, wearing the uniform of his favorite team as he grew up in Rialto, one hour east of Dodger Stadium.

Share Tweet

Benoit teaming with Giants' Pence on Final Vote

To get Joaquin Benoit some voting help, the Tigers are turning to, of all clubs, the team that beat them in the World Series. On Monday the Tigers and Giants announced a Final Vote partnership, encouraging Detroit fans to vote for Benoit as well as San …

Share Tweet

The Los Angeles Dodgers have placed center fielder Matt Kemp on the 15-day disabled list with joint inflammation in his troublesome left shoulder.

Share Tweet

Home Run Derby Participants Announced

Jul 8

David Wright and Robinson Cano announced their selections, including Carlos Gonzalez and Chris Davis, for the 2013 Home Run Derby.

Athletes As Fans: Colin Kaepernick

Jul 8

Colin Kaepernick discusses the Giants' World Series win and how it inspired him.

Should Puig Be An All-Star?

Jul 8

Skip Bayless and Stephen A. Smith debate whether Dodgers OF Yasiel Puig should be an All-Star.

Dodgers Down Diamondbacks

Jul 8

Zack Greinke struck out seven in the Dodgers' 6-1 win over the Diamondbacks.