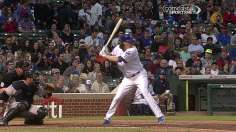 MLB.com
Updated May 15, 2013
Jeff Samardzija hadn't won a game since Opening Day and he took matters into his own hands on Wednesday. Samardzija smacked a two-run home run and struck out seven over eight innings to pick up his first win since April 1, leading the Cubs to a 6-3 vict…
Share
Tweet
MLB.com

May 15, 2013

Nationals right-hander Stephen Strasburg is scheduled to start against the Padres in San Diego on Friday. It will mark the first time Strasburg will pitch in his hometown as a Major Leaguer.

Share Tweet

Nationals outfielder Bryce Harper was limited to a ninth-inning pinch-hit appearance in Wednesday's 3-1 loss to the Dodgers because his knees and rib cage were sore in the wake of Monday's collision with the right-field wall at Dodger Stadium.

Share Tweet

Goldschmidt's 3 2Bs lift D-backs by Braves

ESPN.com

May 15, 2013

Paul Goldschmidt hit three doubles, Eric Chavez drove in three runs and the Arizona Diamondbacks beat Tim Hudson and the Atlanta Braves 5-3 on Wednesday.

Share Tweet

Dodgers ink Jonathan Sanchez to minor deal

ESPN.com

May 15, 2013

Trying to add depth to their injury-ravaged rotation, the Los Angeles Dodgers have agreed to a minor-league deal with pitcher Jonathan Sanchez.

Share Tweet

Alexi Amarista had three extra-base hits and the San Diego Padres matched their season-high with 17 hits, beating the Baltimore Orioles 8-4 Wednesday for a two-game sweep.

Share Tweet

Batter prematurely celebrates game-tying homer, looks devastated when it's caught on warning track

This had all the makings of a heroic moment, and Jun-Woo Jeon was ready to be a hero. Too ready, it would turn out. Jeon, of the Lotte Giants of the Korean Baseball Organization, was up with a runner on base in the ninth inning, his team down two runs. …

Share Tweet

Jeremy Affeldt makes $6 million a year pitching for the San Francisco Giants, and reportedly has grossed at least $30 million since joining the major leagues in 2002. But all of that money hasn't gone to his head. And some of it didn't even stay in his …

Share Tweet

Gio Gonzalez is the latest big league pitcher to play catch with a kid in the stands

If you watched the video we posted recently of Los Angeles Dodgers pitcher Hyun-Jin Ryu playing catch with a young fan at Dodger Stadium and said, "More players should do this" (and many people did have that reaction), then here you go: This t…

Share Tweet

Hardly a month after right-hander Zack Greinke of the Los Angeles Dodgers fractured his left collarbone fighting with Padres slugger Carlos Quentin, his team scheduled him to start against the Washington Nationals on Wednesday night. Instead of returnin…

Share Tweet

Your browser does not support iframes. Not only did the San Francisco Giants give Melky Cabrera his 2012 World Series ring Tuesday night, they returned much of the equipment he had left behind at AT&T Park during a hasty exit this past summer. Inclu…

Share Tweet

Blue Jays Pound Giants

May 15

J.P. Arencibia and Adam Lind each hit two-run homers to lift the Blue Jays to an 11-3 win over the Giants.

The GM's Office: Pitching Phenoms

May 15

Jim Bowden takes a look at a crop of young starting pitchers, the likes of which have not been since in years.

LA Hot Button: Don Mattingly Right for Dodgers?

May 15

The LA Hot Button question for the week is answered by fans on the street: Is Don Mattingly the right guy to manage the Dodgers?

Padres Double Up Orioles

May 15

The San Diego Padres pounded out 17 hits to cap a two-game sweep of the Orioles.