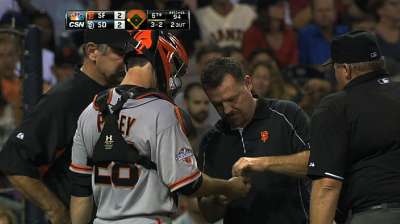 MLB.com
Updated Sep 5, 2013
-- Giants catcher Buster Posey remained sidelined for the second straight game Thursday with a bruised ring finger and torn fingernail on his right hand. Manager Bruce Bochy said that Posey's injury had improved but added, "He needs at least one mo…
Share
Tweet
Giants not planning to give Zito another start

While reiterating his respect for Barry Zito, Giants manager Bruce Bochy said Thursday that no plans have been made to assign the left-hander a ceremonial final start at AT&T Park as a gesture of appreciation.

Share Tweet

Monell takes inspiration from Kaepernick

Part of the Giants' contingent of September callups, catcher Johnny Monell intensified his approach to baseball after hearing a remark made by Colin Kaepernick, the 49ers' richly talented quarterback, during an interview before Super Bowl XLVII.

Share Tweet

Blackmon making most of shot with Rockies

With any injury to a star player comes opportunity for another, a steel-trap door cracking open to allow another, often much less heralded, player to sneak in. Enter Charlie Blackmon to the Rockies' outfield.

Share Tweet

Los Angeles Dodgers left-hander Clayton Kershaw is being recognized for his work off the field. He's the winner of the 2013 Branch Rickey Award in recognition of his community work.

Share Tweet

yahoo.com

Sep 5, 2013

Your browser does not support iframes. Injuries to important players on contending teams have been starting to pile up over the past week. The list already included names such as Detroit Tigers slugger Miguel Cabrera and Los Angeles Dodgers Yasiel Puig,…

Share Tweet

Jorge De La Rosa held the Dodgers to two runs in six strong innings, and the Rockies' offense got to Edinson Volquez early to hand De La Rosa his 16th win of the year, Wednesday, tying him for the National League lead in victories. Colorado won, 7-5.

Share Tweet

Web Gems

Sep 5

Does Gerardo Parra's throw to get runner out at the plate from right top Jose Iglesias' reigning Web Gem?

Prado, D-backs Top Giants

Sep 5

Martin Prado hit the go-ahead double in the Diamondbacks' 4-2 win over the Giants.

NL MVP?

Sep 5

Baseball Tonight breaks down their picks for the NL Most Valuable Player award.