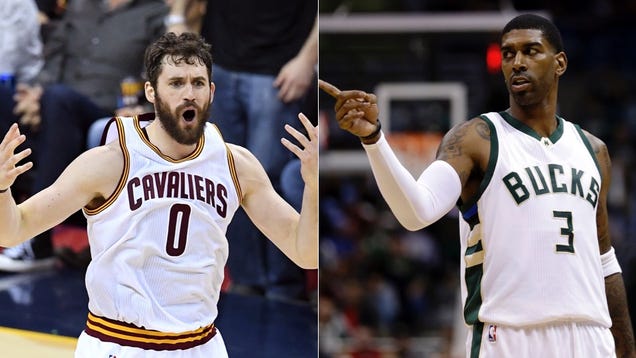 Remember When Bill Simmons Wrote A Bunch Of Bullshit About O.J. Mayo And Kevin Love?
deadspin.com
Updated 16 minutes ago
O.J. Mayo received an at-least-two-year ban from the NBA today , for repeat violations of the league's anti-drug program. This is not exactly important news for the NBA, because O.J. Mayo is busted and terrible and probably was on a plane to China when …
Share
Tweet
deadspin.com nba.com

1 hour ago

Free agent and former Milwaukee Bucks guard O.J. Mayo, 28, was banned from the NBA for violating the league's anti-drug program. Mayo can apply for reinstatement in two years.Read more...

Share Tweet

The summer of '16 looks like the summer of '96

ESPN.com

2 hours ago

The summer of '16 looks like the summer of '96

Share Tweet

Al Jefferson Will Reportedly Sign With The Pacers For $30 Million Over Three Years

dimemag.com

2 hours ago

Getty Image The Indiana Pacers let Frank Vogel walk and hired Nate McMillan with the intention of speeding up one of the league's long-time slowest offenses. Enter Al Jefferson? Apparently so. According to Adrian Wojnarowski of The Vertical, the former …

Share Tweet

As Expected, Andre Drummond Has Reportedly Agreed To A Mammoth New Deal With The Pistons

dimemag.com

2 hours ago

Getty Image So much for free agency gamesmanship. Making good on his word before last season tipped off, Andre Drummond agreed to a five-year, max-level contract with the Detroit Pistons just shortly after the player-movement period began. ESPN sources …

Share Tweet

dimemag.com

3 hours ago

He picked Miami! Let's goooooo @youngwhiteside #FreeAgency pic.twitter.com/f9njxcbXAn — atreya verma (@atreya_verma) July 1, 2016 Hassan Whiteside wanted to end his free agency tour on July 1 and he got his wish, agreeing to re-sign with the Miami Heat …

Share Tweet

The Race To Sign Kent Bazemore Is Real, And It's Heating Up

dimemag.com

3 hours ago

Getty Image Kent Bazemore is going to get seriously paid, and after his journey to NBA relevance, he deserves it. Though he's publicly stated a desire to remain in Atlanta, he's also listening to other teams' pitches. Besides Atlanta, it seems that the …

Share Tweet

No Kevin Durant, But The Wizards Have Apparently Locked Up Bradley Beal For The Long Haul

dimemag.com

4 hours ago

Getty Image The Washington Wizards aren't getting Kevin Durant. Shame. Fortunately for new coach Scott Brooks and superstar floor general John Wall, though, the team has already begun orchestrating its free agency contingency plan. According to Jeff Goo…

Share Tweet

Other Teams Are Beginning To Seriously Pursue Dwyane Wade In Free Agency

dimemag.com

4 hours ago

Getty Image Dwyane Wade has been the face of the Miami Heat for over a decade now, so when he hit free agency, no one really thought he'd be going anywhere at age 34. But just like last year, he and the Heat seem to be struggling over just how much each…

Share Tweet

dimemag.com deadspin.com

5 hours ago

Getty Image Free agency negotiations are finally, officially underway, and the Lakers have retained their most important free agent, according to a report from the Vertical's Shams Charania. Jordan Clarkson will apparently be returning to Los Angeles on…

Share Tweet

All The NBA Free Agents Who Agreed To Deals While You Were Sleeping

deadspin.com

6 hours ago

I did not stay up for the start of NBA free agency. I never do, and sometimes I regret it (like last year's truly incredible DeAndre Jordan saga ), but there really is no reason it has to start at midnight. It could start at 9 a.m., or noon (like the NH…

Share Tweet

The NBA Declares They 'Do Not Endorse' The Changes To North Carolina's Anti-LGBT HB2 Law

dimemag.com

7 hours ago

Twitter (@nbacares Just days after NBA Commissioner Adam Silver was sighted walking in NYC's Pride Parade, the NBA and the Charlotte Hornets released a statement stating that the current Anti-LGBT law up for passage in the North Carolina legislature is …

Share Tweet

dimemag.com

7 hours ago

Getty Image At this time last year, Nicolas Batum was dealt to the Charlotte Hornets from Portland for Noah Vonleh and Gerald Henderson. The Blazers were clearing house after losing LaMarcus Aldridge to the Spurs, and Batum was one of the four starters …

Share Tweet

dimemag.com

8 hours ago

USA TODAY Sports We're speculating here, but we doubt that many other teams really stood a chance in acquiring restricted free agent, DeMar DeRozan. Sam Amick of USA Today had the news first: the Raptors have reached an agreement to bring their All-Star…

Share Tweet

ESPN.com dimemag.com

13 hours ago

Knicks closing in on Joakim Noah, in 'win-now' mode

Share Tweet

Steve Nash Announces Retirement

Mar 21

Stephen A. Smith discusses Steve Nash's retirement and his place among the greatest point guards in history.

Steve Nash On Decision To Retire

Mar 21

Two-time NBA MVP Steve Nash discusses his time with the Lakers, legacy questions, and his decision to retire.

Cavs Win Second Straight

Mar 20

LeBron James scored a game-high 29 points in the Cavs' 95-92 win over the Pacers.

Nets Outlast Bucks

Mar 20

The Nets needed triple overtime to beat the Bucks 129-127 in Brooklyn.