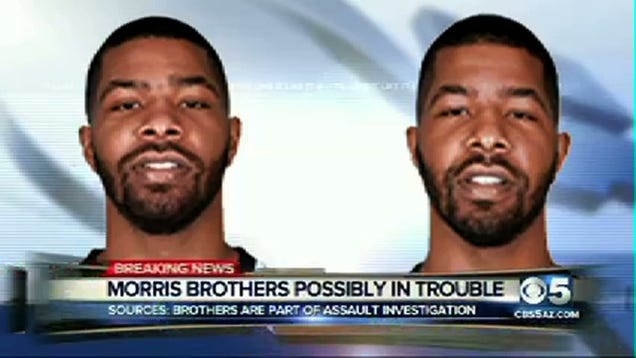 Report: Markieff And Marcus Morris Under Investigation For Assault
deadspin.com
Updated 1 hour ago
According to CBS 5 News, Phoenix Suns twins Marcus and Markieff Morris are being investigated by Phoenix police for their role in an alleged assault that occurred Saturday outside of a gym. Details are scant, but CBS 5 News says the twins are "bein…
Upvote
Share
Tweet
Redick sits with back spasms, is day to day

ESPN.com

38 minutes ago

Los Angeles Clippers guard J.J. Redick was sidelined for Wednesday's 94-89 win against the Utah Jazz with back spasms.

Upvote Share Tweet

nydailynews.com ESPN.com

2 hours ago

The countdown to Kevin Durant's free agency has already begun in places like New York, Los Angeles, Dallas, Washington and especially OKC.

Upvote Share Tweet

Thaddeus Young shows Andrew Wiggins how rookie hazing is done

yahoo.com

2 hours ago

Rookie hazing is an established part of NBA life, but it's hard not to think that everyone is going about it all wrong. While most teams go with fairly complicated schemes like making guys wear pink backpacks and take care of little baby dolls, it's so …

Upvote Share Tweet

ESPN.com

3 hours ago

Clippers rally to beat Jazz 94-89, extend streak to 13

Upvote Share Tweet

Josh Smith scored 18 points and James Harden added 17 as the Houston Rockets used a balanced scoring effort to outlast the Dallas Mavericks for a 99-94 on Wednesday night.

Upvote Share Tweet

yahoo.com ESPN.com nba.com dimemag.com

4 hours ago

You know that old saying, "It's not how you start, but how you finish that matters?" Well, Kyrie Irving started by missing his first seven shots on Wednesday night, contributing one lonely technical free throw through the first 10-plus minutes…

Upvote Share Tweet

Technically This Is Correct

deadspin.com

4 hours ago

Russell Westbrook on the Knicks: "They're an NBA team"— Kenny Ducey (@KennyDucey) January 29, 2015 Read more...

Upvote Share Tweet

yahoo.com

5 hours ago

Nearly a week later, Golden State Warriors star Klay Thompson's insane, record-breaking 37-point third quarter in Friday's game vs. the Sacramento Kings is still one of the most talked about stories in the NBA. Thompson's performance was mind-boggling, …

Upvote Share Tweet

Kyrie Irving Drops 55 Points, Hits Game-Winning Walk-Up Three

deadspin.com

6 hours ago

Maybe the Cavaliers are the pretty good team we all thought they would be and not actually doomed? Since LeBron James returned from his injury two weeks ago he has looked like the LeBron we knew—and not the broken down, maybe past his prime LeBron we'd …

Upvote Share Tweet

dimemag.com

6 hours ago

Not a bad night for Kyrie Irving. After scoring a career-high 28 points in the first half of Wednesday's contest, the 22 year-old was nearly as hot throughout quarters three and four – and even hotter when it mattered most. Watch Irving drill a go-ahead…

Upvote Share Tweet

Warriors' Ezeli to begin D-League rehab assignment

nba.com

7 hours ago

Golden State Warriors backup center Festus Ezeli will begin a rehab assignment with the team's NBA Development League affiliate in Santa Cruz before making his long-awaited return.

Upvote Share Tweet

Kevin Martin has returned to the lineup for the Minnesota Timberwolves after missing the previous 34 games with a fractured right wrist.

Upvote Share Tweet

Mavs' Parsons: Harden is MVP at this point

ESPN.com

7 hours ago

If Chandler Parsons had a midseason MVP vote, it'd go to former teammate James Harden.

Upvote Share Tweet

GIF: Steve Blake Finds Will Barton From Halfcourt For Huge Alley-Oop

dimemag.com

7 hours ago

Someone playing in tonight's game between the Cleveland Cavaliers and Portland Trail Blazers needs to provide the aerial usually performed by LeBron James during The King's absence. Will Barton seems up to the task. Watch Steve Blake find the high-flyin…

Upvote Share Tweet

When Los Angeles Lakers icon Kobe Bryant announced that he would undergo surgery to repair the torn rotator cuff in his right shoulder, the question wasn't if he would miss the rest of this season — that was a given — but whether he would return in time…

Upvote Share Tweet

Nuggets' McGee active vs. Pelicans after missing 26 games

nba.com

8 hours ago

The Denver Nuggets say JaVale McGee, who has missed 26 straight games, will be in uniform for Wednesday night's game against the New Orleans Pelicans.

Upvote Share Tweet

dimemag.com

9 hours ago

After Matt Barnes sounded off on Twitter yesterday, blaming a comment by Suns owner Robert Sarver for the $25,000 fine the NBA assessed him for mouthing off to a fan during Sunday's 120-100 Clippers win in Phoenix, an unnamed NBA source confirmed to ESP…

Upvote Share Tweet

Parsons Says Harden Is The MVP Right Now

Jan 28

ESPN NBA front office Insider Amin Elhassan discusses Chandler Parsons' comments saying that former teammate James Harden would get his vote for midseason MVP.

Kyrie Drives For 55 In LeBron's Absence

Jan 28

Kyrie Irving scored a career-high 55 points, including the game-winning 3-pointer, as the LeBron James-less Cavs defeated the Trail Blazers 99-94.

Hawks Make It 17 In A Row

Jan 28

Paul Millsap had 28 points and 15 rebounds in Atlanta's 113-102 win over Brooklyn to extend its franchise-record winning streak to 17 games.

Kyrie Irving Drains Game-Winner

Jan 28

Cavaliers guard Kyrie Irving hits the game-winning 3-point shot in the final minute of his 55-point game.