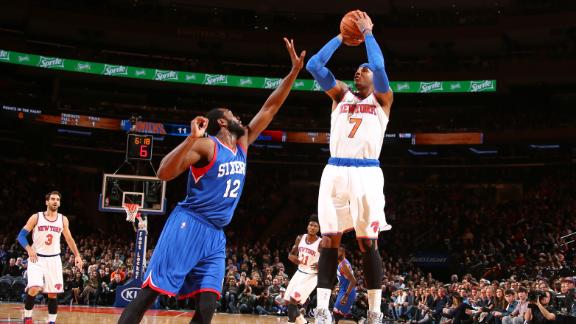 nydailynews.com
nba.com
ESPN.com
Updated 11 hours ago
Maybe what Pat Riley really meant to say is "there is winning and there is misery . . . and there is the Knicks playing the Sixers on a Saturday night in November."
Upvote
Share
Tweet
LeBron: Cavs 'very fragile' amid 4-game skid

ESPN.com

11 hours ago

Mired in a four-game losing streak, LeBron James says the Cleveland Cavaliers are "a very fragile team right now."

Upvote Share Tweet

ESPN.com

12 hours ago

Lou Williams scored a career-high 36 points and the Toronto Raptors turned an 18-point deficit into a convincing 110-93 win over Cleveland on Saturday night, handing the Cavaliers their fourth straight loss.

Upvote Share Tweet

ESPN.com

12 hours ago

Anthony Davis had a career-high 43 points and 14 rebounds, Jrue Holiday added 19 points and eight assists, and the New Orleans Pelicans beat the Utah Jazz 106-94 on Saturday night.

Upvote Share Tweet

GIF: Larry Sanders Rises For Huge Block On Paul Pierce, Poses, Salutes Crowd

dimemag.com

15 hours ago

The league is so much more fun when Larry Sanders is on the court and playing well. Watch the Milwaukee Bucks mercurial, talented big man do what he does best by swatting a Paul Pierce layup, posing, and saluting to a frenzied Bradley Center crowd in hi…

Upvote Share Tweet

ESPN.com

16 hours ago

Dallas Mavericks owner Mark Cuban strongly agreed with NBA commissioner Adam Silver's opinion that sports betting should be legalized throughout the United States, predicting that it would happen within three to five years.

Upvote Share Tweet

Houston center Dwight Howard will miss his second straight game on Saturday night against Dallas with a strained right knee.

Upvote Share Tweet

Watch Hyped-Up LeBron James Find Varejao With Behind-The-Back Dime

dimemag.com

16 hours ago

Now this is more like it for the Cleveland Cavaliers. Just 24 hours after being humbled by one Eastern Conference contender, LeBron James and company are dominating another early. Watch The King drop a sick behind-the-back bounce pass to Anderson Vareja…

Upvote Share Tweet

The Warriors Ran A Beautiful Play For An Alley-Oop Last Night

deadspin.com

17 hours ago

Played well, basketball is a spectacularly beautiful game. Despite having a 9-2 record, the Golden State Warriors offense has frequently been bogged down by careless turnovers. The team has a trigger-happy reputation, but it's actually their defense—tie…

Upvote Share Tweet

Eric Bledsoe Says He Was Tipped Before Game About Nerlens Noel's Hard Foul

dimemag.com

18 hours ago

Last night Nerlens Noel dropped Eric Bledsoe to the hardwood not more than 30 seconds into the Suns-76ers game in Philadelphia. This came after Bledsoe had said his alum, Kentucky, could beat the 0-12 Sixers in a seven-game series. It was an embarrassin…

Upvote Share Tweet

Watch JaVale McGee Give A Court-Side Fan A Smooch She'll Never Forget

dimemag.com

19 hours ago

There are a lot of reasons fans write off JaVale McGee as wasted potential. The seven foot Nuggets center has become synonymous with on-court goofiness, so much so that Shaqtin' a Fool could be renamed "Pullin' A JaVale." That being written, he's also e…

Upvote Share Tweet

NBA corrects error from Bucks-Raptors game

nba.com

20 hours ago

The NBA announced Saturday that a scoring error was made during the Milwaukee Bucks-Toronto Raptors game on Nov. 21 at Air Canada Centre, which impacted the final score of the game but not the final outcome of the game.

Upvote Share Tweet

nydailynews.com

21 hours ago

Phil Jackson's path from the locker room to his car at Madison Square Garden is now protected by security guards and media relations officials who apparently didn't get the memo that the Knicks president wants to repair the relationship between the club…

Upvote Share Tweet

Kobe Bryant Airballs From Siberia As The Lakers Lose by 34

deadspin.com

21 hours ago

The other day my colleague Albert Burneko worried that Nick Young's return had improbably elevated the Lakers from "gonzo terribleness to bland mediocrity." Worried because the Lakers' spectacular brand of suck has been the most entertaining s…

Upvote Share Tweet

Knicks' Bargnani out with strained calf

nba.com

Nov 22 (yesterday)

The New York Knicks say Andrea Bargnani has a strained right calf that will prevent him from making his season debut Saturday against Philadelphia.

Upvote Share Tweet

Chicago's Taj Gibson sustained a left ankle injury in the third quarter of Friday night's game against the Portland Trail Blazers.

Upvote Share Tweet

Patience Key For Bulls Fans

Nov 23

Israel Gutierrez stresses the importance of patience to Chicago Bulls fans, specifically in regard to Derrick Rose's recent injuries.

Cousins, McLemore Power Kings

Nov 22

DeMarcus Cousins and Ben McLemore combined for 53 points in the Kings' 113-101 win over the Wolves.

Suns Roll Past Pacers

Nov 22

Gerald Green and Isaiah Thomas combined for 39 points off the bench in the Suns' 106-83 win over the Pacers.

Cavs Lose Fourth Straight

Nov 22

Louis Williams had a career-high 36 points to lead the Raptors to a 110-93 win over the Cavaliers.