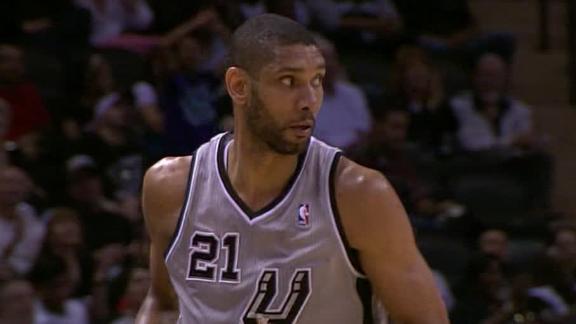 Bucks clinch first playoff berth in 3 seasons

Monta Ellis had 22 points and nine assists, and the Milwaukee Bucks secured their first playoff berth in three seasons with a 100-83 victory over the Toronto Raptors on Saturday night.

Share Tweet

LeBron James scored 27 points in his return from a strained right hamstring, and the Heat moved closer to securing home-court advantage for the entire NBA playoffs by topping the Philadelphia 76ers 106-87 on Saturday night.

Share Tweet

Wall goes for 37 as Wiz extend home streak

John Wall scored 37 points in a display of speed and flair Saturday night to lead the Washington Wizards to a 104-85 victory over the Indiana Pacers.

Share Tweet

Spurs' Parker sidelined with sore neck

nba.com

Apr 6, 2013

Tony Parker sat out the Spurs' game against Atlanta on Saturday with a sore neck.

Share Tweet

It's been a trying season for Lawrence Frank, both on and off the court.

Share Tweet

Billups (groin) hopes to return before playoffs

Los Angeles Clippers guard Chauncey Billups said he won't play in Sunday's game against the Los Angeles Lakers, but is hopeful he can return from a nagging groin injury before the end of the regular season.

Share Tweet

Source: Bernard King to enter Hall of Fame

NBA legend Bernard King will be inducted into the Naismith Memorial Basketball Hall of Fame Class of 2013, a source confirmed to ESPNNewYork.com.

Share Tweet

The full video interview from Stephen Jackson's Forbes smackdown is online.

The full video interview from Stephen Jackson's Forbes smackdown is online. There aren't a whole lot of people in the world that could make bragging about making $10 million seem appropriate, much less charming, but Port Arthur's own pulls it off. [NBA.…

Share Tweet

Nash not likely to face Clips due to hip injury

Los Angeles Lakers point guard Steve Nash will likely miss his third consecutive game Sunday against the Los Angeles Clippers because of a hip injury.

Share Tweet

Rockets' Lin talks racial barriers in new interview

Share Tweet

NEW ORLEANS -- Brittny Griner is more than ready to take up Mark Cuban on his offer to draft her. "When are tryouts?" Griner said to a handful of reporters at New Orleans Arena on Saturday afternoon. "The WNBA is where I'm at. That is whe…

Share Tweet

Garnett (foot injury) returns to Celtics' practice

Share Tweet

Injuries for Spurs, Nuggets, Clippers pave way for OKC Thunder to rule again

nydailynews.com

Apr 6, 2013

Three of the Thunder's top competitors in the West have suddenly encountered major problems. As far as the Spurs, Clippers and Nuggets are concerned, you have to ask: How much success will these teams have starting in a couple of weeks?

Share Tweet

Of course, the Lakers don't play tonight.

Of course, the Lakers don't play tonight. Read more...

Share Tweet

Before Playoffs, a Few Defeats May Actually Help

nytimes.com

Apr 6, 2013

The Miami Heat will be the No. 1 seed and the team no one wants to meet in the Eastern Conference playoffs.

Share Tweet

Rob Mahoney: Examining Roy Hibbert's return to success

After a sour start to the season, Roy Hibbert is playing like the center the Pacers signed to a max contract this summer. What's led to the change? Rob Mahoney examines the revival.

Share Tweet

Stephen Jackson Understands Slideshow Click-Bait Perfectly

Forbes featured Stephen Jackson on a list of the NBA's "most overpaid" players yesterday. A reporter mentioned the honor to Jackson this morning. Jackson apparently knows better than to worked up over that sort of thing.Read more...

Share Tweet

Kevin Durant overcame a bruised left calf to score 34 points and Russell Westbrook

Share Tweet

nydailynews.com

Apr 6, 2013

Phil Jackson was just one of the '73 champion Knicks joyfully celebrating their 40th anniversary together at the Garden, the same way they shared the basketball on the court. The new Knicks, the ones who played the Bucks on Friday night, play a very dif

Share Tweet

Harden, short-handed Rockets top Blazers

James Harden had 33 points, and the short-handed Houston Rockets edged closer to clinching a playoff spot with a 116-98 victory over the Portland Trail Blazers on Friday night.

Share Tweet

Carmelo Anthony Has 131 Points In 3 Games; The Lakers Get A Last-Second Win

dimemag.com

Apr 6, 2013

If you made Carmelo Anthony into a Mortal Kombat character, he'd have it all. You could give him some knives, a couple of devastating 360 kicks, maybe even fire-breathing capabilities. But as all gamers know, no matter how nasty you are at putting chara

Share Tweet

LeBron Returns To Guide Heat Past 76ers

Apr 6

After missing the past three games, LeBron James returns to score 27 points in the Heat's 106-87 win over the 76ers.

Wall's Big Night Fuels Wizards

Apr 6

John Wall scored 37 points to lead the Wizards past the Pacers 104-85.

Harden Propels Short-Handed Rockets

Apr 6

James Harden scored 33 points to lead the Rockets to a 116-98 win over the Trail Blazers.

Carmelo, Knicks A Force To Be Reckoned With

Apr 6

Stephen A. Smith thinks Carmelo Anthony is near impossible to stop when he is on his game, which makes the Knicks the second best team in the Eastern Conference.