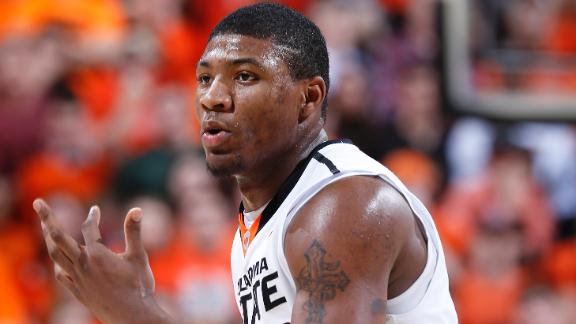 DeRozan, Raptors cruise past resting Hawks

Updated Apr 16

Share Tweet

DeMar DeRozan scored 30 points, Rudy Gay added 22 and the Toronto Raptors ran all over playoff-bound Atlanta, routing the Hawks 113-96 Tuesday night.

Updated Apr 16

Share Tweet

Los Angeles Clippers guard Chauncey Billups practiced Monday and is expected to start Tuesday against the Portland Trail Blazers.

All the Atlanta Hawks wore headbands on Tuesday, and people were pretty confused by it

Updated Apr 16

Share Tweet

As we tuned into Tuesday night's TNT broadcast of the matchup between the Atlanta Hawks and Toronto Raptors, we were met with an odd, terrycloth realization: Entire Hawks team wearing white headbands. #ATLHawks - Chris Vivlamore (@ajchawks) April 16, 20

Hawks' Horford out for final home game

Updated Apr 16

Share Tweet

Center Al Horford is sitting out the Atlanta Hawks' final home game of the regular season because of soreness in his chest.

Kyrie Irving skipped out on Fan Appreciation Night duties following a last-second loss

Updated Apr 16

Share Tweet

For most teams, the last few days of the NBA schedule are relatively meaningless, playoff participants and lottery teams alike locked into their fates. Everyone rests key players, the competition on the floor only matters so much, and the tickets are st…

Updated Apr 16

Share Tweet

The Los Angeles Lakers have come down to the final game of their rocky 2012-13 regular season and in a most appropriate scenario, considering everything that's happened to the team this year, L.A.'s postseason fate is still up in the air.

Wade thinking of third ring as playoffs loom

Updated Apr 16

Share Tweet

Dwyane Wade was sitting with his mother after a pregame workout a few days ago, a rare quiet moment in a nearly empty arena that would soon be filled by 20,000 screaming Miami Heat fans.

Updated Apr 16

Share Tweet

Quentin Richardson and Tracy McGrady today signed deals with the Knicks and Spurs, respectively. Their contracts, which are good through the rest of the season, signal that New York and San Antonio are both determined to take another run at the 2003 NBA…

Sources:

deadspin.com nba.com dimemag.com

Updated Apr 16

Share Tweet

It's all happened so fast for Larry Sanders, and it's no wonder that he's still trying to wrap his mind around it.

The 10-man rotation, starring Mark Jackson on his 'dangerous' and playoff-bound Warriors

Updated Apr 16

Share Tweet

A look around the league and the Web that covers it. It's also important to note that the rotation order and starting nods aren't always listed in order of importance. That's for you, dear reader, to figure out. C: San Jose Mercury News' Talking Points …

Updated Apr 16

Share Tweet

This is the moment where we realize that, amongst us in the sporting world, smartphones are the absolute worst. Take a gaze at this photo, as tweeted by ESPN's Jay Bilas on Tuesday afternoon. That is Hall of Famer George Gervin, a person who scored the …

The Best Way To Preview The NBA Playoffs: Lyrics From 2 Chainz

Updated Apr 16

Share Tweet

With the playoffs starting this weekend, we look to the only person whose opinion matters about each team's playoff outlook: 2 Chainz. From the top-seeded Heat to the limping Lakers (sorry, Utah fans), we used the Tity Boi scriptures to find out how all

Monday's Other Guys: 5 shining lines from garbage-time All-Stars on resting playoff teams

Updated Apr 16

Share Tweet

With just a few days left in the NBA's regular season, we're seeing more and more teams sit down some of their more recognizable players, whether due to legitimate injury or, in the case of playoff teams with their seeding and prospects all but sewn up,…

Updated Apr 16

Share Tweet

Celtics Coach Doc Rivers said he was impressed by how the city came together after the bombings at the Boston Marathon on Monday.

The 10 Biggest X-Factors In The 2013 NBA Playoffs

Updated Apr 16

Share Tweet

In preparation for the start of this weekend's NBA Playoffs, we thought that would be interesting to take a look at this postseason's x-factors. While it is more conventional to say that Player X is the x-factor for their franchise entering the playof

Section 15: The Long-Awaited Visit

Updated Apr 16

Share Tweet

A pair of students finally visited the arena they watched being built from the ground up.

Source:

nytimes.com

Updated Apr 16

Share Tweet

The New York Knicks have signed guard-forward Quentin Richardson for the remainder of the season.

Harrison Barnes Puts a Massive Two-Hand Slam on the Spurs

Updated Apr 16

Share Tweet

The Golden State Warriors did some clowning on the San Antonio Spurs last night. First there was the ridiculous buffet of moves that Stephen Curry handed out, now check out this Harrison Barnes dunk. HB blows by his man and then elevates in the lane to …

Updated Apr 16

Share Tweet

Cavaliers All-Star guard Kyrie Irving has apologized for missing a postgame ceremony for fans.

Sacramento tourism group spends $10k to run a pro-Kings ad in Times Square for 72 hours (Video)

Updated Apr 16

Share Tweet

Visitors to New York City's Times Square will be in for a strange, and curiously-local advertising campaign starting on Tuesday, trumping up the city of Sacramento as rightful idealistic owners of the Sacramento Kings. It's a needed clarion call, as t

Son of Magic Johnson talks about being gay

Updated Apr 16

Share Tweet

Earvin Johnson III, the 20-year-old son of basketball great Magic Johnson, is surprised by the public interest in his being gay.

Rick Carlisle lashes out at the struggling O.J. Mayo, begging for him to 'compete'

Updated Apr 16

Share Tweet

O.J. Mayo's first and possibly only season in Dallas is ending on a low, low note. While Mayo is a talent and far from a head case, and the Mavericks have had about as tough as NBA seasons get through no fault of their own, these are the results that ne

The Case For: Damian Lillard as Rookie of the Year

Updated Apr 16

Share Tweet

Damian Lillard is the pick for Rookie of the Year, and it's not even close. A man among boys, he set a standard that a strong first-year class just couldn't match, writes Ben Golliver.

Source:

CNNSI.com

5 Lottery Teams Most Likely To Make The NBA Playoffs Next Year

Updated Apr 16

Share Tweet

With the NBA Playoffs less than a week away, the fans of 16 teams are prepping themselves for the excitement of the second season, each team just 16 wins away from calling themselves world champions. However, there are 14 other teams that will not be ab…

Dion Waiters and Harrison Barnes cap off their rookie years with massive dunks (Videos)

Updated Apr 16

Share Tweet

After years of disappointing fortunes at the shooting guard and small forward positions, the 2012 NBA draft was thought to be the best wing-heavy selection pools in years. Michael Kidd-Gilchrist and Bradley Beal were the clear runaway winners in the win…

Court Grip Difference Maker of the Week: Stephen Curry's Sick Dribble Moves put the Spurs on Skates

Updated Apr 16

Share Tweet

Stutter steps, spins, crossovers, step-back jumpers — watch Stephen Curry hit the Spurs' Gary Neal with the full rapid fire buffet on this clip. So sick. For breaking news, rumors, exclusive content, and contests sent right to your inbox, sign up here

Updated Apr 16

Share Tweet

It was a wild finish at the BMO Harris Bradley Center on Monday night, as the host Milwaukee Bucks and visiting Denver Nuggets battled back and forth in a nip-and-tuck fourth quarter that saw 65 points scored, three ties and 12 lead changes in the final…

Young lady seems pretty stoked that Dwyane Wade tweeted at her (Video)

Updated Apr 16

Share Tweet

Hey, do you guys know if Dwyane Wade tweeted at her? Asking for a friend who can't tell if Dwyane tweeted her and who didn't just get told to shut up for one time. Any help you could offer in clearing that up would be great. Thanks. Hat-tip to Reddit.

Dion Waiters Posterizes Birdman; Norris Cole Locks Up Kyrie Irving

Updated Apr 16

Share Tweet

Today's Smack breaks down all of the bad things that Norris Cole did to the Cleveland Cavaliers last night, but you should see some of the highlights, two in particular. First up, check out the dunk that Dion Waiters puts on the Birdman. Then later on,

J.R. Smith will get a Knicks tattoo if they win the NBA championship

Updated Apr 16

Share Tweet

New York Knicks reserve guard and Sixth Man of the Year candidate J.R. Smith is well known for having a lot of tattoos. It's his trademark, along with taking ill-advised shots and posting inappropriate comments and photos to social media. Many NBA playe…

Updated Apr 16

Share Tweet

Stephen Curry made seven 3-pointers to finish with 35 points, leading the Golden State Warriors past the severely short-handed San Antonio Spurs 116-106 on Monday night.

Norris Cole Shows Miami Doesn't Need The Big Three; Andray Blatche's Revenge

Updated Apr 16

Share Tweet

On a day that will forever be linked with sadness, death and despair, a backup point guard turned in the most heartwarming story on the NBA schedule. It was of little importance within the grand scheme of life, especially after spending hours trained to…

In Their Own Words: How NBA Stars Deal With Achilles Injuries

Updated Apr 16

Share Tweet

Dominique Wilkins wouldn't wish a ruptured Achilles on his worst enemy. Where once he was the Human Highlight Reel, after his injury his game was chan...

Source:

grantland.com

Spurs Sign Tracy McGrady

Apr 16

How much will Tracy McGrady impact the Spurs in the playoffs?

Chauncey Billups Optimistic Of Return

Apr 16

Tim Legler on what the addition of Chauncey Billups will mean for the Clippers.

LA Hot Button: Amnesty for Kobe?

Apr 16

The burning question for the LA Hot Button: Should the Lakers amnesty Kobe Bryant? ESPNLA Now host, Mark Willard, provides insight to Kobe's injury issue.

Rapid Fire With Nick Collison

Apr 16

Oklahoma City Thunder big man Nick Collison goes rapid-fire with Kevin Arnovitz on NBA travel pet peeves, the best one-on-one moves in the league and the prospect of an openly gay NBA player.