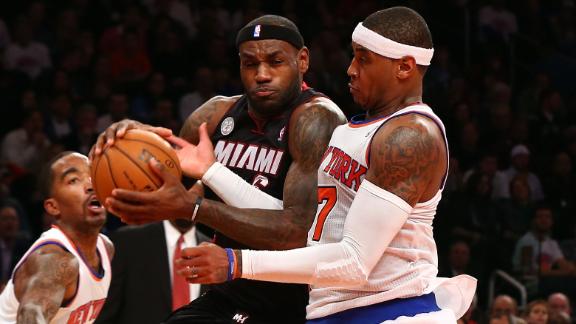 Raymond Felton scored a season-high 27 points, and the New York Knicks connected on 18 3-pointers to more than offset the absence of Carmelo Anthony while topping the Miami Heat 112-92 on Thursday night.
Share
Tweet
Beasts Of The East: Carmelo Anthony was key in Knicks' November win o…

Carmelo Anthony was key in Knicks' November win over the Heat, but is not in the lineup because of stitches on his hand. Miami looks to rebound from a loss to Washington. Follow here.

Share Tweet

Anthony Sits One Out

After getting stitches for a cut finger, Carmelo Anthony was told by Coach Mike Woodson to sit out Thursday's game against the Miami Heat.

Share Tweet

Carmelo Anthony will not play in the New York Knicks' game against the Miami Heat on Thursday night, one day after getting five stitches in the middle finger of his left hand.

Share Tweet

The Portland Trail Blazers have laid off three longtime executives.

Share Tweet

At this point, most of the NBA is on Twitter. It's a wild world of training updates, questions as to which movies they should go see, and explanations of their Call of Duty prowess. Every so often, though, you also get a picture into the more interestin…

Share Tweet

Former NBA star Dennis Rodman has been found in contempt of court and ordered to pay $500,000 in overdue child support to his ex-wife.

Share Tweet

Wolves find success with international players

nba.com

Dec 6, 2012

The cold, snowy climate in Minnesota has always been considered a hindrance to the Timberwolves' efforts to recruit top-flight free agents to join them. American players seem more enamored with the sun in Los Angeles, the sand in Miami or lights in New …

Share Tweet

David Stern would like to stamp out 'Hack-a-Shaq' tactics

Back when Shaquille O'Neal was the most dominant force in the NBA, several teams utilized the "Hack-a-Shaq" strategy that essentially turned every Los Angeles Lakers possession into an opportunity to see a gigantic man attempt to shoot a ball …

Share Tweet

dimemag.com nytimes.com ESPN.com CNNSI.com grantland.com

Dec 6, 2012

With Lakers guard Kobe Bryant becoming the fifth and fastest player in NBA history to score 30,000 points, Dime is looking at all angles of the five-time champion's career today. (Hey, we already called him the greatest player since 2000.) It's equal

Share Tweet

And the Award for Most Flops Goes To ...

Gerald Wallace and Reggie Evans of the Nets have been cited for two flopping violations each. The rest of the N.B.A. has been cited five times.

Share Tweet

Evans Could Return Friday; Lopez Still Out

Reggie Evans of the Nets is expected to play Friday against the Warriors. Brook Lopez will miss at least one more game.

Share Tweet

The 10-man rotation, starring Anderson Varejao and his future in Cleveland

A look around the league and the web that covers it. It's also important to note that the rotation order and starting nods aren't always listed in order of importance. That's for you, dear reader, to figure out. C: The Point Forward. Ben Golliver and Ro…

Share Tweet

deadspin.com yahoo.com

Dec 6, 2012

So it looks like the New Orleans Hornets are going to change their name to become the Pelicans. You look around, and there are a bunch of smartasses making fun of this new name. Oh, a pelican, that's intimidating, they sneer. Well, here's what's up. The…

Share Tweet

Create-a-Caption: Eric Bledsoe controls the vertical and horizontal

The Los Angeles Clippers had a little bit of fun at the expense of the Dallas Mavericks on Wednesday night, with some loose Dallas passing and some tight L.A. defense - 18 Clipper steals, 22 Maverick turnovers, 26 Clipper points - led to the likes of

Share Tweet

LeBron James' phone wallpaper is a Photoshopped picture of LeBron and Michael Jordan battling each other (PHOTO)

Of course LeBron James has a Photoshopped picture of him playing basketball against Michael Jordan as the wallpaper on his smartphone. That's what proud and respectable athletes that enjoy the game they play with access to such technology do. And of cou…

Share Tweet

Rob Mahoney: Bryant's altered approach fosters massive production and peak efficiency

Critics remain divided on Kobe Bryant's scoring prowess. But a new offensive approach has Bryant playing the best basketball of his career -- and that's indisputable, says Rob Mahoney.

Share Tweet

The Los Angeles Lakers beat the New Orleans Hornets on Tuesday night, coasting to a 103-87 win over the Don't-Call-Me-Pelicans behind a record-setting performance from Kobe Bryant, strong second-half pressure defense and a combined 11-of-21 mark from be…

Share Tweet

Andrew Bynum is pictured by fans in public working at his new, safer, hobby: Pop-a-Shot basketball

Philadelphia 76ers center (technically, we suppose, as he's yet to play a minute with the team) Andrew Bynum has been roundly criticized of late for deciding to subject his oft-injured and surgically-beaten knees to the slicked-up hardwood of local bowl…

Share Tweet

Roy Hibbert hiked up his shorts to hide blood on his jersey late in Pacers win over Blazers (VIDEO)

With 4 1/2 minutes to play in Wednesday night's matchup between the Indiana Pacers and Portland Trail Blazers - a game the Pacers had led by 18 points just seven minutes earlier, but that Portland had tightened up thanks to a 21-9 run - Pacers center

Share Tweet

This Lady Behind The Clippers Bench Was The Only One Unimpressed By Last Night's Performance

deadspin.com

Dec 6, 2012

Last night's 112-90 Clippers win over the Mavericks was a performance the AP called "dominating" and one that featured a series of spectacular dunks and lobs-one of which we've already featured this morning. More »

Share Tweet

Keeping Score: Early Contenders for Most Improved Player

Besides Jrue Holiday of the 76ers, Eric Bledsoe of the Clippers and Larry Sanders of the Bucks, in their third years, have made larger contributions to their teams this season.

Share Tweet

Jamal Crawford's Tightly Wound Alley-Oop To DeAndre Jordan Was Spectacular

deadspin.com

Dec 6, 2012

Alley-oops are eye-catching because they occupy so much space and time. The lob pass goes up, the finisher readies himself to take off, and we get time to watch it all unfold as anticipation for the big finale builds. More »

Share Tweet

J.R. Smith made a game-winner in extremely J.R. Smith fashion (VIDEO)

New York Knicks guard J.R. Smith is a handful, the sort of player who can make eight 3-pointers in a game and then immediately come back the next week and miss all but one of his shots, make ill-advised decisions in big moments, and get in a screaming m…

Share Tweet

Blake Griffin had 19 points and 13 rebounds, and Chris Paul added 14 points and 13 assists, propelling the Los Angeles Clippers to their fourth straight victory, 112-90 over the Dallas Mavericks on Wednesday night.

Share Tweet

Lakers squelch two-game skid by rolling over Hornets

Lakers squelch two-game skid by rolling over Hornets

Share Tweet

Felton Sheds His Bandages and Helps Topple the Bobcats

Raymond Felton, who sustained a bruised left thumb in a victory against the Phoenix Suns on Sunday, decided not to skip Wednesday's game, playing with bandages taped on his hand for part of the game.

Share Tweet

Mavs' Nowitzki starts running, still weeks away

Dallas Mavericks forward Dirk Nowitzki resumed basketball activity Wednesday but remains weeks away from making his season debut.

Share Tweet

grantland.com

Dec 6, 2012

The Atlanta Hawks should be one of those NBA teams whose present doesn't really matter. There are a depressing number of such teams when you really st...

Share Tweet

Double Alley-Oop To LeBron

Dec 6

Ray Allen tosses the ball downcourt to Dwyane Wade who alley-oops it to LeBron James for the two-handed slam.

Stern Stands By Spurs' Fine

Dec 6

Marc Stein discusses NBA David Stern's comments calling the $250,000 fine of the San Antonio Spurs justified.

TrueHoop TV: Gasol Latest

Dec 6

Henry Abbott with Marc Stein on potential trade suitors for Pau Gasol, and if the Lakers are willing to part with Gasol before Steve Nash returns.

Mayo, Mavericks Edge Suns

Dec 6

O.J. Mayo scored 23 points to lead the Mavericks to a 97-94 win over the Suns.