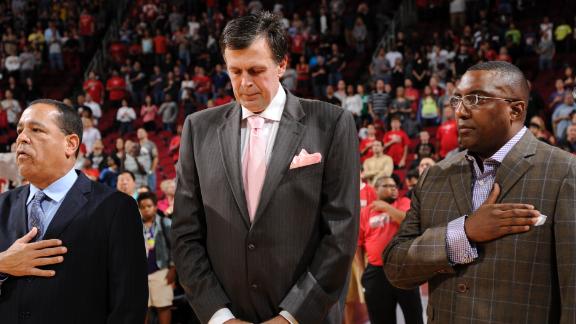 O.J. Mayo scored 40 points, including 10 in the last three minutes, to lift the Dallas Mavericks to a 116-109 victory over the Rockets on Saturday night in coach Kevin McHale's return to the Houston bench.
Share
Tweet
Griffin, Paul propel Clippers over struggling Suns

Share Tweet

Wade, LeBron help Heat wrap up 2-game skid

Dwyane Wade scored 26 points, LeBron James finished with 24 points and seven assists, and the Miami Heat snapped a two-game slide by topping the New Orleans Hornets 106-90 on Saturday night.

Share Tweet

Bulls win 3rd in row, cool off Melo-less Knicks

Marco Belinelli and Luol Deng scored 22 points apiece as the Chicago Bulls beat the Knicks 93-85 on Saturday night, snapping New York's five-game winning streak.

Share Tweet

Josh Smith had 24 points, Lou Williams scored 18 of his 21 in the second half, and the Atlanta Hawks beat the Memphis Grizzlies 93-83 on Saturday night.

Share Tweet

Garnett, Green lead way as Celtics rout Sixers

Kevin Garnett scored 19 points, Jeff Green added 16, and the Boston Celtics won the back end of a home-and-home with Philadelphia, beating the 76ers 92-79 on Saturday night.

Share Tweet

Danny Green scored 23 points and the San Antonio Spurs set a franchise record with 19 3-pointers to hand the Charlotte Bobcats their seventh straight defeat, 132-102 on Saturday night.

Share Tweet

David Lee had 24 points and 17 rebounds, Klay Thompson added 23 points and the Golden State Warriors beat the Washington Wizards 101-97 on Saturday night for their third straight road win.

Share Tweet

Cavs' Irving, Waiters may return vs. Lakers

nba.com

Dec 8, 2012

Cavaliers coach Byron Scott is hopeful Kyrie Irving and Dion Waiters can play in Cleveland's next game against the Los Angeles Lakers on Tuesday, but said neither has been cleared by doctors to return.

Share Tweet

Anthony Will Sit for a Second Straight Game

A deep cut on Carmelo Anthony's left middle finger will keep him out of the Knicks' game Saturday against the Bulls. He hopes to return Sunday night against Denver.

Share Tweet

The New York Knicks won't have Carmelo Anthony in the lineup on Saturday.

Share Tweet

How Keyon Dooling Ended Up In A Mental Hospital

deadspin.com

Dec 8, 2012

In November, David Aldridge wrote about the nervous breakdown Keyon Dooling suffered after he abruptly retired from the NBA just before the season. At 32, Dooling could have played another a few years and made a lot more money on a good Celtics team tha…

Share Tweet

nydailynews.com

Dec 8, 2012

It's not listed as an official date on the schedule, but the Knicks will be holding their version of Old-Home Week when Mike D'Antoni comes back to the Garden this Thursday and Jeremy Lin returns with the Rockets four days later. At the end of their r

Share Tweet

Celtics Take Long View on Draft Picks

When the Boston Celtics ended up with back-to-back picks in the first round of the 2012 N.B.A. draft, they had a rare opportunity to draft a player who was ready to contribute right away and one who was more of a project.

Share Tweet

30 Seconds With Kenny Smith

Kenny Smith, a Queens native, was drafted by the Sacramento Kings in 1987 with the sixth pick over all. During a 10-year N.B.A. career, Smith, a point guard, also played with Atlanta, Detroit, Orlando and Denver, and he was with Houston when the Rockets…

Share Tweet

While Calling Game Involving Sub-.500 Team, Jeff Van Gundy Says Sub-.500 NBA Teams Shouldn't Be On TV

deadspin.com

Dec 8, 2012

Midway through last night's snoozer of a Lakers-Thunder matchup-one OKC walked away with to the tune of 114-108-ESPN analyst Jeff Van Gundy poked fun at competitor NBA TV's sub-par national broadcast lineup. He has a point; NBA TV's national games hav

Share Tweet

Russell Westbrook And Kevin Durant Take Turns Torching L.A.; Andre Miller Is Mr. Clutch

dimemag.com

Dec 8, 2012

Russell Westbrook and Kevin Durant - when they're both at their best as they were Friday night against the Lakers - don't resemble so much a one-two punch combo as much as they do two flamethrowers. In the first half Westbrook's 27 points and fi

Share Tweet

Durant pours in 36 as Thunder win seventh straight

CNNSI.com

Dec 8, 2012

Durant pours in 36 as Thunder win seventh straight

Share Tweet

Thanks to hot-shooting Russell Westbrook, the Thunder handled the Lakers 114-108. Once again, Oklahoma City proved to be a matchup nightmare for Los Angeles, says Ben Golliver.

Share Tweet

Golden State Warriors coach Mark Jackson and Richard Jefferson find links with new scene around Barclays Center

nydailynews.com

Dec 8, 2012

Mark Jackson and Richard Jefferson walked into Barclays Center on Friday night, each with his own special connection to the place and to the neighborhood. They were with the Golden State Warriors now, but both took a degree of pride in what they saw.

Share Tweet

Heat Bounce Back Big

Dec 8

Miami snaps a two-game slide behind a combined 50 points from Dwyane Wade and LeBron James.

Warriors Hang On For Third Straight Win

Dec 8

Warriors top Wizards for their sixth win in seven games, 101-97.

Knight Propels Pistons Past Cavs

Dec 8

Brandon Knight scores a career-high 30 points as Pistons hand the Cavs their fifth straight loss, 104-97.

Bulls Stop Knicks without Carmelo

Dec 8

Knicks' five-game win streak comes to an end with 93-85 loss to the Bulls.