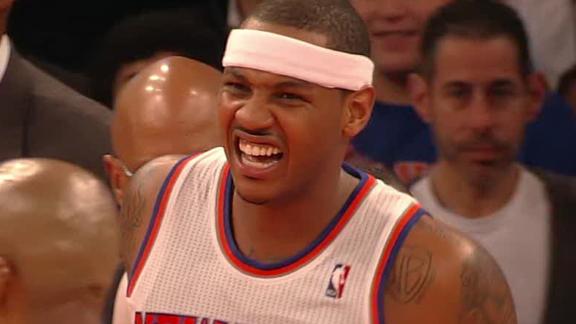 ESPN.com
Updated Dec 13, 2012
Carmelo Anthony scored 22 of his 30 points in the first quarter, and the New York Knicks held on after he departed with a sprained left ankle to beat the Los Angeles Lakers 116-107 in coach Mike D'Antoni's return to Madison Square Garden.
Share
Tweet
Knicks forward Carmelo Anthony sprained his left ankle in the third quarter and was not expected to return to the game against the Los Angeles Lakers.

Share Tweet

Surging Hawks hand Bobcats 10th straight loss

Devin Harris scored 20 points, Josh Smith added 18 and the surging Atlanta Hawks beat Charlotte 113-90 on Thursday night to hand the Bobcats their 10th straight defeat.

Share Tweet

Surveillance Cameras Capture Shooting Spurred On By Argument Over Bulls-76ers Game

The video above was released by the Philadelphia police department tonight. It depicts what the police say is three men getting into an argument on the El train about the Bulls-76ers game that took place in Philly on Wednesday night. The two men by the …

Share Tweet

LeBron James and Kobe Bryant are the leading vote-getters, while Jeremy Lin has a chance to bring Linsanity to the NBA All-Star game.

Share Tweet

The Houston Rockets Singing "The Dreidel Song" Is Simply Fantastic

When paraded one after the other, it's really easy to see which Houston Rockets were ready to bring the Hanukkah spirit and which ones were sorely lacking. (Good job, good effort there, Jeremy Lin.) More »

Share Tweet

The Rockets and Mavericks battle for holiday song supremacy (VIDEO)

We are currently in a very festive time of year, one when we can spend time with family, enjoy the company of friends, and luxuriate in super-special blowout sales that fuel the international economy. The NBA gets involved, too, largely through their Ch…

Share Tweet

While their widespread adoption took some time, advanced stats are now an everyday part of following the NBA. It's difficult to read about the league without hearing about True Shooting Percentage, or Rebounding Rate, or even something a little wackier …

Share Tweet

Minnesota Timberwolves shooting guard Brandon Roy says he never considered retirement after his latest operation.

Share Tweet

Minnesota Could Have A Franchise Player Back This Weekend

Toronto was down to just eight healthy players for Wednesday night's game against Brooklyn, but you won't hear any sympathy for the Raptors from Minneapolis. The Timberwolves have endured the NBA's worst injuries this season, at times missing Kevin

Share Tweet

Magic Johnson talks up Michael Jordan's all-hours poker, golf and hoops marathons at the Olympics (VIDEO)

It's one thing to hear tales of infamous backroom brilliance second-hand, stories about where a certain athlete or entertainer was the night before they gave the performance of a lifetime. It's quite another to be nearly on par with and in person around…

Share Tweet

Did Sam Bowie Deliberately Fool The Blazers Into Drafting Him Before Michael Jordan?

Sam Bowie will forever be the guy the Portland Trail Blazers picked ahead of Michael Jordan in the 1984 NBA draft. It seems hard to believe now, given his well-documented history of injuries, but Bowie really did spend 10 seasons as an actual NBA player…

Share Tweet

Floyd Mayweather Bet $100,000 On The Warriors Last Night, According To Jarrett Jack's Postgame Interview

The post-game interview that CSN's Jim Barnett conducted with Jarrett Jack was dragging on a little. The Warriors had just won a close one on Miami's home floor on a game-winner by Draymond Green, assisted by Jack himself, and he probably wanted to get …

Share Tweet

James Dolan, according to Madison Square Garden lore, had to be told who Fmr. Attorney General John Ashcroft was

It is incredibly easy to feel good for New York Knicks fans, as their team races out to a superb 16-5 record as they prepare to take on the Los Angeles Lakers Thursday night at Madison Square Garden. Not only did Knicks fans have to sit through the unea…

Share Tweet

Mike D'Antoni says coming to New York in 2008 to coach the New York Knicks wasn't a bad thing -- but leaving Steve Nash and the Phoenix Suns was.

Share Tweet

How A 76er Is Putting His Team On His Back Better Than Any Other Point Guard

According to CSNPhilly.com, 76ers point guard Jrue Holiday is waiting for test results today from an MRI to determine whether soreness in his left foot's arch is something worse. Injury news in Philadelphia has reached that rare point of fatigue that re

Share Tweet

Section 15: Four Blocks Away

The Off the Dribble team was interested in learning about Nets fans now that the team is in Brooklyn. David and Jen Gordon waited three years to get their tickets in Section 15.

Share Tweet

J. R. Smith is giving the Knicks some quality minutes.

Share Tweet

Create-a-Caption: Andrei Kirilenko thinks you're doing great

Feel sluggish today after a 13-game Wednesday? Just kind of dragging your way through holiday shopping season, with its early sunsets, bitter winds and general distemper? Wondering how you're going to not just check off all those items on the to-do list…

Share Tweet

A New Regime Has Golden State Looking Like A Dangerous Sleeper

The Warriors, off a nifty backdoor cut basket that would have made Pete Carril proud, beat the defending champion Miami Heat last night, 97-95. It was their fifth-straight win on the road after a disappointing loss to Orlando at home on December 3. They…

Share Tweet

Warriors' Lee Is Key

Aided by a smarter defensive philosophy, David Lee of the Warriors has made strides on that end, but his play on offense is still what makes him special.

Share Tweet

Philadelphia 76ers star point guard Jrue Holiday has a sprained left foot, the team announced Thursday.

Share Tweet

Kobe calls Magic to talk Lakers: 'Very helpful'

Los Angeles Lakers star Kobe Bryant found time on his off day to make a phone call to Magic Johnson to talk about the team.

Share Tweet

An argument between a Chicago Bulls fan and two young Philadelphia 76ers fans on a West Philadelphia train following the Bulls' road win over the Sixers on Wednesday night resulted in gunfire, wounding the Bulls fan and another passenger, who is reporte…

Share Tweet

Dwight Howard, stuck in the middle of another trying season, discusses how 'emotional' he is

Noted provocateur and Los Angeles Times columnist T.J. Simers' latest piece on Lakers center Dwight Howard may come off as a surprise to some, but we're less moved by Howard's admissions.  Dwight Howard cries a lot at things that would make anyone with …

Share Tweet

Pacers Rookie Ben Hansbrough's Older Brother Tyler Totally Embarrasses Him In Front Of His Friends

There are two ways to look at this incident, which took place during the Pacers-Cavs game last night, in which Tristan Thompson (probably inadvertently) elbowed Pacers rookie Ben Hansbrough, and Pacers psychopath Tyler Hansbrough intervened and admonish…

Share Tweet

CNNSI.com

Dec 13, 2012

A rash of injured stars has teams worried. Ian Thomsen examines a proposal that would give teams more control over the health of the players in whom they invest so greatly.

Share Tweet

After DeMarcus Cousins' below the belt punch on O.J. Mayo in the second quarter of the Mavericks 119-96 victory this past weekend, Mayo publicly derided Cousins' behavior, saying, "He has mental issues," before adding, "He's a talented player.

Share Tweet

Here's A Lady Pantomiming A Double Blowjob At The Celtics Game Last Night

The Celtics beat the Mavericks last night in double overtime, but it's safe to say that the most important thing to happen during the game took place in the third quarter, during a timeout: this unhappy-looking woman pretended to give a double blowjob f…

Share Tweet

Jarrett Jack finds Draymond Green all alone to beat the Heat in last second (VIDEO)

On Tuesday, I mentioned that the Golden State Warriors may be in line to receive their first All-Star selection in 16 years this February. The reason for that, of course, isn't necessarily that they have an incandescent star impossible to ignore, but th…

Share Tweet

deadspin.com yahoo.com

Dec 13, 2012

Well here's something you don't see every day. About midway through the fourth quarter of last night's Nets-Raptors game, Nets forward Kris Humphries stepped to the line to shoot two free-throws. Pretty standard stuff. That is until referee Courtney Kir…

Share Tweet

Mo Williams' 3-pointer at the buzzer lifted the Utah Jazz to a 99-96 victory over San Antonio on Wednesday night, snapping the Spurs' five-game winning streak.

Share Tweet

CNNSI.com

Dec 13, 2012

MIAMI (AP) -- The Golden State Warriors used a savvy play by a rookie and took advantage of a defensive breakdown to surprise the Miami Heat on Wednesday.

Share Tweet

Kevin Durant Explodes In OKC; The Best Team You Don't Know About Beats Miami

Having Kevin Durant on your team is probably good for about 10 extra wins a year strictly based on his talent and his competitive streak. You're going to win games you shouldn't only because he'll get pissed off for some reason or another and start

Share Tweet

NBA Shootaround: On Golden State

grantland.com

Dec 13, 2012

So much amazing is happening, and the Shootaround crew is here to help you keep track of it all. You'll find takes on moments you might've missed from...

Share Tweet

Joakim Noah, Luol Deng, and the Chicago Bulls' Minutes Problem

grantland.com

Dec 13, 2012

With his team nursing a 94-86 lead in the waning moments of last night's game against Philadelphia, Chicago center Joakim Noah crouched low on the lef...

Share Tweet

Carmelo Injured In Knicks' Win

Dec 13

Knicks hold off Lakers, 116-107.

TrueHoop TV: John Hollinger

Dec 13

John Hollinger drops in to talk about the Lin-Harden dilemma in Houston, the ongoing problems in L.A., and Dwight Howard's likely destination next season.

Kobe: Carmelo Harder To Guard Than LeBron

Dec 13

Stephen A. Smith and Skip Bayless discuss Kobe Bryant's comments about guarding Carmelo Anthony.

Lillard Leads Blazers Past Spurs

Dec 13

Spurs lose back-to-back games for the first time this season.