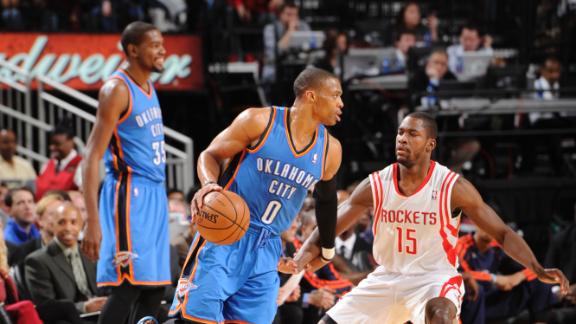 Russell Westbrook scored 28 points and Kevin Durant added 26 as the Oklahoma City Thunder built a big lead in the second quarter and rolled to a 124-94 win over the Houston Rockets on Saturday night.
Share
Tweet
Brandon Jennings scored 25 points and Mike Dunleavy had 13 of his 18 in the fourth quarter as the Bucks beat the Heat 104-85 on Saturday night to spoil Dwyane Wade's return.

Share Tweet

Nikola Pekovic had 28 points and 11 rebounds and Kevin Love added 23 points and 18 boards to lift the Minnesota Timberwolves to a 111-107 victory over the Phoenix Suns on Saturday night.

Share Tweet

Brook Lopez scored a season-high 35 points and grabbed 11 rebounds, and the Brooklyn Nets improved to 2-0 under interim coach P.J. Carlesimo by beating the Cleveland Cavaliers 103-100 on Saturday night.

Share Tweet

Eric Gordon had 24 points and seven assists, helping the New Orleans Hornets overcome a 21-point first-half deficit and extend the Charlotte Bobcats' losing streak to 18 games with a 98-95 victory Saturday night.

Share Tweet

Boston Celtics point guard Rajon Rondo sat out Saturday night's game against the Golden State Warriors because of a bruised right thigh and hip.

Share Tweet

DeRozan, Raptors pound short-handed Magic

DeMar DeRozan scored 21 points and Jose Calderon added 15 points and 10 assists, helping the Toronto Raptors to an easy 123-88 victory over the injury-depleted Orlando Magic on Saturday night.

Share Tweet

Williams leads Hawks to fourth straight win

Lou Williams had 21 points and a career-high 12 assists, Al Horford added 20 points and the Atlanta Hawks won their fourth straight, 109-100 over the Indiana Pacers on Saturday night.

Share Tweet

Minnesota Timberwolves point guard Ricky Rubio is a late scratch against the Phoenix Suns because of back spasms.

Share Tweet

MINNEAPOLIS (AP) -- Brandon Roy isn't ready to give up on his NBA career quite yet.

Share Tweet

CHICAGO (AP) -- Washington Wizards leading scorer Jordan Crawford is sitting out against the Chicago Bulls because of a left ankle injury.

Share Tweet

Hawks coach Larry Drew said leading scorer Josh Smith has a strained right hip flexor and will not play against the Indiana Pacers on Saturday night.

Share Tweet

Anderson Varejao Wig Night Was Exactly The Whimsical Clown-Nightmare You Would Hope For

deadspin.com

Dec 29, 2012

The Cleveland Cavaliers on Friday gave away 10,000 wigs to fans for "Wild Thing Wig Night," a.k.a. Anderson Varejao Wig Night, a.k.a. Sideshow Bob Appreciation Night, a.k.a. Bill Walton Merkin Night, a.k.a. Beyoncé Perm Re-enactment Night, a.…

Share Tweet

Weekend Dime -- 2012: The Year In Numbers

Numbers tell the tale of 2012 and news, notes and more from around the NBA.

Share Tweet

The Memphis Grizzlies' "Lifetime Supply Of Tater Tots" Giveaway Is A Vicious Lie

deadspin.com

Dec 29, 2012

The Memphis Grizzlies are running an ostensibly fun promotion that received a write-up in yesterday's Wall Street Journal: instead of cash or a car, the lucky Grizzlies fan randomly selected to take a shot from half-court will get-quote-"a lifetime su

Share Tweet

Finally, Something James Doesn't Do

nytimes.com

Dec 29, 2012

For Miami's LeBron James, who has conquered virtually every obstacle put in front of him, the next frontier appears to be a complete avoidance of personal fouls.

Share Tweet

JVG refuses to talk to Nets while interim in place

CNNSI.com

Dec 29, 2012

JVG refuses to talk to Nets while interim in place

Share Tweet

Will Bynum had 25 points and 10 assists, leading another spirited performance by the Detroit bench, and the Pistons beat the short-handed Miami Heat 109-99 on Friday night despite 35 points by LeBron James.

Share Tweet

Chris Paul Keeps The Clippers' Streak Alive; The Heat Lose A Head-Scratcher In Detroit

dimemag.com

Dec 29, 2012

Chris Paul wasn't about to let his team lose its 15-game win streak, not like that. So in Utah on Friday night, down 19 points halfway through the third quarter, CP3 broke out the defibrillator and shocked life back into the Clippers. Why's that impre

Share Tweet

David Lee had 25 points and 12 rebounds and the Golden State Warriors held off a late charge in the fourth quarter to beat the Philadelphia 76ers 96-89 on Friday night.

Share Tweet

Howard powers surging Lakers past Blazers

Dwight Howard had 21 points and 14 rebounds, Kobe Bryant scored 27 points and the Los Angeles Lakers never trailed in their sixth win in seven games, 104-87 over the Portland Trail Blazers on Friday night.

Share Tweet

James Johnson made a 3-pointer at the buzzer Friday night, lifting the Sacramento Kings to a 106-105 victory over the New York Knicks after blowing an early 27-point lead.

Share Tweet

Jamaal Wilkes' jersey was retired by the Los Angeles Lakers on Friday night, putting the smooth forward known as "Silk" in company with the franchise's Hall of Fame stars.

Share Tweet

Chris Paul scored 29 points and the Clippers rallied from a 19-point deficit in the third quarter to beat the Jazz 116-114 on Friday night, stretching their winning streak to 16 games.

Share Tweet

Gay Lifts Grizzlies Past Nuggets

Dec 29

Rudy Gay scores 19 in Grizzlies' 81-72 win over Nuggets.

Love, Wolves Hold Off Suns

Dec 29

Kevin Love and Nikola Pekovic each record double-doubles in Timberwolves' 111-107 win over Suns.

Irving, Cavs Fall Short To Nets

Dec 29

P.J. Carlesimo improves to 2-0 as Nets head coach after 103-100 win over Cavs.

Hawks Win Fourth Straight

Dec 29

All Hawks starters reach double-digit scoring in 109-100 win over Pacers.