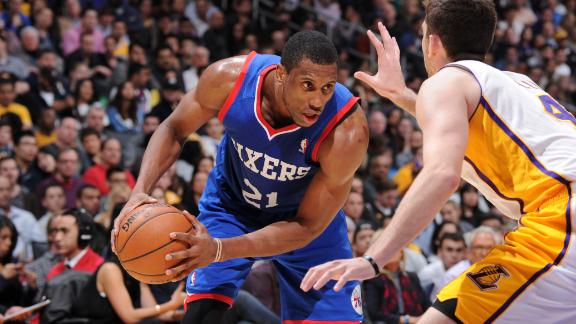 Chris Bosh Overruled Coach Erik Spoelstra And "Became A Prophet" Before His Game-Winning Three

dimemag.com

Dec 29, 2013

Chris Bosh had a pretty remarkable Saturday night. He scored a season-high 37 points to help his Miami Heat — sans LeBron James — overcome the Blazers in Portland. He also hit the game-winning three-pointer with under a second to play. Now comes word he…

Upvote Share Tweet

Who Dunked It Better: Blake Griffin Or DeAndre Jordan?

dimemag.com

Dec 29, 2013

On Saturday night, when the Clippers played host to the Jazz at Staples Center, the high-flying Clips frontcourt of DeAndre Jordan and Blake Griffin put on a little show for the home crowd. Griffin tossed himself an alley-oop that he put between his leg…

Upvote Share Tweet

? Thunder All-Star point guard Russell Westbrook will be out an expected seven weeks after undergoing arthroscopic surgery on his right knee. He walked into the arena tonight on crutches and spoke for a few moments outside the Houston locker room with f…

Upvote Share Tweet

ESPN.com

Dec 29, 2013

Pau Gasol will miss his second straight game with an upper respiratory infection when the Los Angeles Lakers host the Philadelphia 76ers on Sunday night.

Upvote Share Tweet

dimemag.com ESPN.com

Dec 29, 2013

On Saturday night, with the Heat at the Moda Center in Portland, Chris Bosh reminded everyone that he's an All-Star capable of carrying a team, and probably the best third wheel in the NBA. LeBron James was out with a strained groin, so Bosh put on his …

Upvote Share Tweet

ESPN.com

Dec 29, 2013

Blake Griffin scored a season-high 40 points, overcoming early foul trouble and a career-worst eight turnovers to lead the Los Angeles Clippers to a 98-90 victory over the Utah Jazz on Saturday night.

Upvote Share Tweet

Thunder Sink Harden, Rockets

Dec 29

The Thunder held James Harden to eight points and Kevin Durant posted a double-double in a 117-86 win over the Rockets.

Ginobili Leads Spurs Past Kings

Dec 29

Manu Ginobili scored 28 points off the bench to help the Spurs to a 112-104 win over the Kings.

Warriors Sink Cavs In OT

Dec 29

Stephen Curry scored 29 points to lead the Warriors past the Cavs in overtime and to their fifth straight win.

Balanced Attack Powers Magic Past Hawks

Dec 29

Seven Magic players reached double digits in a 109-102 win over the Hawks.