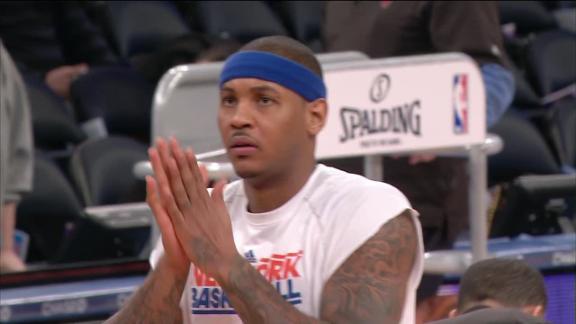 Anthony guides Knicks to third straight win
ESPN.com
Updated Feb 1, 2013
Carmelo Anthony scored 25 points, Amare Stoudemire had 17 points and seven rebounds off the bench, and the New York Knicks extended their winning streak to three games with a 96-86 victory over the Milwaukee Bucks on Friday night.
Share
Tweet
No Fluke: A 102-89 rout gave Indiana its second win over Mi…

A 102-89 rout gave Indiana its second win over Miami this year. Even without Danny Granger, the Pacers are contenders who continue to gain confidence, says Chris Mannix.

Share Tweet

Brook Lopez scored 20 points through three quarters, then the Brooklyn Nets turned to their bench to beat the short-handed Chicago Bulls 93-89 on Friday night.

Share Tweet

Rudy Gay wowed a sellout crowd by scoring 20 points in his Toronto debut, leading the Raptors to a 98-73 rout of the short-handed Los Angeles Clippers on Friday night.

Share Tweet

David West scored 30 points and Paul George added 15 on Friday night, leading Indiana to a 102-89 victory over Miami.

Share Tweet

A Texas jury sentenced the son of former NBA player Nick Van Exel to 60 years in prison Friday in the shooting death of a longtime friend.

Share Tweet

nba.com yahoo.com nytimes.com CNNSI.com

Feb 1, 2013

Tayshaun Prince, Austin Daye and Ed Davis, all obtained by the Memphis Grizzlies in a three-team deal earlier this week, are expected to be in uniform for Friday night's game against the Washington Wizards.

Share Tweet

Are the Lakers using Steve Nash correctly?

Even before the 2012-13 Los Angeles Lakers turned into one of the most disappointing teams in the modern history of the NBA, there were questions about just how quickly they'd be able to coalesce into a coherent unit (which, you know, hasn't happened ye…

Share Tweet

LeBron James is making $17,545,000 to play for the Miami Heat this year. That's quite a lot of money, but it's not the most money in the league; Kobe Bryant ($27,849,149) is the league's highest-paid player this season. Actually, nine players are being …

Share Tweet

New York Knicks' guard Jason Kidd is back in the starting lineup on Friday night after missing the team's win over Orlando on Wednesday with a sore lower back.

Share Tweet

The New York Knicks will host 150 children, their families and teachers from Sandy Hook Elementary School on Saturday.

Share Tweet

Heat's James, Spurs' Parker named Kia Players of Month

The Miami Heat's LeBron James and the San Antonio Spurs' Tony Parker today were named the Kia NBA Eastern and Western Conference Players of the Month, respectively, for games played in January.

Share Tweet

Pacers coach Frank Vogel says Danny Granger could be back on the court before the All-Star break in mid-February.

Share Tweet

Boston Celtics first-round draft choice Jared Sullinger had back surgery on Friday and will miss the rest of the season.

Share Tweet

In his new role of captain of the Eastern Conference for All-Star Saturday, Dwyane Wade is applying some peer pressure to Miami Heat teammate LeBron James to take part.

Share Tweet

Jose Calderon is eager to make his debut for the Detroit Pistons. First, he has some visa issues to resolve.

Share Tweet

Kobe says jersey chewing 'a disgusting little trick'

Kobe says jersey chewing 'a disgusting little trick'

Share Tweet

If you feel like you've read this same Brandon Roy update before, it's probably because you've been following the guy's attempts to sustain a healthy pair of knees for ages. Concerns over Roy's health have been in place since before the 2006 NBA

Share Tweet

Kobe Bryant explains why he chews/sucks on his jersey, which you were totally wondering about

Friday's edition of the Los Angeles Times featured a lengthy, interesting chat between columnist T.J. Simers - whom you might remember from such endeavors as Messing With Mike D'Antoni and Messing With Jim Mora Jr. - and Los Angeles Lakers star Kobe B

Share Tweet

When the Los Angeles Clippers take on the Toronto Raptors at the Air Canada Centre on Friday night, they'll do so without key reserve Matt Barnes, whom the NBA has suspended without pay for one game for perpetrating this aggressive bit of throat violenc…

Share Tweet

An Exclusive Interview With The Lady Who Owns The "@Pelicans" Twitter Handle

deadspin.com

Feb 1, 2013

When news leaked out that the New Orleans Hornets would be changing their name to the Pelicans, each person online seemed to have an opinion. We at Deadspin endorsed it. Yahoo Answers did not. But everyone trying to think through the symbolism of the te…

Share Tweet

If you count the 1990s as your childhood as I do, then today brought undisputable great news: New York Knicks reserve and journeyman dunker James White will likely be joining the 2013 NBA All-Star Weekend Slam Dunk Contest. Anyone who grew up a hoops fa…

Share Tweet

Dwight Howard is sidelined again with an ailing shoulder and disgruntled Pau Gasol is back in the Los Angeles Lakers' starting lineup, where he believes he should have been all along.

Share Tweet

yahoo.com dimemag.com

Feb 1, 2013

The Oklahoma City Thunder put a 17-point beatdown on the Memphis Grizzlies on Thursday night, riding a white-hot start (32 points on 12 for 15 from the floor in the first quarter, including 11 on 5 for 6 by Russell Westbrook) and dismal Memphis shooting…

Share Tweet

LeBron not worried about being NBA's top-paid player

LeBron James has been an NBA champion once, an Olympic gold medalist twice and the league's MVP three times.

Share Tweet

The Washington Wizards call an audible, and divert the team bus to a visit to St. Jude's Children's Hospital

Out of nowhere, the once-downtrodden Washington Wizards have turned into one of the NBA's feel-good stories. The team has won seven of 11 games since third-year guard John Wall returned from a knee injury, a mark that won't seem impressive in comparis

Share Tweet

NEW YORK (AP) - Billy Hunter is being placed on an indefinite leave as executive director of the NBA players association, following a report that was critical of his leadership and urged players to consider his future with the organization.

Share Tweet

After signing a five-year, $98.8 million contract to run the point as the franchise player of the Brooklyn Nets this summer, it became clear that Deron Williams was going to be sticking around New York for a little while. All that was left was for the 2…

Share Tweet

If you enjoyed the 1990s, you will love the NBA's newest batch of alternate retro uniforms

Because the internet "helps" reaction move at incredible speed, there is a backlash to the backlash that once got in the way of appreciating 1990s culture for its fads and taste. Harmless and well-meaning sites like BuzzFeed mine that nostalgia for hi

Share Tweet

deadspin.com yahoo.com CNNSI.com

Feb 1, 2013

The Oklahoma City Thunder blew out the Memphis Grizzlies last night, but an easy victory didn't stop Russell Westbrook from going a little crazy in the third quarter. After being called for a five-second violation, Westbrook returned to the bench and th…

Share Tweet

Mark Cuban calls TNT's Chris Webber a 'horrible analyst' that 'does no homework before the game'

In the moments after Dallas' rough 100-97 loss to the Golden State Warriors, Mavericks owner Mark Cuban took to Twitter to trash TNT analyst Chris Webber while engaging in a conversation with well-respected NBA follower Haralabos Voulgaris. Cuban made s

Share Tweet

Over his career, veteran Dallas Mavericks shooting guard Vince Carter has developed a reputation as a player who doesn't much enjoy playing through injury. At times, particularly during his darkest days with the Toronto Raptors, it was even suggested th…

Share Tweet

Dallas Mavericks owner Mark Cuban fired a quick jab at the refs Thursday night, and coach Rick Carlisle added his own criticism of late-game officiating in the league.

Share Tweet

Oklahoma City Cuts Memphis In Half; Golden State's Defense Beats Dallas

We can just imagine Memphis head coach Lionel Hollins shaking his head. So you're telling me you're trading Rudy Gay and our first game without him is against Oklahoma City? Yes, and it wasn't pretty, a small Grizzlies comeback notwithstanding in th

Share Tweet

A Charge And A Three Save Boston; Pau Gasol Denies The Lakers Another Bad Road Loss

Someone forgot to tell Boston they don't have Rajon Rondo or Jared Sullinger for the rest of this season. The Celtics ran off their fourth straight win after losing their All-Star starter point guard a week ago by devouring the short-handed Clippers, th

Share Tweet

Lee, Warriors hold off Mavs for 3rd straight win

David Lee finished an assist short of a triple-double, Klay Thompson scored 27 points and the Golden State Warriors beat the Dallas Mavericks 100-97 Thursday night.

Share Tweet

Dirk Nowitzki of the Dallas Mavericks will miss Thursday's game against the Golden State Warriors with a right adductor strain, yet another blow to a Mavs (19-26) team that has taken its fair share of punishment already this season.

Share Tweet

Too Soon To Judge: The depleted Grizzlies were no match for the Thun…

The depleted Grizzlies were no match for the Thunder, losing 106-89. But blaming the defeat on the Rudy Gay trade ignores Oklahoma City's inherent advantages, says Ben Golliver.

Share Tweet

Thaddeus Young Leads 76ers Past Kings

Feb 1

Thaddeus Young's double-double helps 76ers top Kings.

Knicks Rally For Third Straight Win

Feb 1

Carmelo Anthony records 31st straight 20-point game in Knicks' 96-86 win over Bucks.

Doc Rivers On Loss Of Jared Sullinger

Feb 1

Doc Rivers on how the Celtics will move forward without Jared Sullinger and Rajon Rondo.

Raptors Win In Rudy Gay's Debut

Feb 1

Rudy gay scores 20 points in team debut and Raptors hold Clippers to 34 percent shooting in 98-73 win.