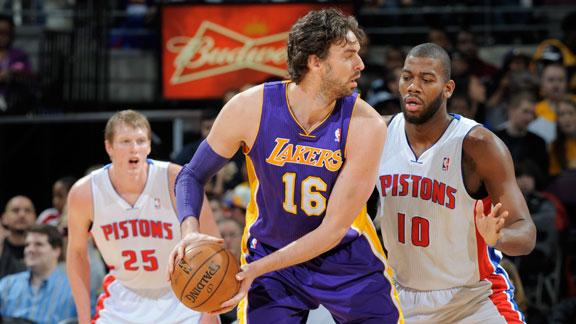 ESPN.com
Updated Feb 3, 2013
Metta World Peace was hit with a flagrant foul 1 in the Los Angeles Lakers' 98-97 win over the Detroit Pistons for getting tangled up with Brandon Knight, and Knight doesn't believe that punishment was severe enough because he was hit with a fist.
Share
Tweet
deadspin.com

Feb 3, 2013

In Major League Baseball making contact with an ump will get you a suspension. The same goes for NBA players who dare touch a ref (just ask Rajon Rondo). In the NFL, though-at least in the Super Bowl-shoving a ref won't even earn you a penalty. Here's

Share Tweet

The Los Angeles Clippers are interested in acquiring Kevin Garnett from the Boston Celtics, the Sporting News reported Sunday, citing multiple anonymous sources.

Share Tweet

In a game defined by two missing point guards, the Celtics beat the Clippers 106-104. This, says Ian Thomsen, is because they have already committed to life without Rajon Rondo.

Share Tweet

LeBron helps Heat continue mastery of Raptors

LeBron James scored 30 points, Chris Bosh had 28 against his former team and the Miami Heat beat Toronto 100-85 Sunday for their 10th straight victory over the Raptors.

Share Tweet

nba.com

Feb 3, 2013

Miami Heat head coach Erik Spoelstra will coach the Eastern Conference All-Stars for the 2013 NBA All-Star Game, to be played on Sunday, Feb. 17 (8 p.m. ET), at the Toyota Center in Houston.

Share Tweet

Kentucky's Noel amazes; more NCAA awards

The Fast Break is quaffing from the Fountain of Youth this week, as several of our awards went out to fabulous freshman. And yet, the Break is also balanced, with a fifth-year senior who rocked us like a hurricane, and a group of flavorful Falcons who h…

Share Tweet

dimemag.com

Feb 3, 2013

Before last night's Thunder/Cavs games, OKC coach Scott Brooks was told that Irving is only 20 years old. "That's scary," Brooks replied. Not as scary as what he would see a few hours later with his front row seat to the Kyrie Irving Show. Here'

Share Tweet

Dwight Howard was again out of the lineup for the Los Angeles Lakers on Sunday because of shoulder pain the All-Star center says hasn't gone away.

Share Tweet

A Perfect Finale: The Air Jordan 14

dimemag.com

Feb 3, 2013

A tree branch had smashed into a fence, leaving a gash in the railing. Pots in upheaval. Dirt scattered. Bushes and shrubbery laid out across the street like a giant puzzle. The tornado had done its work. But inside, a television was on. It was Game 6 o…

Share Tweet

Raptors' Casey fined $25K for criticizing officials

Raptors' Casey fined $25K for criticizing officials

Share Tweet

Damian Lillard had 23 points and the Portland Trail Blazers got revenge for a loss to Utah the night before with a 105-99 victory Saturday night.

Share Tweet

Stephen Curry returned after missing two games with an ankle injury and scored 19 of his 29 points in the second half, helping the Golden State Warriors beat the Phoenix Suns 113-93 on Saturday night.

Share Tweet

Pierce Pushes Celtics Past Clippers

Feb 3

Paul Pierce scored 22 points in the Celtics' 106-104 win over the Clippers.

Heat Surge Past Raptors

Feb 3

LeBron James scored 30 points to lead the Heat past the Raptors 100-85.

Lakers Edge Pistons

Feb 3

Pau Gasol scored 23 points and recorded 10 rebounds to lead the Lakers past the Pistons 98-97.

Clippers Showing Interest In KG

Feb 3

Sporting News: Clippers making push to acquire Celtics center Kevin Garnett.