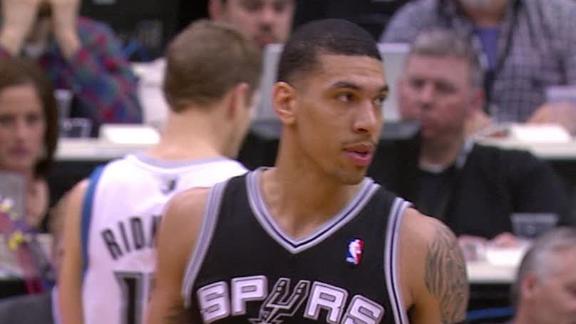 ESPN.com
Updated Feb 6, 2013
Danny Green hit eight 3-pointers and scored a career-high 28 points to help the San Antonio Spurs to their 11th straight win, 104-94 over the Minnesota Timberwolves on Wednesday night.
Share
Tweet
Kobe challenges Howard: 'We need urgency'

Kobe Bryant once again has urged Dwight Howard to play through some pain while claiming that the Los Angeles Lakers center "worries too much" about media and fan criticism.

Share Tweet

Lopez-led Nets win first at Detroit since 2006

Brook Lopez had 17 points, and the Brooklyn Nets won at Detroit for the first time since 2006, holding off the Pistons 93-90 on Wednesday night.

Share Tweet

LeBron James scored 32 points, Dwyane Wade added 31 points and eight assists, and the Miami Heat held off the Houston Rockets 114-108 on Wednesday night.

Share Tweet

Hawks' Teague piles up 13 assists in win vs. Grizz

Hawks' Teague piles up 13 assists in win vs. Grizz

Share Tweet

Eric Bledsoe had 27 points, including 19 in the second half, and the Los Angeles Clippers used a big third quarter to secure an 86-76 win over the Orlando Magic on Wednesday night.

Share Tweet

Kevin Garnett scored a season-high 27 points with 10 rebounds, Paul Pierce had 12 points and 11 rebounds, and the Boston Celtics won their fifth straight game by beating the Toronto Raptors 99-95 on Wednesday night.

Share Tweet

Stern: NBA on track to test for HGH in 2013-14

The NBA for the most part has managed to avoid the major performance-enhancing drug scandals that have plagued the NFL and Major League Baseball over the last decade. Commissioner David Stern is hoping to keep it that way.

Share Tweet

John Wall had 21 points and nine assists, Trevor Ariza scored 20 points and the Washington Wizards broke the New York Knicks' five-game winning streak with a 106-96 victory on Wednesday night.

Share Tweet

Irving, Waiters spark Cavaliers' rout of Bobcats

Kyrie Irving scored 22 points in just three quarters, rookie Dion Waiters added 19 and the Cleveland Cavaliers didn't overlook a team with a worse record than their own, rolling to a 122-95 win over the Charlotte Bobcats on Wednesday night.

Share Tweet

deadspin.com

Feb 6, 2013

The Sixers are five games under .500 and hosting the Indiana Pacers isn't doing the Wells Fargo Center any favors, either. Things are so desperate in Philly that one fan was able to scoop up 18 tickets on stub-hub for $.04. He bought the entire row and …

Share Tweet

Milwaukee Bucks center Larry Sanders sat out Wednesday night's game against the Utah Jazz with a bruised back.

Share Tweet

Kobe Bryant wants NBA stars to take on a bigger role in the players' union

If you haven't heard, the National Basketball Players' Union is in a state of serious flux right now. After months of reports that executive director Billy Hunter had abused his powers with regular acts of nepotism and shady contract "negotiations,…

Share Tweet

With one more procedural move, the Sacramento Kings took another step toward Seattle.

Share Tweet

Most NBA fans feared the worst as soon as we heard Los Angeles Lakers forward/center Pau Gasol say he "felt a pop" in the plantar fascia (the connective tissue on the sole) of his right foot during the fourth quarter of L.A.'s 92-83 road win o…

Share Tweet

Center Andrea Bargnani was set to come off the bench for the Toronto Raptors for Wednesday's game against Boston, ending a 26-game injury absence.

Share Tweet

Chris Bosh of Miami Heat to sit out with illness

The Miami Heat will be without All-Star center Chris Bosh on Wednesday against the Houston Rockets because of illness. He is considered day to day.

Share Tweet

The 10-man rotation, starring the unstoppable LaMarcus Aldridge

A look around the league and the Web that covers it. It's also important to note that the rotation order and starting nods aren't always listed in order of importance. That's for you, dear reader, to figure out. C: Eye on Basketball. Zach Harper breaks …

Share Tweet

ESPN.com deadspin.com yahoo.com dimemag.com

Feb 6, 2013

Los Angeles Lakers forward Pau Gasol will miss six to eight weeks with a partially torn plantar fascia, according to a CBS Sports report.

Share Tweet

Lionel Hollins is still complaining about the roster he's been given

Sometimes these stories just write themselves. The Memphis Grizzlies are coached by a notoriously anti-advanced stats Rudy Gay fan in Lionel Hollins. The team's front office is composed of two men in Jason Levien and John Hollinger that tend to shocking

Share Tweet

Samuel Dalembert drops a career-best game, and is immediately put on the trading block

So, Samuel Dalembert put together one of the better statistical lines of the NBA season on Tuesday. You may not have seen it, and you may not understand it, but Sam Dalembert managed 35 points on 17-21 shooting with 12 rebounds in only 27 minutes per ga…

Share Tweet

Tiago Splitter, comfortable in his 'own house,' is flourishing in San Antonio

Tiago Splitter's per game stats this season won't blow anyone away, and his per-minute numbers actually haven't shown that much improvement in comparison to the lockout-shortened 2011-12 season. The eye test tells a different story, though. Though T

Share Tweet

Reebok Classic's Kamikaze II Releasing In 5 Different Colors

Remember the 1995-96 season? The Bulls and their 72 wins. Jordan and the 11s. It was a great time for basketball fans, and it was also perhaps Shawn Kemp's best season in the NBA. Seattle went to the Finals, and the Reignman rocked the legendary Reebok

Share Tweet

Allen Iverson loses Atlanta mansion in foreclosure auction, according to report

Just one week after declining an invitation to join the Dallas Mavericks' D-League affiliate as he continues his thus-far unsuccessful pursuit of a return to the NBA and days after a family court judge lambasted his parenting during divorce proceedings,…

Share Tweet

nytimes.com

Feb 6, 2013

Rasheed Wallace of the Knicks, who has not played since December, hopes to return to the court in late February.

Share Tweet

The Indiana Pacers are in the midst of an NBA rarity. On Wednesday night the team will play its third game in three days, a statistical quirk that hasn't happened in the NBA this year and usually is only a feature of lockout-shortened seasons. The workl

Share Tweet

Fast 5: Tracking This Year's NBA Draft Class, Vol. 10

Each Wednesday, we'll be assessing how the top prospects of the 2013 NBA Draft are faring in college and overseas. Stick with us each week for assorted thoughts, including the biggest risers and fallers, the standouts, the sleepers and what we know and

Share Tweet

A New No. 1: There's still no consensus top pick in this year'…

There's still no consensus top pick in this year's draft. But Ben McLemore is quickly emerging as a star at Kansas. He topples Nerlens Noel in this edition of Chris Mannix's Big Board.

Share Tweet

Kobe Doin' Young Kobe

deadspin.com

Feb 6, 2013

This was the moment at the Barclays Center last night that the entire upper deck-populated by significantly more Lakers than Nets fans, already-erupted in united awe. My friend leaned into a stranger, hand on his head, and the guy next to me yelled ou

Share Tweet

Watch Houston Make A Record-Tying 23 Three-Pointers In One Game

Golden State had a pretty good offensive night. As we mentioned in Smack, they lit it up for 62 points in the first half against Houston… and yet trailed by 15. The Houston Rockets would go on to make 23 of 40 threes, tying a NBA record. On Monday night

Share Tweet

Rockets sink 23 treys to tie NBA record in rout

The Houston Rockets tied an NBA record and set a franchise mark with 23 3-pointers in a 140-109 win over Golden State on Tuesday night.

Share Tweet

deadspin.com yahoo.com ESPN.com dimemag.com grantland.com

Feb 6, 2013

Oh you know, just your standard fast-break, flip-the-ball-behind-your-head-from-below-your-hip-while-getting-fouled layup that hits every part of the rim before gently falling through the net. Nuggets forward Danilo Gallinari somehow managed to pull off…

Share Tweet

Alicia Keys headlines All-Star Game halftime show

nba.com

Feb 6, 2013

NEW YORK -- Fourteen-time Grammy Award-winning artist Alicia Keys will headline the 62nd NBA All-Star Game as the sole performer of the halftime show on Sunday, Feb. 17. Keys will perform a selection of her chart-topping hits as part of the All-Star Gam…

Share Tweet

The Houston Rockets put on a historically great shooting performance on Tuesday night, defeating the Golden State Warriors 140-109 at home. Houston tied an NBA record with 23 3-pointers on 40 attempts, with three players making at least four triples and…

Share Tweet

Los Angeles Lakers general manager Mitch Kupchak has told Dwight Howard he will not be traded before the Feb. 21 trade deadline, according to league sources.

Share Tweet

Waiting For Superman

Kobe Bryant closed out the Nets 92-83, but the Lakers lost Pau Gasol in the process. With Kobe already doing all he can, L.A. needs Dwight Howard back soon, says Chris Mannix.

Share Tweet

grantland.com

Feb 6, 2013

The Celtics are 4-0 without Rajon Rondo and have scored 102.4 points per 100 possessions in that stretch, a mark that would rank 12th overall - about ...

Share Tweet

About Last Night: The Rockets' Red Glare

grantland.com

Feb 6, 2013

In case you were out just driving, man, just hitting the open road, here's what you missed in sports Tuesday. The Houston Rockets tied the NBA recor...

Share Tweet

Hornets Put Away Suns

Feb 6

Greivis Vasquez drops double-double in Hornets' 93-84 win over Suns.

LeBron, Wade Spark Heat

Feb 6

LeBron James and Dwyane Wade combined for 63 points in the Heat's 114-108 victory over the Rockets.

Barea 3-pointer

Feb 6

JJ Barea knocks down 3-pointer

Rubio Touch Pass

Feb 6

Ricky Rubio's touch pass finds Mickael Gelabale for the lay-in.