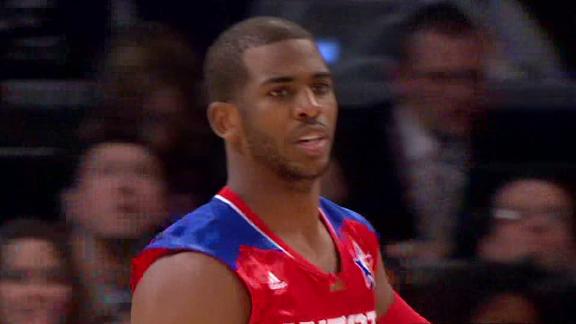 Chandler Savoring His First All-Star Game

nytimes.com

Feb 17, 2013

The Knicks' Tyson Chandler, already a former N.B.A. champion and Olympic gold medalist, savors adding an All-Star appearance to his résumé.

Share Tweet

CNNSI.com

Feb 17, 2013

HOUSTON (AP) -- Jerry Colangelo said Saturday he never said Deron Williams was unfit to play in the Olympics, only that the point guard wasn't in great shape when the U.S. men's basketball team began training last summer.

Share Tweet

Westbrook makes Ke$ha an NBA fan

HOUSTON (AP) -- Ke$ha didn't pay much attention to the NBA until recently when she realized she had a fan in the league.

Share Tweet

AARP gives Michael Jordan the perfect 50th birthday gift (PHOTO)

HOUSTON - I don't know if you've heard, but Michael Jordan turned 50 years old on Sunday. You probably missed it, because it's not like anyone's made a big deal about his birthday at all or anything, or tweeting about it all day. It's been a pretty low-

Share Tweet

Your NBA All-Star Game Open Thread

deadspin.com

Feb 17, 2013

Here's your spot to talk about all things All-Star Game-related and no things All-Star Game-unrelated. More »

Share Tweet

"I Am A Nasty Cribbage Player": NBA All-Stars Discuss What They Could Beat Michael Jordan At Today

deadspin.com

Feb 17, 2013

The Basketball Jones did a twist on the usual Michael Jordan's birthday fare. Acknowledging that he is one of the most competitive humans on the planet (and pretty good at basketball), TBJ went around asking the All-Stars in Houston what they could beat…

Share Tweet

2013 All-Star warm-up jackets have patches showcasing players' career accomplishments

HOUSTON - When LeBron James, Kobe Bryant, Tim Duncan and the rest of the participants in Sunday night's 2013 NBA All-Star Game come out of the locker room to take the court at the Toyota Center, you'll be able to see exactly how much they've been able t

Share Tweet

Stars celebrate Jordan at 50

Michael Jordan turned 50 on Sunday, giving this year's All-Stars a chance to reflect on his illustrious career and how much he still means to the sport.

Share Tweet

BDL Interview: Ricky Rubio on being fancy, becoming a leader and the challenge of having fun

HOUSTON - After spending nine months working his way back from a torn anterior cruciate ligament in his left knee, it wasn't exactly an ideal situation for Ricky Rubio to come back to have to carry a major load (albeit in minor minutes, at first) for a

Share Tweet

For 30 years of options, David Stern's answer came surprisingly quickly.

Share Tweet

CNNSI.com

Feb 17, 2013

Michael Jordan, who won six NBA titles, five MVPs and two Olympic gold medals, is 50 today. To help celebrate, here are SI's 100 best photos of arguably the NBA's greatest player.

Share Tweet

HOUSTON - After spending much of Friday's All-Star media session talking with this year's slew of first-time All-Stars about what it feels like to learn you're an All-Star, I figured it'd be neat to ask a few players who've gone through the All-Star Wee

Share Tweet

Harden finds sudden stardom a quick jump away in Houston

HOUSTON -- Practice had been over for about 20 minutes when the door opened behind the Rockets' training room and a figure wearing just a pair of shorts and a towel on his head strode straight into the 50-degree water of the cold-splash pool.

Share Tweet

Terrence Ross' dunks, James White's 2-hander and Gerald Green's reverse, all in slow motion (VIDEO)

HOUSTON - Thanks to noted philosopher Dave Chappelle, it's long been widely accepted that most things look better in slow motion. This is especially true when it comes to slam dunks, which are often pretty rad in real-time, but tend to look even more st

Share Tweet

ESPN.com

Feb 17, 2013

No new details on Sacramento against Seattle, though the next All-Star decision might be New York versus New York.

Share Tweet

ESPN.com

Feb 17, 2013

There is a level of mutual interest between the Clippers and Utah Jazz in exploring a deal that would feature Eric Bledsoe as the headliner in a trade package for Jazz forward Paul Millsap, sources with knowledge of the situation told ESPN.com.

Share Tweet

yahoo.com deadspin.com

Feb 17, 2013

Toronto Raptors rookie Terrence Ross has been crowned the champion of the 2013 Sprite Slam Dunk, besting reigning champion Jeremy Evans and several other contestants who received heavy promotion and stoked fan interest. Yet, while Ross took home the tro…

Share Tweet

nydailynews.com

Feb 17, 2013

The Knicks aren't going to get past LeBron James the way the old Knicks couldn't get past Michael Jordan. Because they are in the same conference with one of the great all-around players and great team players in the history of basketball, now playing

Share Tweet

Kings Still Have Future In Sacramento?

Feb 17

Henry Abbott of TrueHoop talks about David Stern's comments regarding the future of the Kings in Sacramento.

Turning NBA Stats Into Wins

Feb 17

Henry Abbott explains why the Portland Trail Blazers have an advantage when it comes to getting the most out of analyzing statistics.

NBA First Half Top Plays

Feb 17

Take a look back at the top 10 plays from the first half of the NBA season.