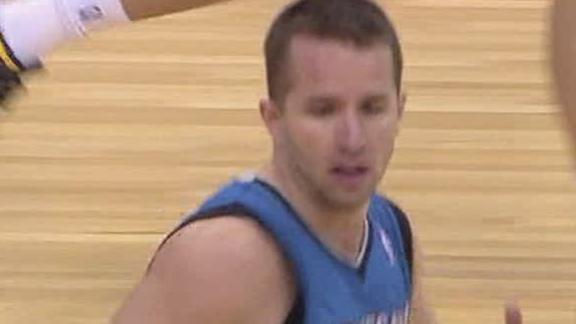 Updated Jan 3
Share
Tweet
J.J. Barea scored 12 of his 17 points in the fourth quarter while All-Star forward Kevin Love sat on the bench with a sprained finger, lifting the Minnesota Timberwolves to a 101-97 win over the Denver Nuggets on Thursday night.
Updated Jan 3

Share Tweet

It's been less than three weeks since Stephen Jackson returned action after losing nearly a month to a fractured right pinky. Now, the San Antonio Spurs small forward could find himself back on the shelf, thanks to an unfortunate foot-fall, a possibly i…

Sources:

yahoo.com ESPN.com nba.com deadspin.com

Updated Jan 3

Share Tweet

Phil Jackson may not have signed on for another run as coach of the Los Angeles Lakers, but he's about to join the Laker family nonetheless.

Sources:

ESPN.com yahoo.com deadspin.com

Updated Jan 3

Share Tweet

Carmelo Anthony scored 23 points, J.R. Smith kept up his surge with 20 and the New York Knicks snapped the San Antonio Spurs' seven-game winning streak with a 100-83 victory Thursday night

Nuggets' Miller joins exclusive points, assists club

Updated Jan 3

Share Tweet

Andre Miller scored the 15,000th point of his NBA career on a mid-range jumper in the first quarter against Minnesota, becoming the eighth player to score that many and dish out at least 7,500 assists.

Our Show: Amare' Stoudamire added 10 points off the bench i…

Updated Jan 3

Share Tweet

Amare' Stoudamire added 10 points off the bench in his second game back from injury, but the team's stifling defense was key to ending the Spurs' seven-game win streak.

Here's Shawn Marion As The Super Mario Bros. Character You Never Asked For

Updated Jan 3

Share Tweet

First of all, it makes no sense because Bowser doesn't come anywhere near World 1-1, and Mario could never carry any cool stuff on his back, like, say, an NBA championship trophy. But that's fine, Dallas Mavericks CGI worker bees. You have fun with your…

Source:

deadspin.com

Updated Jan 3

Share Tweet

An autopsy has been conducted on the body of Scott Ashley Sterling, son of Los Angeles Clippers owner Donald Sterling.

Sources:

ESPN.com nba.com deadspin.com

Updated Jan 3

Share Tweet

When the Los Angeles Lakers play the Los Angeles Clippers on Friday, all 16 championship banners hanging from the Staples Center rafters will belong to the team in the purple and gold.

Despite hot start, Heat struggling to rebound

Updated Jan 3

Share Tweet

Most wins in the Eastern Conference, fewest rebounds in the NBA.

Udonis Haslem wants to be known as 'Django' from now on

Updated Jan 3

Share Tweet

If you have any interest in movies, you're probably familiar with "Django Unchained," the new film from the hyperactively cinephilic filmmaker Quentin Tarantino. In a little more than a week, the movie - which concerns a freed slave (Jamie Foxx) who bec

Sacramento may have passed on drafting Damian Lillard in order to re-sign … Jason Thompson?

Updated Jan 3

Share Tweet

You'd probably make the call, too, whether your experience with college hoops either meant watching hours on end of the stuff from Midnight Madness onward or cramming in the days leading up to the NBA draft. Do you take the studly power forward with the

Updated Jan 3

Share Tweet

Experts are giving the Mavericks a slim chance of making the playoffs. But Rob Mahoney argues that with Dirk Nowitzki back in the lineup, no one can count out the 2011 champs.

Updated Jan 3

Share Tweet

When Amar'e Stoudemire made his 2012-13 season debut with the New York Knicks in the team's New Year's Day loss to the Portland Trail Blazers, he didn't exactly look great on defense. This is not surprising; as NBA.com's John Schuhmann (among others) no…

Updated Jan 3

Share Tweet

There are a lot of stars at power forward in the NBA. You have your Nowitzkis and Gasols, your Amar'e Stoudemires and Paul Millsaps; your Josh Smiths and Zach Randolphs and the newer stars like Blake Griffin, Kevin Love and LaMarcus Aldridge set to take

Sources:

dimemag.com yahoo.com

5-on-5: Contenders or Pretenders?

Updated Jan 3

Share Tweet

Whose early-season success is a sign of things to come?

Tonight's Knicks-Spurs Finals Rematch Is 15 Seasons In The Making

Updated Jan 3

Share Tweet

Tonight isn't just about two games on national TV, because that happens every Thursday. Tonight, and specifically New York vs. San Antonio, is something in the making for much, much longer. The Knicks and the Spurs' matchup feels like a big game becau

Sam Mitchell laments the fact that he was 'not allowed to be that tough on Andrea' Bargnani

Updated Jan 3

Share Tweet

Fresh off his work re-tooling the Steve Nash-led Phoenix Suns after disappointing turns at the hands of Jason Kidd and Stephon Marbury, Bryan Colangelo was a hot commodity in 2006. The GM was rumored to possibly have enough basketball sway to take over …

Bledsoe Cools, but Clippers Stay Hot for Now

Updated Jan 3

Share Tweet

Eric Bledsoe's shooting percentage and assists are down, and his turnovers are up, after a hot start in which he was seen as an early contender for most improved player.

Source:

nytimes.com

NBA Insider Says Minnesota Should Trade Kevin Love Right Now

Updated Jan 3

Share Tweet

From the weird injuries to his awful shooting numbers to the reports of his unhappiness to even Minnesota's slow start, this year must be trying Kevin Love's patience. Coming off his best season, as well as his experience at the summer Olympics, pundi

Updated Jan 3

Share Tweet

LeBron James sat out of Thursday's practice to receive extensive treatment for his bruised right knee but hopes to play in Friday's game against the Chicago Bulls.

Rockets' Greg Smith can't tie his shoe in less than 3 seconds, apparently (VIDEO)

Updated Jan 3

Share Tweet

Greg Smith has come a long way in a relatively short period, going from undrafted out of Fresno State to D-League All-Star to winning a roster spot in a crowded frontcourt and becoming the backup center on a Houston Rockets team that's become both an aw…

Updated Jan 3

Share Tweet

Former Rutgers standout and Kings first-rounder Quincy Douby had the game of his life yesterday, putting up 75 points for the Zhejiang Golden Bulls in the Chinese Basketball Association. This is an awful lot of points for someone who average 4.1 ppg in …

Sources:

deadspin.com yahoo.com

Amir Johnson Took 3.5 Seconds Between Dribbles, And Did Not Get Called For A Double Dribble

Updated Jan 3

Share Tweet

It's sort of inexplicable how Toronto's Amir Johnson was able to get away with this. He takes the pass, dribbles to just outside the lane, picks up his dribble, pump fakes, pump fakes, and drives for a short jumper. By the game clock, it took him nearly…

Source:

deadspin.com

The reeling Boston Celtics are struggling at league-low levels with Kevin Garnett off the floor

Updated Jan 3

Share Tweet

On Christmas day, the Boston Celtics absolutely and utterly waxed the Brooklyn Nets in full view of a national TV audience and the Nets' home crowd. Playing an energetic style of ball, the C's took Brooklyn out of their offense, only ceding buckets to

Nothing Eye-Popping Except the Statistical Line

Updated Jan 3

Share Tweet

The Knicks on Thursday night will host the San Antonio Spurs, who got 28 points and 13 rebounds the previous night from the consistently terrific Tim Duncan.

Source:

nytimes.com

Updated Jan 3

Share Tweet

For a while now, I have believed that Kris Humphries' sweat game is underrated. Whenever the topic of the sweatiest players in the NBA comes up (and it comes up kind of a lot, which seems weird but also makes sense considering how much exposed skin the …

Updated Jan 3

Share Tweet

DeMarcus Cousins is an interesting individual. He's obviously a very talented player. At 6-11, he's shown off his tremendous skill set as a premier big man since his days at Kentucky. With a knack for scoring around the basket, rebounding at an alarmi

Updated Jan 3

Share Tweet

With two months of the season in the books, five contenders have separated themselves from the field. Ian Thomsen examines them and more as he resets the 2012-13 season.

Updated Jan 3

Share Tweet

It had been a frustrating Wednesday night for Kevin Durant. He'd watched his Oklahoma City Thunder - once again perched atop the Western Conference and boasting the NBA's best record, after the Denver Nuggets snapped the Los Angeles Clippers' 17-game wi

LeBron, Heat finding out how tough back-to-back can be

Updated Jan 3

Share Tweet

Winning back-to-back NBA championships is the most difficult challenge a superstar will ever face. How do you stay motivated when you already have experienced the biggest highs and lows that the game has to offer? You are the best player on the best tea…

Amir Johnson gets away with a double-dribble, laughs about it (VIDEO)

Updated Jan 3

Share Tweet

When I was six years old, I played in a YMCA basketball league that allowed all methods of moving the ball up and down the court. We could run with the ball, stop and start dribbles whenever we wanted, and play by the regular rules. Being a big sports f…

A 2011 Finals Rematch Goes Into OT; Kevin Durant Does Something He's Never Done Before

Updated Jan 3

Share Tweet

How often do you see it happen: a visiting team takes control in the fourth quarter before squandering a late chance to grab a W, and then end up getting pounded into submission in the extra session? Dallas is feeling the pain now after letting the Heat…

Hayward helps Jazz snap 3-game losing skid

Updated Jan 3

Share Tweet

Gordon Hayward scored 17 points, Enes Kanter had 15 and the Utah Jazz beat the Minnesota Timberwolves 106-84 on Wednesday night to snap a three-game losing streak.

NBA Shootaround: The Jackson Five

Updated Jan 3

Share Tweet

So much amazing is happening, and the Shootaround crew is here to help you keep track of it all. You'll find takes on moments you might've missed from...

Source:

grantland.com

The Not Quite Mid-season NBA Awards, Part 2

Updated Jan 3

Share Tweet

I handed out mid-season awards for MVP, Defensive Player of the Year, and Sixth Man of the Year on Wednesday. Now it's time to address the other thr...

Source:

grantland.com

Dunk Of The Night

Jan 3

J.R. Smith throws down a huge dunk against the Spurs.

Stephen Jackson Sprains Ankle After Tripping Over Courtside Waitr...

Jan 3

Brian Windhorst with the latest on Stephen Jackson's injury.

Bulls Update with Nick Friedell

Jan 3

Nick Friedell on winning without Noah, facing the Heat and when to expect Derrick Rose back on the floor.

The Cousins Problem

Jan 3

The Sacramento Kings must figure out the future of their relationship with the volatile forward-center, who has had a controversy-ridden season.