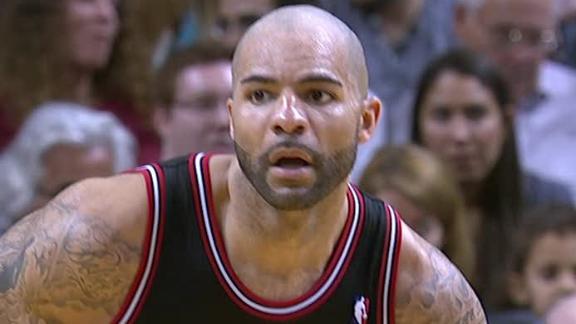 ESPN.com
Updated Jan 4, 2013
Carlos Boozer scored 27 points and the Chicago Bulls dominated on the boards to become only the third visiting team to win in Miami this season, beating the Heat 96-89 Friday night.
Share
Tweet
Garnett ejected as Celtics snap 4-game skid

Kevin Garnett scored 18 points before he was ejected for a flagrant foul in the fourth quarter, and the Boston Celtics snapped a four-game losing streak by beating the Indiana Pacers 94-75 on Friday night.

Share Tweet

Wesley Matthews scored 21 points, J.J. Hickson added 19 points and 11 rebounds, and the Portland Trail Blazers beat the Memphis Grizzlies 86-84 on Friday night.

Share Tweet

Clips' Crawford (foot) out against rival Lakers

Los Angeles Clippers guard and Sixth Man of the Year candidate Jamal Crawford will miss Friday's game against the Los Angeles Lakers with a sore left foot.

Share Tweet

Johnson's jumper propels Nets to 2OT victory

Joe Johnson's jumper with 0.7 seconds left in the second overtime lifted the Brooklyn Nets to a 115-113 victory over the Washington Wizards on Friday night.

Share Tweet

The Lakers' made a strong comeback attempt in the fourth, but even Kobe Bryant's 38 could not prevent the Clippers from winning their 11th straight home game, 107-102.

Share Tweet

Hostility In Hollywood

The Lakers have lost two of three since winning five straight, and the Clippers have now dropped two in a row. Both look to bounce back, and gain some L.A. bragging rights.

Share Tweet

Kings ride Cousins, Salmons past Raptors

DeMarcus Cousins scored a season-high 31 points and matched his career high with 20 rebounds, John Salmons scored eight of his 20 points in the fourth quarter and the Sacramento Kings beat the Toronto Raptors 105-96 on Friday night.

Share Tweet

Kyrie Irving scored 33 points, including a pull-up jumper from the foul line with one second left, to lift the Cleveland Cavaliers to a 106-104 victory over the Charlotte Bobcats on Friday night.

Share Tweet

Zach Randolph has been ruled out for the Memphis Grizzlies' game against the Portland Trail Blazers due to flu-like symptoms.

Share Tweet

The Washington Wizards terrible, league-worst 4-26 season has been defined largely by abject futility. After that, though, it's been about the absence of John Wall, one-time franchise savior who had a disappointing first two NBA seasons. This season was…

Share Tweet

- Brooklyn Nets power forward Kris Humphries will miss the next two games with a mild abdominal strain, coach Avery Johnson said Tuesday.

Share Tweet

Kobe Bryant is no longer a holdout. He's on Twitter.

Share Tweet

CNNSI.com grantland.com

Jan 4, 2013

Grizzlies reportedly making Gay available in talks

Share Tweet

DeMar DeRozan watched game film instead of going out on New Year's Eve

Follow the league long enough and you hear about them - the maniacal types whose devotion to the game gets them from the fringes of sticking in the league to steady jobs, based largely on their willingness to continue working toward improvement even whe

Share Tweet

3 Things That Could Stop Another Miami Championship

The defending NBA champion Miami Heat are 22-8 and the top team in the Eastern Conference. They're second in the league in offensive efficiency, trailing only the super-hot Oklahoma City Thunder, and they possess not one, not two, but three players that

Share Tweet

Should Terrence Ross Be In The NBA Dunk Contest? Toronto Campaigns To #LetRossDunk

This is a post about Terrence Ross, Toronto rookie, not Ross, the Washington Husky. The photo with this post was chosen for a reason, though, because it brings back a vivid memory of when I talked to his college coach, Lorenzo Romar, over the phone 14 m…

Share Tweet

After a long hold out, Bryant finally joins Twitter

Share Tweet

Knicks' Online Community Keeps It Real for a Night

nytimes.com

Jan 4, 2013

When bloggers and readers of SBNation's Posting & Toasting got together for the first time this season, their night was brightened by the Knicks' victory over the Spurs.

Share Tweet

Dirk Nowitzki practiced with the Dallas Mavericks' starters Friday for the first time this season, a significant step in the process of resuming his regular role.

Share Tweet

Clippers eye L.A. bragging rights in Staples Center tilt

Clippers eye L.A. bragging rights in Staples Center tilt

Share Tweet

Even Kobe Bryant agrees: Los Angeles' upcoming five-game stretch is 'critical'

Share Tweet

George Karl: Nuggets embarrassed themselves in loss to Love-less, Rubio-less Timberwolves

On Wednesday morning, the Denver Nuggets were flying high, celebrating a big-time win that snapped the Los Angeles Clippers' franchise-record 17-game winning streak and looking like a team that had finally hit its stride after a tough-as-nails early-sea…

Share Tweet

5-on-5: Best and worst in Los Angeles

We roll out the red carpet and dub the best and worst in L.A. basketball this season.

Share Tweet

Hornets waive forward McGuire

The New Orleans Hornets have waived forward Dominic McGuire, who's been with the club a little under a month.

Share Tweet

Officially Unveiled: Carmelo Anthony's Jordan Melo M9

For the first time since coming to New York, Carmelo Anthony not only has himself ingrained in the MVP race, but has also spearheaded a true New York basketball resurgence. The Knicks are rolling as the second-best team in the East, and with the Celtics…

Share Tweet

Spurs take top spot after rough week for contenders

It was a rough week for title contenders, which allowed an old familiar favorite to take the top overall spot. How did the rest of the league fare? Matt Dollinger ranks every team.

Share Tweet

Knicks and Nets Rediscover What Works

nytimes.com

Jan 4, 2013

The Knicks got back to executing their defense and the Nets got another good game from center Brook Lopez this week in big wins over two of the best teams in the West.

Share Tweet

A Team In Disarray: There's much at stake for the Lakers in the Battl…

There's much at stake for the Lakers in the Battle of L.A. tonight. With a tough schedule ahead of them, the Lakers need to get back on track against the rival Clippers, says Chris Mannix.

Share Tweet

And Now, Two Former NBA Players Discussing Disease And Government Conspiracies On Twitter

deadspin.com

Jan 4, 2013

Twitter is a wonderful thing. It's the only place I can think of where we can witness former NBA player Pooh Jeter (and brother of Olympic sprinter Carmela Jeter) getting a truth bomb of epic proportions dropped on him by former NBA player Keith Closs. …

Share Tweet

Coach Says Paul George & David West Are Playing Like All-Stars

A few weeks into the season, they were perhaps the NBA's most disappointing team. Now Indiana is sitting at No. 4 in the East, 19-13 on the year after winning eight of their last 10 games. Roy Hibbert is still struggling on the offensive end, shooting o

Share Tweet

Bulls' Noah (flu) says he'll play vs. Heat

Chicago Bulls center Joakim Noah, who's been battling flu-like symptoms, said he's healthy enough to face the Miami Heat on Friday.

Share Tweet

David Stern says there will be NBA teams in Europe in 20 years, 'for sure'

Since taking over as NBA commissioner in 1984, David Stern has been the driving force behind expanding the global reach of the league and sport. There are more fans than ever in continents other than North America, and more players than ever that come f…

Share Tweet

Jayhawk Rising: There are dark-horse candidates now emerging in t…

There are dark-horse candidates now emerging in the race to become the NBA's top pick in June. Chris Mannix revises his look at the draft's top 20 prospects in his latest Big Board.

Share Tweet

J.R. Smith's Reverse Alley-Oop Shouldn't Be Humanly Possible

deadspin.com

Jan 4, 2013

The game was out of hand at this point-San Antonio, playing their fourth in five nights, had benched most of the starters, and the Knicks had followed suit. That doesn't take a thing away from the athleticism required to put home this reverse alley-oop,

Share Tweet

Warriors rookie Kent Bazemore's bench celebrations are great (VIDEO)

First, it was Ronny Turiaf with the Los Angeles Lakers (and, later, the Clippers). Then, it was Robert Sacre following in Turiaf's excited forum-blue-and-gold footsteps. And now, California's other NBA team has an energetic end-of-the-bench champion all…

Share Tweet

Comedy is a subjective thing, but there are several forms of humor that human beings are pretty much hardwired to enjoy. For the most part, these are incidents in which people suffer bodily harm because of their own obliviousness to their surroundings. …

Share Tweet

Known for getting rings, Phil Jackson finally has given one as well.

Share Tweet

New York Runs Tired San Antonio Into The Ground; J.J. Barea Doesn't Need Kevin Love To Bust Denver

In a game where New York's interior defense built a wall around the paint and allowed San Antonio just 12 points, it was appropriate the Knicks' bucket to cap the win came on the inside. J.R. Smith (20 points, five boards and zero turnovers) threw dow

Share Tweet

nydailynews.com

Jan 4, 2013

In retrospect, Gregg Popovich should have sent Tim Duncan, Manu Ginobili and Tony Parker back to San Antonio before the Spurs ever reached the Garden on Thursday night.

Share Tweet

J.R. Smith turns waist-level lob into massive reverse alley-oop in Knicks win over Spurs (VIDEO)

At this point, it's not exactly news that J.R. Smith is capable of remarkable, jaw-dropping feats on a basketball court. As a member of the Denver Nuggets in seasons past, we saw him finish lobs with 180-degree slams, hit 11 3-pointers in one game and n…

Share Tweet

Timberwolves forward Kevin Love has left Minnesota's game against the Denver Nuggets after spraining a finger on his right hand in the third quarter.

Share Tweet

The Jalen Rose Report: Jalen Rose and David Jacoby

grantland.com

Jan 4, 2013

Jalen Rose returns to break down the NBA regular season, offer a behind the scenes look at NBA Countdown, and, in a video after the jump, explains why...

Share Tweet

About Last Night: Spurs Rusted Out

grantland.com

Jan 4, 2013

In case you were out seeing if it was really as cold as the guy on TV said it was (it was), here's what you missed in sports on Thursday. The New Yo...

Share Tweet

Thunder Crush 76ers, 109-85

Jan 4

Kevin Durant, Russell Westbrook lead Thunder to win.

Johnson's Jumper Lifts Nets In Double OT

Jan 4

Joe Johnson hit a jumper with less than a second remaining in double overtime to lift the Nets.

Bulls Charge Past Heat, 96-89

Jan 4

Carlos Boozer leads Bulls past Heat.

Cavs Hold Off Bobcats, 106-104

Jan 4

Kyrie Irving leads Cavs with 33 points.