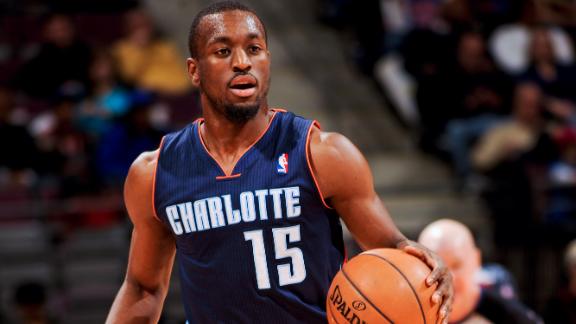 Updated Jan 6

Share Tweet

The Dallas Mavericks have requested waivers on guard Chris Douglas-Roberts after he spent only two weeks on their roster.

LeBron-led Heat rule boards, quiet Wizards

Updated Jan 6

Share Tweet

LeBron James scored 24 points and the Miami Heat had an edge in rebounding for a change Sunday to beat the woeful Washington Wizards 99-71.

Updated Jan 6

Share Tweet

With the Dallas Mavericks' 12-season playoff streak in serious jeopardy, star forward Dirk Nowitzki expressed strong doubt about the front office's plan for the franchise's future, even wondering whether it'd be in the Mavs' best interests to trade him.

Updated Jan 6

Share Tweet

Russell Westbrook scored 23 points, Kevin Durant had 22 and the Oklahoma City Thunder beat the Toronto Raptors 104-92 on Sunday.

Cavaliers waive forward Samardo Samuels

Updated Jan 6

Share Tweet

The Cavaliers have waived forward Samardo Samuels.

Source:

nba.com

Russell Westbrook Maintains Control After Contact and Finishes the Tough Bucket

Updated Jan 6

Share Tweet

After a superb sequence of ball movement by the Oklahoma City Thunder, Russell Westbrook shows off his speedy drive to the hoop as he banks in a shot off the glass after contact in today's matchup against the Toronto Raptors.

Amir Johnson Throws Down Monster Dunk

Updated Jan 6

Share Tweet

Jose Calderon feeds Amir Johnson who rolls out of the pick and roll and throws down a monster slam in today's matchup between the Toronto Raptors and Oklahoma City Thunder.

Updated Jan 6

Share Tweet

The Rockets suspended Royce White today for "refusing to provide services" required by his contract, something that White has been staunchly refusing to do roughly since the season began. He's spent the last few months on the inactive list aft…

Sources:

deadspin.com nba.com CNNSI.com ESPN.com

Updated Jan 6

Share Tweet

Guard Daequan Cook has signed with the Chicago Bulls.

Updated Jan 6

Share Tweet

The injury-riddled Minnesota Timberwolves lost star forward Kevin Love to a broken right hand for the second time this season when an MRI confirmed the injury on Saturday.

Clips slam Warriors for 12th straight home win

Updated Jan 6

Share Tweet

Chris Paul had 27 points and nine assists, Blake Griffin added 20 points and the Los Angeles Clippers set a franchise record with their 12th straight home victory, 115-89 over the Golden State Warriors on Saturday night.

Cuban questions officiating again after loss

Updated Jan 6

Share Tweet

With his team eight games under .500 for the first time since his first few months as the Dallas Mavericks' owner, Mark Cuban is firing away at one of his favorite targets: NBA officials.

Paul Pierce Leads Boston Back From The Dead; Carmelo Anthony Erupts In Disney World

Updated Jan 6

Share Tweet

Boston had every right to lose this game. They didn't get into Atlanta until 4 a.m., and they fell behind big in the first half. By the second quarter, the Hawks' announcers were asking, "Lets blow 'em outta the building. Whadda ya say?" Lou Wil

Parker, Spurs rebound with drubbing of Sixers

Updated Jan 6

Share Tweet

Tony Parker had 20 points and Manu Ginobili added 19 and the San Antonio Spurs routed the Philadelphia 76ers 109-86 on Saturday.

Updated Jan 6

Share Tweet

Danilo Gallinari scored 26 points and the Denver Nuggets rebounded from a rare home loss to beat the Utah Jazz 110-91 on Saturday night.

Thunder Top Raptors With Strong Second Half

Jan 6

Kevin Durant and Russell Westbrook combined for 45 points in the Thunder's 104-92 win.

Nuggets Finish Off Lakers

Jan 6

Despite a career-tying 26 rebounds from Dwight Howard, Nuggets top Lakers for their fifth win in seven games.