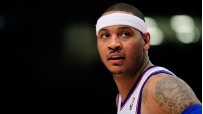 ESPN.com
Updated Jan 7, 2013
Carmelo Anthony approached the Celtics locker room after New York's loss to Boston on Monday and was screaming, MSG Network reported.
Upvote
Share
Tweet
Boozer drives Bulls' drubbing of Cavaliers

Carlos Boozer had 24 points and 11 rebounds to lead the Chicago Bulls to an 118-92 rout of the Cleveland Cavaliers on Monday night.

Upvote Share Tweet

Paul Pierce scored 23 points, and the Boston Celtics beat the New York Knicks 102-96 on Monday night in a heated first meeting of the season between the Atlantic Division rivals.

Upvote Share Tweet

Bradley Beal made a jumper with 0.3 seconds left after using a pump fake to get open, and the short-handed Washington Wizards beat the Oklahoma City Thunder 101-99 Monday night.

Upvote Share Tweet

In the immediate aftermath of their 2011 championship, the Dallas Mavericks took a gamble. With many key players - especially Tyson Chandler - set to become free agents, Mark Cuban and his front office decided to let most of them go. It was a calculat

Upvote Share Tweet

NEW YORK (AP) -- Boston Celtics point guard Rajon Rondo has been suspended one game without pay for making contact with a referee and failure to cooperate with an NBA investigation.

Upvote Share Tweet

ATLANTA (AP) -- Hawks general manager Danny Ferry has been fined $15,000 by the NBA for inappropriate interaction with game officials following Saturday night's game against Boston.

Upvote Share Tweet

Nene and Jordan Crawford are out for the Washington Wizards against the Oklahoma City Thunder on Monday night.

Upvote Share Tweet

Minnesota Timberwolves forward Kevin Love met with doctors in the Twin Cities on Monday to evaluate his right hand, which is broken for the second time this season.

Upvote Share Tweet

Andrew Bynum says his knees are better and he still plans on playing this season for the Philadelphia 76ers.

Upvote Share Tweet

Los Angeles Lakers guard Kobe Bryant might be a neophyte in the world of Twitter, but it hasn't taken him long to figure out how to use it to control the narrative that's surrounding him.

Upvote Share Tweet

The 10-man rotation, starring #TysonTapback

A look around the league and the Web that covers it. It's also important to note that the rotation order and starting nods aren't always listed in order of importance. That's for you, dear reader, to figure out. C: The New York Times. "In the past …

Upvote Share Tweet

Wolves make playoff pledge in new ticket campaign

The Minnesota Timberwolves have been saying all season the playoffs are the goal this year. Now they're banking on it.

Upvote Share Tweet

CNNSI.com yahoo.com nba.com ESPN.com dimemag.com

Jan 7, 2013

Following rumors of locker room turmoil, the Lakers announced that both Dwight Howard and Pau Gasol are out indefinitely, putting Los Angeles in a tough spot, says Ben Golliver.

Upvote Share Tweet

The Indiana Pacers have signed coach Frank Vogel to a contract extension.

Upvote Share Tweet

The Numbers: Can Durant Join the 40-50-90 Club?

nytimes.com

Jan 7, 2013

Kevin Durant of the Thunder could become one of the few N.B.A. players to shoot 40 percent on 3-point attempts, 50 percent on field goal attempts and 90 percent from the free throw line.

Upvote Share Tweet

David Lee and the Warriors' Resurgence

nytimes.com

Jan 7, 2013

David Lee, the former Knick, is averaging 19.9 points, 10.9 rebounds and 3.7 assists a game for the Golden State Warriors.

Upvote Share Tweet

Jrue Holiday Should Be A NBA All-Star This Season

Jrue Holiday's All-Star consideration has never been much of one in his first three seasons in the NBA. At 19, he was still figuring out his style while turning the ball over more frequently than he handled it. As his obvious talent has become more appa

Upvote Share Tweet

The Mavericks plan to sign Mike James to a 10-day contract, sources said.

Upvote Share Tweet

Heat cut Harrellson, clearing second roster spot

The Miami Heat have released center Josh Harrellson on Monday ahead of their game against the Indiana Pacers on Tuesday night.

Upvote Share Tweet

Why Lakers Fans Must Calm Down

We're only a week into 2013 and already Lakers fans are bugging out. The team has lost all of its games in the new year, including last night's disappointment to the Denver Nuggets at home, which dropped them to 10-8 at the Staples Center (not countin

Upvote Share Tweet

Create-a-Caption: 'And now, we do the Dance of Joy'

OK, maybe they're not perfect strangers, but Denver Nuggets forwards Andre Iguodala and Danilo Gallinari sure seemed pretty psyched after they each did their part - Iggy with some behind-the-back wizardry, Gallo with a game-sealing triple - to vanquis

Upvote Share Tweet

Pacers sign forward McGuire to 10-day contract

The Indiana Pacers have signed forward Dominic McGuire to a 10-day contract.

Upvote Share Tweet

Here To Stay: Every season has its mirages. Part of the fun is …

CNNSI.com

Jan 7, 2013

Every season has its mirages. Part of the fun is discovering which improvements are more than trends. Rob Mahoney examines several NBA defenses to separate fact from fiction.

Upvote Share Tweet

Knicks' Anthony, Rockets' Harden named Players of the Week

The New York Knicks' Carmelo Anthony and the Houston Rockets' James Harden today were named Eastern and Western Conference Players of the Week, respectively, for games played Monday, Dec. 31 through Sunday, Jan. 6.

Upvote Share Tweet

Cavaliers recall Leuer, excuse Walton for personal matter

The Cavaliers have recalled forward Jon Leuer from Canton and excused forward Luke Walton to "address a personal matter."

Upvote Share Tweet

yahoo.com deadspin.com

Jan 7, 2013

It's been a difficult, acrimonious season for just about everybody associated with the Los Angeles Lakers, but perhaps nobody's borne the brunt of a disappointing 15-18 start to the season more than Pau Gasol. After spending his summer with the Spanish …

Upvote Share Tweet

Pistons rookie Andre Drummond is pretty good with a lightsaber (VIDEO)

Last year, the Detroit Pistons' "Star Wars Night" promotion brought us a rare and informative interview with Chewbacca. This year's model, held Friday night when the Pistons took on the Atlanta Hawks at the Palace of Auburn Hills, taught us wh…

Upvote Share Tweet

Roundup: What You Missed The Weekend Some Bros Snuck Into The Knicks Locker Room

deadspin.com

Jan 7, 2013

A Group Of Bros Infiltrated The Knicks Locker Room, Asked Gregg Popovich About J.R. Smith, And Got Kicked Out After Snapping A Picture Of Half-Naked Carmelo | The conclusions are obvious. If you act like you belong, you do belong. Read » More »

Upvote Share Tweet

The situation of Houston Rockets rookie forward Royce White has been explained here and elsewhere enough times for it to be fairly familiar. White, who suffers from anxiety, missed the first few days of training camp, secured a bus to take him to severa…

Upvote Share Tweet

JaVale McGee Goes Up And Over Two Of His Own Teammates For A Putback Dunk

deadspin.com

Jan 7, 2013

See, this is why we love JaVale McGee: he'll forego the smart play for the spectacular play. Late in the first half of yesterday's win over the Lakers, a missed Kosta Koufos layup bounced right in the middle of three Nuggets. Rather than yell "same…

Upvote Share Tweet

J.R. Smith thinks he belongs in the All-Star Game

In the modern NBA, only a certain kind of player typically makes the All-Star team. In all but a few cases, he is a dependable star on a team in line to make the playoffs, and almost always the sort of player the league wants to promote to a larger audi…

Upvote Share Tweet

Danilo Gallinari's Dagger Drives The Lakers Lower; Dirk Questions Dallas' Future

The wheels were already coming off in Los Angeles for the Lakers, but now it seems like an axle just gave way. A 112-105 home loss to Denver drops L.A. to 15-18, which is three games worse (as ESPN's J.A. Adande perfectly pointed out) than the '04-'

Upvote Share Tweet

Daily Dime: Lakers-Nuggets

The Lakers' latest loss reveals a team not headed for a quick turnaround, J.A. Adande writes.

Upvote Share Tweet

Randolph scored 21 points and Rudy Gay added 20 to lead the Memphis Grizzlies to a 92-81 victory over the Phoenix Suns.

Upvote Share Tweet

Ty Lawson had 21 points and 10 assists, Danilo Gallinari scored 20 points and hit a big 3-pointer with 13.8 seconds left, and the Denver Nuggets beat the struggling Los Angeles Lakers 112-105 Sunday night for their fifth win in seven games.

Upvote Share Tweet

Put Me In, Coach: Why More Minutes Won't Mean Less Success for the NBA's Underused

When the Houston Rockets pried Omer Asik away from the Bulls with an aggressive offer sheet, the most pressing question (after "Who?" and "Him?") was ...

Upvote Share Tweet

Analyzing the Lakers' Injury Apocalypse

The word indefinite has become the go-to recovery-time descriptor for NBA teams understandably wary of providing a specific timeline, and it is a ve...

Upvote Share Tweet

Gordon, Hornets Sting Spurs

Jan 7

Eric Gordon leads Hornets with 24 points in 95-88 win over Spurs.

Wizards Stun Thunder

Jan 7

Bradley Beal's late jumper lifts Wizards past Thunder for just their fifth win.

Bulls Run Away From Cavs

Jan 7

Carlos Boozer posts double-double in Bulls' 118-92 rout of Cavs.

Celtics Win Physical Battle With Knicks

Jan 7

Paul Pierce scores 23 points as Celtics top Knicks for their third straight win.