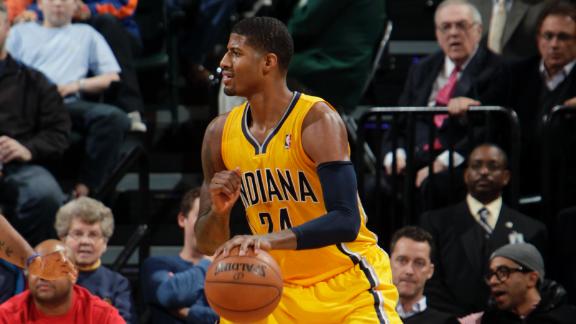 ESPN.com
Updated Jan 10, 2013
Paul George scored seven points in a 13-0 fourth-quarter run and finished with 24, leading the Indiana Pacers past the short-handed New York Knicks 81-76 on Thursday night.
Share
Tweet
nydailynews.com

Jan 10, 2013

This just in: James (Guitar Jimmy) Dolan is a lot fonder of Carmelo Anthony than he is of the suits running Comcast and Time Warner. The gap is even wider now. Dolan first professed true love for Melo when he ordered Donnie Walsh to trade half the team …

Share Tweet

nba.com ESPN.com grantland.com

Jan 10, 2013

Aaron Brooks has been in an awkward spot since news surfaced that the Sacramento Kings could be sold and moved back to his hometown of Seattle.

Share Tweet

Little has gone according to plan for the Lakers this season. So little, in fact, that Jim Buss said it would be foolish to "blow it up" until the team has played enough games together to correctly identify why it has struggled and so badly un…

Share Tweet

nytimes.com nba.com dimemag.com

Jan 10, 2013

The 28-year-old rookie Chris Copeland replaced Carmelo Anthony in the Knicks' starting lineup for Thursday's game against the Pacers while Anthony served a one-game suspension.

Share Tweet

Cavaliers center Anderson Varejao had surgery to repair a split leg muscle, an injury that could sideline him two more months.

Share Tweet

Marcin Gortat calls the Suns a 'sinking boat,' vows to stay aboard

The Phoenix Suns are not having anything close to a good season. After losing franchise talisman Steve Nash to the Los Angeles Lakers this summer, they've dipped to 12-25 (second-worst in the West) and seem to have few potential avenues toward improveme…

Share Tweet

The 10-man rotation, starring what's happening in Sacramento, for worse and for better

A look around the league and the Web that covers it. It's also important to note that the rotation order and starting nods aren't always listed in order of importance. That's for you, dear reader, to figure out. C: SB Nation and Sactown Royalty. Tom Zil…

Share Tweet

MLB.com Sells An NBA Headband For Cheaper Than NBA.com Does

deadspin.com

Jan 10, 2013

Reader Zachary had a desire for an NBA logo headband, because he's cool like that. He looked it up at the NBA Store, and found it for $7.99. Then he found it at the MLB Shop, and it's a dollar cheaper. Why? We don't know. Why does MLB.com sell NBA stuff…

Share Tweet

yahoo.com deadspin.com

Jan 10, 2013

EDITOR'S NOTE: As the headline suggests, the video below contains an expletive. Viewer discretion is advised. Hey, Kenneth Faried: You know you played really hard and, as BDL Editor Kelly Dwyer wrote, were a major factor in your Denver Nuggets' 108-105 …

Share Tweet

deadspin.com yahoo.com ESPN.com

Jan 10, 2013

Greg Oden is the NBA's Greek tragedy-a body outwardly designed for basketball dominance, but with an internal structure woefully insufficient for the task. Oden hasn't played since his patella attempted to escape in 2009, and underwent his third microfr

Share Tweet

Ask Donnie: Q&A with NBA Director of Officials Don Vaden

nba.com

Jan 10, 2013

Have a question about NBA officiating? Confused on a rule interpretation? Send your questions to Donnie Vaden, the NBA's VP of Referee Operations and Director of Officials. Send an email to: . Questions submitted that are not in regards to a rule interp…

Share Tweet

Brooklyn Nets backup center Andray Blatche says he's "not worried at all" about his involvement in an alleged sexual assault that occurred in his Philadelphia hotel suite early Tuesday morning.

Share Tweet

New coach Jim Boylan has unleashed Brandon Jennings' swag, according to Brandon Jennings

Taking over an NBA team in the middle of the season isn't an easy job, but Jim Boylan's making it look that way, posting two wins in two tries since taking over for Scott Skiles after he and the Milwaukee Bucks elected to "part ways" on Monday…

Share Tweet

When Carmelo Anthony met Kevin Garnett outside the Celtics locker room a couple nights ago, nobody expected any actual violence to occur (despite Carmelo's preference for Apple Jacks). But when Kendrick Perkins and Zach Randolph got into an on-court bac

Share Tweet

Lin and other notable players who played in D-League

Share Tweet

Dime Q&A: Joe Budden Dishes On Upcoming Album & Why He Doesn't Want New York To Play Boston

From an ugly fallout with his former label Def Jam, to combating erroneous claims surrounding his relationships, Joe Budden has been on the opposing end of a disastrous battle against the world. He was virtually playing one on five. His candor served as…

Share Tweet

Rivers says KG didn't talk about Melo's wife

Boston Celtics coach Doc Rivers said Thursday morning that forward Kevin Garnett did not make the remarks he has been rumored to have made about Carmelo Anthony's wife during Monday's game.

Share Tweet

deadspin.com yahoo.com

Jan 10, 2013

The Lakers lost. Yes, again. That's not news, but this fourth-quarter conference, between Mike D'Antoni, Gregg Popovich, and referee Bill Kennedy, is one of the best things we've seen in a while. More »

Share Tweet

Dirk wants to compete for title, not eighth spot

Dirk Nowitzki doesn't want to play for another NBA franchise, but he also doesn't want to finish his career just fighting for the Western Conference's final playoff spot.

Share Tweet

The Chicago Bulls' 2012-13 season has always been divided into two parts: the periods before and after Derrick Rose returns from the ACL tear that knocked him out of the 2012 playoffs after just one game. The idea was that the Bulls would perform well e…

Share Tweet

Ewing Jr. to play for Spanish league's Valladolid

Patrick Ewing Jr. has signed with Spanish club Blancos de Rueda Valladolid until the end of this season.

Share Tweet

Behind the Box Score, where Memphis built up a burly win in the Bay Area

Memphis 94, Golden State 87 Even before the game, you sort of assumed that Golden State would come ready to bang in the team's pairing with Memphis. If things hold up from here until April, the two squads will meet in the first round of this spring's

Share Tweet

Milwaukee Bucks point guard Monta Ellis spins through Chicago Bulls defenders and gets the shot to fall.

Share Tweet

Clippers top Mavs for 13th straight home win

Chris Paul had 19 points and 16 assists, and the Los Angeles Clippers held on to beat the Dallas Mavericks 99-93 on Wednesday night, extending their franchise-record home winning streak to 13 games.

Share Tweet

Kobe Bryant Gives Kawhi Leonard a Dance Lesson

Kobe Bryant gives Kawhi Leonard a dance lesson as he shows off a series of between-the- leg dribbles and drives to the basket in tonight's matchup between the San Antonio Spurs and Los Angeles Lakers.

Share Tweet

The Lakers Nearly Pull Off A Crazy Comeback; Brandon Jennings Lights It Up

Everyone claims they have the answers for the Lakers problems this year. But there's one that's stumped Hollywood for over a decade: what to do with Tony Parker. In San Antonio's wild three-point win over the Lakers, Parker looked like he was runnin

Share Tweet

Paul's season-high 16 assists lift Clips over Mavs

Paul's season-high 16 assists lift Clips over Mavs

Share Tweet

Rolling Grizzlies give Warriors 2nd straight loss

Zach Randolph had 19 points and 12 rebounds, Rudy Gay scored 18 points and the Memphis Grizzlies completed a 3-0 road trip with a 94-87 victory over the Golden State Warriors on Wednesday night.

Share Tweet

Tim Duncan Rejects Robert Sacre

Tim Duncan rejects Robert Sacre and forces a turnover leading to an easy bucket at the other end in tonight's matchup between the San Antonio Spurs and Los Angeles Lakers.

Share Tweet

Grizz finish 3-0 road trip by wearing out Warriors

Grizz finish 3-0 road trip by wearing out Warriors

Share Tweet

Russell Westbrook Shows Off His Signature Finish to the Hoop

Russell Westbrook hits Alexey Shved with a left cross over and accelerates to the hoop for the right-handed hook layup in tonight's matchup between the Oklahoma City Thunder and Minnesota Timberwolves.

Share Tweet

Jeff Green Throws Down a Monster Dunk

With a one dribble drive, Boston Celtics' Jeff Green throws down a monster dunk tonight against the Phoenix Suns.

Share Tweet

DeQuan Jones Goes Coast to Coast for a Slam

DeQuan Jones hustles from coast to coast on the fast break and muscles in a ferocious slam in tonight's matchup between the Orlando Magic and Denver Nuggets.

Share Tweet

Damian Lillard's Underrated Passing Arsenal

grantland.com

Jan 10, 2013

With a 19-15 record, and currently the 8-seed in the Western Conference, the Portland Trail Blazers have been one of the league's most pleasant surpri...

Share Tweet

NBA Shootaround: Los Angeles Kings

grantland.com

Jan 10, 2013

So much amazing is happening, and the Shootaround crew is here to help you keep track of it all. You'll find takes on moments you might've missed from...

Share Tweet

Sources: Greg Oden Plans To Play Again

Jan 10

Brian Windhorst discusses Greg Oden's plans to return to the NBA in the 2013-14 season.

Point Guard Generation

Jan 10

Part 2: Sixers star Jrue Holiday on the league's vast collection of top-notch point guards.

CP3, Griffin On Kimmel

Jan 10

Chris Paul and Blake Griffin stop by "Jimmy Kimmel Live!" to talk about their rivalry with the Lakers and share recent pictures they've tweeted.

LeBron's Streak Ends As Heat Fall

Jan 10

The Trail Blazers held LeBron James to 15 points, ending his 33-game 20-point streak to start the season.