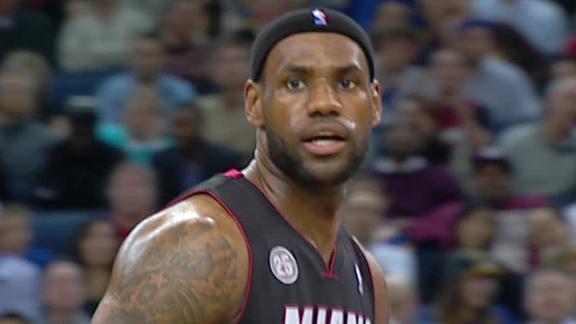 LeBron James has become the youngest player in NBA history to score 20,000 points.
Share
Tweet
Spurs beat Griz to extend home win streak

Tony Parker had 17 points and 11 assists and Tim Duncan added 19 points to help the San Antonio Spurs beat the Memphis Grizzlies 103-82 on Wednesday night, extending their home winning streak to 13 games.

Share Tweet

Dirk scores 19 as Mavs hold off Lin, Rockets

Dirk Nowitzki scored 19 points, O.J. Mayo hit two tiebreaking free throws and the Dallas Mavericks held off a Jeremy Lin-led surge to beat the Houston Rockets 105-100 on Wednesday night.

Share Tweet

Luol Deng hit a tiebreaking jump shot with 3 seconds left in overtime and the Chicago Bulls beat Toronto 107-105 in overtime on Wednesday night, their eighth victory in nine meetings against the Raptors.

Share Tweet

Hornets topple Celtics in Rivers' father-son clash

Share Tweet

Jeff Teague had a career-high 28 points and 11 assists, Zaza Pachulia finished two assists shy of a triple-double and the short-handed Atlanta Hawks beat Brooklyn 109-95 on Wednesday night to stop the Nets' seven-game winning streak.

Share Tweet

Golden State Warriors point guard Stephen Curry will not play against the Miami Heat on Wednesday night after spraining his twice surgically repaired right ankle.

Share Tweet

Eight days after first leaving the Minnesota Timberwolves to be with his hospitalized wife, Rick Adelman met with his team on Wednesday morning.

Share Tweet

Take a look inside the Memphis Grizzlies' NBA-best in-arena music team

Each professional sports venue has a standard rotation of songs, including but not limited to "Let's Get It Started," that one Pitbull song about the neverending party, and the collected works of LMFAO (video links barred from BDL by editorial…

Share Tweet

Brooklyn Nets small forward Gerald Wallace returned Wednesday night against the Atlanta Hawks, but did not start.

Share Tweet

Pau Gasol has spent far too much of the past 10 days in dark rooms with no distractions. He's eager to get back under the NBA's bright lights as the Los Angeles Lakers try to get it together in time for a playoff run.

Share Tweet

The 10-man rotation, starring the development (slow though it may be) of Derrick Williams

A look around the league and the Web that covers it. It's also important to note that the rotation order and starting nods aren't always listed in order of importance. That's for you, dear reader, to figure out. C: A Wolf Among Wolves. Since being tabbe…

Share Tweet

Each Wednesday, we'll be assessing how the top prospects of the 2013 NBA Draft are faring in college and overseas. Stick with us each week for assorted thoughts, including the biggest risers and fallers, the standouts, the sleepers and what we know and

Share Tweet

Dwyane Wade wears 'Cat in the Hat' socks to Miami Heat practice (PHOTO)

Back in August, before he had ever played an NBA game, Golden State Warriors rookie Harrison Barnes appeared before schoolchildren in Ames, Iowa decked out in full 'Cat in the Hat' garb. It was cool, it was creepy, and it was a cool offseason diversion …

Share Tweet

Dwyane Wade says he has no ill feelings toward coach Erik Spoelstra

Miami Heat star Dwyane Wade said Wednesday he has no ill will toward coach Erik Spoelstra over his benching in the fourth quarter of Monday's loss to the Utah Jazz.

Share Tweet

Tayshaun Prince isn't bothered by trade rumors, and teams aren't bothered to trade for him

Pistons forward Tayshaun Prince has been working through rumors regarding his role in Detroit since his rookie season in the NBA. Though it's true they dimmed for a while after his second-year ascension and Detroit's run as championship contenders fro

Share Tweet

Miami Heat star Dwyane Wade said Wednesday he has no ill will toward coach Erik Spoelstra over his benching in the fourth quarter of Monday's loss to the Utah Jazz.

Share Tweet

CNNSI.com dimemag.com nba.com ESPN.com

Jan 16, 2013

Melo grateful for Knicks owner eavesdropping on him

Share Tweet

Create-a-Caption: In celebration of Drew Gooden

We had quite a lot of fun on Basketball Twitter on Tuesday night laughing at different faces made by Milwaukee Bucks power forward Drew Gooden, whom our friends at SB Nation (led by Brian Floyd) realized is quite photogenic, in his own inimitable way. A…

Share Tweet

nydailynews.com

Jan 16, 2013

The Carmelo Anthony Transformation Tour began here of all places, just a few days after he was vilified for ushering Jeremy Lin out of New York and just before the world's greatest sixth man would help the United States win Olympic gold.

Share Tweet

Samuel Dalembert opens up about his non-relationship with former Bucks coach Scott Skiles

Former Milwaukee Bucks coach Scott Skiles has a history of not being fondly remembered by his teams upon leaving. In both Phoenix, Chicago and Milwaukee Skiles has parted from his clubs midseason, and not on the best terms. In his latest parting, Bucks …

Share Tweet

Buying Low: Six teams in the Eastern Conference sit below .40…

CNNSI.com

Jan 16, 2013

Six teams in the Eastern Conference sit below .400. Who among them has the brightest future? Ben Golliver and Rob Mahoney debate that and more in a scrub-themed Give And Go.

Share Tweet

Section 15: Friends With No Rooting Interest

nytimes.com

Jan 16, 2013

A couple of cross-country friends headed to Section 15.

Share Tweet

Xavier Henry's quarter-ending heave: A few feet low, a few feet short, a few seconds early (VIDEO)

New Orleans Hornets coach Monty Williams dusted off sparingly used wing Xavier Henry against the Philadelphia 76ers on Tuesday, and the third-year Kansas product rewarded him, scoring five points in four minutes as part of a 19-7 run late in the third q…

Share Tweet

5-on-5: Rookie questions

Our panel tackles the Rookie of the Year debate and much more.

Share Tweet

Kevin Durant's grandma doesn't like it when he curses

Last month, the advertising firm Wieden+Kennedy took an ingenious step toward evolving the marketing of, public conception about and dominant narrative surrounding Oklahoma City Thunder star Kevin Durant by asserting that - contrary to the humble, team-

Share Tweet

Blake Griffin Huge Breakaway Dunk on the Houston Rockets (Video)

Did you catch this huge Blake Griffin breakaway dunk on the Houston Rockets last night? Just brutal. To quote on of the Dime Crew when he saw this, "This isn't even human!" Check it out here: And check out more Blake Griffin dunks and news. For brea

Share Tweet

Keeping Score: Magic Pay Less Attention to the 3-Point Line

nytimes.com

Jan 16, 2013

The Magic have veered from the former coach Stan Van Gundy's efficient shooting strategies, team statistics show.

Share Tweet

Clippers' Paul endures heat of championship expectations

nba.com

Jan 16, 2013

No one will forget the toll championship expectations extracted from LeBron James, the most physically gifted and skilled player the league has known and the player with the highest basketball IQ playing today.

Share Tweet

It hasn't been the best season for Indiana Pacers center Roy Hibbert. After a breakthrough 2011-12 campaign that saw him post career per-game highs in scoring, rebounding, shot-blocking and Player Efficiency Rating, make his first All-Star appearance an…

Share Tweet

Michael Beasley stares down the rim after a missed free throw, because 'those gremlins are always messing with [him]'

For the fourth straight season, following what was a respectable rookie year offensively, Michael Beasley's game has declined. Signed to a free agent contract by the Phoenix Suns last summer in order to sop up minutes and help prop up the Suns' Steve

Share Tweet

Adidas All-Star uniforms inspired by Houston's aeronautical history

nba.com

Jan 16, 2013

PORTLAND, Ore. -- Adidas, the official oncourt apparel provider for the National Basketball Association (NBA), today unveiled the uniforms and apparel for the 62nd NBA All-Star Game on February 17, 2013 at the Toyota Center in Houston, TX .

Share Tweet

In a season hamstrung by the first knee surgery of his career, Dallas Mavericks forward Dirk Nowitzki is averaging just 13.3 points on 42 percent shooting, numbers that rank amongst the worst of his career excluding a frustrating rookie season. The forw…

Share Tweet

Terrence Ross glides around the hoop for an amazing tip dunk (VIDEO)

It's now mid-January, which means we're only a month away from All-Star Saturday and the NBA's annual dunk contest. While the event has diminished in excitement and interest over the past few years and hasn't produced many memorable moments, it's still …

Share Tweet

Ty Lawson Beats The Rookie Of The Year Front-Runner; Hoosiers Lose

Even after Chris Paul's right kneecap conspired to scratch Tuesday's most intriguing point-guard matchup from the schedule - CP3 and the Clippers facing Jeremy Lin and the Rockets - the NBA still delivered a gem by giving us Ty Lawson versus Damia

Share Tweet

Kobe, Howard score 31 each as Lakers romp

Dwight Howard had 31 points and 16 rebounds, Kobe Bryant also scored 31 points and the Los Angeles Lakers beat the Milwaukee Bucks 104-88 Tuesday night for their second straight win after a six-game skid.

Share Tweet

Different Point Of Attack

CNNSI.com

Jan 16, 2013

Chris Paul sat out, but the Clippers rolled again in a 117-109 win over the Rockets. Ben Golliver examines L.A.'s decisive run, Grant Hill's cameo and Blake Griffin's latest highlight.

Share Tweet

Wilson Chandler hit a tiebreaking 3-pointer with 14.9 seconds remaining in overtime and the Denver Nuggets beat the Portland Trail Blazers 115-111 Tuesday night for their season-best sixth consecutive victory.

Share Tweet

Basketball Decisions: Should the Raptors Keep Kyle Lowry or Jose Calderon?

grantland.com

Jan 16, 2013

The Toronto Raptors gave up a likely lottery pick, now property of the Oklahoma City Thunder, to make Kyle Lowry their starting point guard of the pre...

Share Tweet

Rivers, Hornets Snap Celtics' Six-Game Win Streak

Jan 16

Hornets top Celtics 90-78 for their sixth win in seven games.

Wade Alley-oop To LeBron

Jan 16

Dwyane Wade alley-oop to LeBron James who finishes with the dunk.

LeBron's 5,000th Assist

Jan 16

LeBron James finds Dwyane Wade for his 5,000th career assist.

Thunder Cruise To 5th Straight Win

Jan 16

Russell Westbrook scored 32 points and Kevin Durant added 20 to fuel Oklahoma City in a 117-97 win.