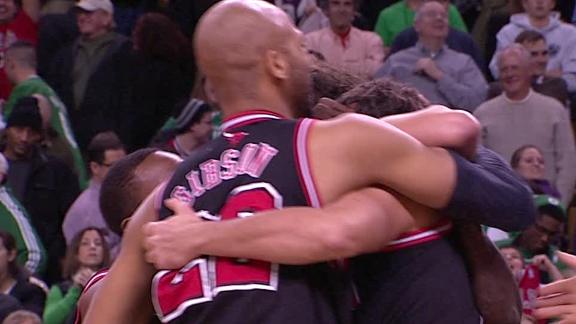 Marco Belinelli made a game-winning jumper with 3.1 seconds left, Jimmy Butler scored six points in overtime and the Chicago Bulls extended their Friday night road show by beating the Boston Celtics 100-99.
Share
Tweet
76ers erase 19-point deficit, top Raptors in OT

Jrue Holiday had a career-high tying 33 points and 14 assists, including all 12 of Philadelphia's points in overtime, and the 76ers overcame a 19-point second-half deficit to defeat the Toronto Raptors 108-101 on Friday night.

Share Tweet

Deron Williams scored 24 points, making four free throws in the final 43.4 seconds, and the Brooklyn Nets beat the Atlanta Hawks 94-89 on Friday night to earn a split of a home-and-home series.

Share Tweet

Bobcats snap five-game skid behind Walker

Kemba Walker had 25 points and eight rebounds, and Gerald Henderson added 17 points as the Charlotte Bobcats snapped a five-game losing streak with a 106-100 win over the Orlando Magic on Friday night.

Share Tweet

Paul George Hustles To Deny Chandler Parson's Breakaway

Paul George hustles coast to coast to deny Chandler Parson's breakaway layup in tonight's matchup between the Indiana Pacers and Houston Rockets.The post Paul George Hustles To Deny Chandler Parson's Breakaway appeared first on Dime Magazine (dimema

Share Tweet

George Karl wants JaVale McGee to be more like Tim Duncan

Denver Nuggets center JaVale McGee has been defined by two things in his five-year career: his penchant for goofy plays and his extraordinary potential. At any moment, JaVale could run the wrong direction, or make one of the most blatant goaltending vio…

Share Tweet

Los Angeles Lakers coach Mike D'Antoni is wrestling with the idea of bringing Pau Gasol off the bench, and the four-time All-Star is not embracing the thought of a potential demotion.

Share Tweet

Horford out with leg injury vs. Brooklyn

nba.com

Jan 18, 2013

Al Horford was not in the Atlanta starting lineup against Brooklyn because of leg pain, and Hawks coach Larry Drew was unsure if or how much his center would play.

Share Tweet

Boston Celtics guard Avery Bradley will sit out Friday's visit from the Chicago Bulls due to a rib injury suffered in Wednesday's loss to the New Orleans Hornets.

Share Tweet

The 10-man rotation, starring EXCUSE ME, MR. WEST!

A look around the league and the Web that covers it. It's also important to note that the rotation order and starting nods aren't always listed in order of importance. That's for you, dear reader, to figure out. C: Pacers.com. We've spent a decade getti…

Share Tweet

NBA admits botched call in Raptors' loss to Bulls (VIDEO)

Basketball fans don't particularly like the NBA's officiating, at various times calling it "rigged," "a conspiracy," or "really bad and it makes me want to vomit." For the most part, the league tries to ignore these complai…

Share Tweet

Zach Randolph meets Lucky the pit bull, a.k.a. 'Little Z-Bo,' on 'Pit Bulls and Parolees' (VIDEO)

Last Friday, we discussed Zach Randolph's fear of cats, a revelation brought about by an interview tied to his appearance on the Animal Planet series "Pit Bulls and Parolees." The cat thing was a fun goof, but the good that Z-Bo did by donatin…

Share Tweet

CNNSI.com yahoo.com nba.com ESPN.com dimemag.com

Jan 18, 2013

The Suns and Alvin Gentry have parted ways, making Gentry the fourth coach fired this season. Things were dismal in Phoenix, but Gentry was hardly to blame, says Ian Thomsen.

Share Tweet

Cleveland Cavaliers Are The Latest To Try Cryotherapy: "Your Mind Is Telling You, 'I Might Die'"

If you pluck the following quote out of context, you'd have a hard time telling if the story was about state-sponsored torture or team-sponsored injury prevention: "They're putting you in a room that's, like, minus 180. So your mind is telling you

Share Tweet

The Celtics' All-Stars plan on neither broing down nor throwing down during All-Star Weekend

As Eric Freeman related Thursday night, the starting fives for the Eastern and Western Conference teams in next month's 2013 NBA All-Star Game have been announced, and basketball fans around the world decided that they wanted to see a starting Eastern b…

Share Tweet

Wolves' Pekovic out 7-10 days with bruised thigh

nba.com

Jan 18, 2013

A different Minnesota Timberwolves player seems to go down with an injury every night these days, and the losses that were once spiritedly competitive are growing more and more decisive.

Share Tweet

Why Kevin Durant Is Better At Taking The Last Shot Than LeBron

LeBron James and the Heat defeated the Los Angeles Lakers in the Staples Center last night, 99-90. LeBron had 39 points after shooting a hyper-efficient 17 for 25 from the field. The Heat have struggled this season, but James has not, shooting 55 percen…

Share Tweet

3 great things about a Knicks/Pistons-in-London recap written by an Englishman

The New York Knicks scored a 102-87 win over the Detroit Pistons on Thursday afternoon at the O2 Arena in London as part of the NBA's ongoing efforts to expand global interest in the stateside product. The game itself wasn't particularly thrilling, and …

Share Tweet

You've done it, NBA fans. You've done hired the hitmakers — your 2013 NBA All-Star Game starters. Kevin Garnett, LeBron James, Carmelo Anthony, Dwyane Wade and Rajon Rondo out East; with Kobe Bryant, Dwight Howard, Chris Paul, Kevin Durant and Blake

Share Tweet

Chicago Bulls forward Luol Deng is a game-time decision for Friday's game against the Boston Celtics because of a right hamstring injury.

Share Tweet

Clips stay on top; Nuggets continue their ascent

CNNSI.com

Jan 18, 2013

Three teams out West have set themselves apart. But don't forget about Andre Iguodala and the Nuggets. Close to unbeatable at home, Denver is one of this week's biggest risers.

Share Tweet

Ricky Rubio on Wolves' losing streak: 'I don't think we're having fun, and we're going to change it'

For the Minnesota Timberwolves, what started as a season full of hope for a playoff berth and a leap back into the ranks of legitimate NBA contention has fallen off a cliff. The team has lost 11 of its last 15 games, including five straight after a 90-7…

Share Tweet

nytimes.com dimemag.com

Jan 18, 2013

Iman Shumpert's return from a knee injury Thursday gave the Knicks a booster shot of youth and defense.

Share Tweet

Celtics Admit They Are Monitoring Greg Oden

No one, perhaps not even Greg Oden, is sure what the big man will have left in the tank once he's healthy enough to play in the NBA again. We have questions marks on his foot speed, his love of the game, and oh yeah, all that other off-court stuff, too.

Share Tweet

This Airballed Free Throw Is Why The Lakers Are Vulnerable To Hack-A-Dwight

deadspin.com

Jan 18, 2013

Dwight Howard went to the line 13 times last night, more than twice as often as the rest of the Lakers' starters combined. He went just 5-for-13, with his final two attempts coming with under two minutes remaining and a chance to tie the game. This was …

Share Tweet

On Thursday night, the Milwaukee Bucks overcame an eight-point fourth-quarter deficit and beat the Suns 98-94 in Phoenix behind a 10-point, perfect-shooting final period from scoring guard Monta Ellis. That fact in itself is not news. The Bucks are a so…

Share Tweet

It wasn't just the season-high point total; it was how he got them, by making 17 of his 25 shots, including a perfect 15 for 15 in the restricted area. LeBron James set up shop in that little semi-circle throughout the Miami Heat's Thursday night road w…

Share Tweet

This Inside The NBA Graphic Is To Scale Of Quality Vis-A-Vis Its ESPN Competitor

deadspin.com

Jan 18, 2013

It's no secret TNT's Inside The NBA trumps its ESPN counterpart in every manner of entertainment, humor, or likelihood of aired profanities. It's tough to really call the ESPN NBA program a "competitor," because ESPN's games air on Wednesdays …

Share Tweet

Defense-focused Kobe: I need help on offense

It was asking a lot of Kobe Bryant when the Los Angeles Lakers shifted to assigning the 34-year-old to guarding the opposing team's most dynamic guard while still relying on him on the offensive end.

Share Tweet

All That Glitters: A closing 9-0 Miami run sealed a 99-90 win over L…

CNNSI.com

Jan 18, 2013

A closing 9-0 Miami run sealed a 99-90 win over L.A. The Lakers fought hard, but LeBron James may have just ignited another championship run for the Heat, writes Lee Jenkins.

Share Tweet

Boston Grasps Defeat From The Jaws Of Victory; The Lakers Figure Out How To Play Together

Each time we checked in with the Hawks vs. Celtics it was like watching a different game. In the first half the Celtics were on cruise control and it almost looked as if Tommy Heinsohn could have stepped in because of Boston's 27-point lead. Atlanta was

Share Tweet

grantland.com

Jan 18, 2013

Even in a game featuring LeBron James and Kobe Bryant, the first 40 minutes of last night's Lakers-Heat game had been filled with typical, mid-January...

Share Tweet

The Five Players Who Could Revamp the Spurs' Title Chances

grantland.com

Jan 18, 2013

Not much has changed for the Spurs in the past year. After steamrolling through last year's compressed scheduled on the backs of their aging stars, on...

Share Tweet

Westbrook Beats The Buzzer

Jan 18

Russell Westbrook tips in Kevin Durant's miss with 0.5 seconds left in the 2nd quarter.

Bobcats Snap Five-Game Skid

Jan 18

Kemba Walker leads Bobcats with 25 points.

Nets Split Home-And-Home With Hawks

Jan 18

Deron Williams scores 24 points in Nets' 94-89 win over Hawks.

Belinelli, Bulls Sink Celtics In OT

Jan 18

Marco Belinelli's off-balance jumper in OT lifts Bulls past Celtics and to their third straight win.