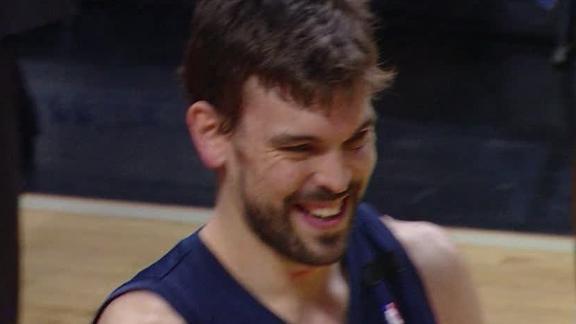 Marc Gasol scored 19 points, Zach Randolph had 13 points and 19 rebounds, and the Memphis Grizzlies beat the Chicago Bulls 85-82 in overtime on Saturday night.
Share
Tweet
Klay Thompson had a season-high 29 points, Jarrett Jack scored seven of his 25 in the final minute and the Golden State Warriors beat the New Orleans Hornets 116-112 on Saturday night.

Share Tweet

Los Angeles Clippers point guard Chris Paul returned to the starting lineup Saturday night against the Washington Wizards after sitting out the past three games because of a bruised right knee cap.

Share Tweet

Mavericks' Marion fined 25k for criticizing officials

Share Tweet

Section 15: Extended College Break

nytimes.com

Jan 19, 2013

For three Raptors fans from Toronto, a trip to Barclays Center was worth a few missed classes.

Share Tweet

Wolves Cunningham out sick vs. Rockets

nba.com

Jan 19, 2013

MINNEAPOLIS (AP) -- Minnesota forward Dante Cunningham was scratched from the game against Houston on Saturday night with an illness, leaving Minnesota with nine healthy players for the game.

Share Tweet

Rockets downed by Kirilenko, T-Wolves in Minnesota

CNNSI.com

Jan 19, 2013

Rockets downed by Kirilenko, T-Wolves in Minnesota

Share Tweet

Chicago Bulls forward Luol Deng will miss Saturday night's game against the Memphis Grizzlies with a sore right hamstring.

Share Tweet

'Risking His Life': In an interview to air Tuesday on HBO, Royce Whit…

CNNSI.com

Jan 19, 2013

In an interview to air Tuesday on HBO, Royce White details his mental health conditions and explains the measures he wants the Rockets to take, writes Ben Golliver.

Share Tweet

Lou Williams, the Atlanta Hawks' third-leading scorer, will miss the remainder of the season with a right knee injury.

Share Tweet

Even with NBA's recent success in London, plan of international expansion is still decades away

nydailynews.com

Jan 19, 2013

The Knicks and the NBA loved London. The Pistons not so much. But the entire question of whether the NBA should now run to London or another European city and set up shop, based on one game, seems rather presumptuous.

Share Tweet

Celts' Bradley gets more X-rays, may sit again

Boston Celtics guard Avery Bradley underwent another set of X-rays on Saturday to check on the status of the rib injury he suffered in Wednesday's loss to the New Orleans Hornets.

Share Tweet

Is there anything worse than a local baseball franchise that hasn't been competitive in four seasons, telegraphs its plans to stay non-competitive by carrying almost no payroll, and is widely expected to occupy the basement of its new league when they s…

Share Tweet

Incredibly British Recap Of Knicks-Pistons Game In London Frets About "Jaunty Accordion Music" Playing Over The P.A.

The Knicks and Pistons played a basketball game in London this past Thursday at 3 o'clock in the afternoon, which is among the reasons you likely did not know about it. David Stern has been talking for some time about putting an NBA team in London perma…

Share Tweet

Noah says KG still dirty, accuses of 'cheap shots'

Share Tweet

Brian Scalabrine, Of All People, Also Risked His Long-Term Health By Rushing Back From A Concussion

We talk a lot about football players risking their long-term health and well-being by rushing back on to the field after sustaining horrible injuries, and in particular, risking their mental acuity and balance by forgoing concussion recovery procedures.…

Share Tweet

dimemag.com ESPN.com

Jan 19, 2013

Kevin Durant was smoking, and then all of a sudden, he wasn't. In the first nine minutes and change of the fourth quarter, the man who scored 52 points and had nine rebounds in Oklahoma City's 117-114 OT win over Dallas was about as hot as the Cavs in

Share Tweet

Grizzlies pound Kings to stop losing streak at 3

Mike Conley scored 19 points, Marc Gasol added 18 points and 10 rebounds and the Memphis Grizzlies snapped a three-game losing streak with an 85-69 victory over the Sacramento Kings on Friday night.

Share Tweet

O.J. Mayo's Game-Tying Three Forces Overtime

dimemag.com

Jan 19, 2013

O.J. Mayo hits a game-tying three-pointer that sends the game into overtime in tonight's matchup between the Dallas Mavericks and Oklahoma City Thunder.The post O.J. Mayo's Game-Tying Three Forces Overtime appeared first on Dime Magazine (dimemag.com)

Share Tweet

dimemag.com

Jan 19, 2013

Chicago Bulls' Marco Belinelli hits an off-balanced, game-winning shot as he falls to the floor in overtime tonight against the Boston Celtics.The post Marco Belinelli Hits An Off-Balanced, Game-Winner In Overtime appeared first on Dime Magazine (dimema

Share Tweet

Kings Hold Off Bobcats 97-93

Jan 19

Tyreke Evans came up big down the stretch to help the Kings deal the Bobcats their 14th straight home loss.

Parker Lifts Spurs To Win Against Hawks

Jan 19

Tony Parker tallied 23 points and 12 assists in the Spurs' 98-93 win over the short-handed Hawks.

Paul Fuels Clippers In Return

Jan 19

Chris Paul had 22 points and 11 assists in his return to the Clippers' lineup and Blake Griffin added 17 points and 11 rebounds.

Jennings' 30 Points Guide Bucks

Jan 19

Brandon Jennings had 30 points and eight assists, leading the Bucks to a 110-104 win over the Trail Blazers.