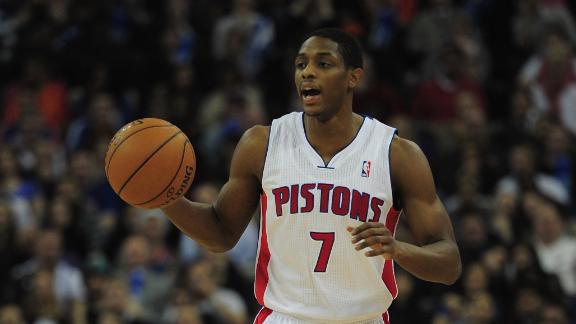 Watch: Clippers' Butler swats shot into ref's head

Share Tweet

Clippers point guard Chris Paul won't play against the Oklahoma City Thunder on Tuesday night.

Share Tweet

Though the Lakers have long rebuffed talks of trading Dwight Howard, sources now say the team may consider dealing the pending free agent as Los Angeles continues to struggle.

Share Tweet

Los Angeles Lakers forward Jordan Hill will have surgery on his left hip on Wednesday.

Share Tweet

Durant pours in 31 to fuel win as Paul (knee sits out

Durant pours in 31 to fuel win as Paul (knee sits out

Share Tweet

Clippers extend Staples Center lease by 10 years

nba.com

Jan 22, 2013

The Clippers have agreed to a 10-year extension of their lease at Staples Center, where they are one of the arena's original tenants.

Share Tweet

Kyrie Irving scored 15 of his 40 points in the fourth quarter, including several key late baskets, to lead the Cleveland Cavaliers in a 95-90 victory over the Boston Celtics on Tuesday night.

Share Tweet

SACRAMENTO, Calif. (AP) -- Sacramento Mayor Kevin Johnson had a stern warning for Seattle SuperSonics fans who are excited about the prospect of the NBA returning to the Puget Sound next season.

Share Tweet

After a shaky transfer of coaching power, the staggering Phoenix Suns headed for Sacramento with Lindsey Hunter in charge on the bench and without two of the team's highest-profile assistant coaches.

Share Tweet

The 10-man rotation, starring Dwight Howard's lack of self-awareness

A look around the league and the Web that covers it. It's also important to note that the rotation order and starting nods aren't always listed in order of importance. That's for you, dear reader, to figure out. C: Orange County Register. Kevin Ding, wh…

Share Tweet

Brian Scalabrine dominated the competition in Boston one-on-one challenge

Over 11 NBA seasons, journeyman forward Brian Scalabrine cultivated an image of a regular guy who just happened to play basketball. Eventually, many fans came to believe that Scalabrine was an Average Joe, not an elite athlete (as all NBA players are), …

Share Tweet

New York Knicks point guard Raymond Felton, who's missed roughly the past five weeks with a broken right pinkie, is optimistic he'll return on Saturday in Philadelphia.

Share Tweet

Steve Nash Is Carrying Canada Basketball Into The Future

This weekend, Steve Nash took the floor in Toronto, Ontario for the first time since being acquired by the Los Angeles Lakers in July of 2012. Canada's most successful active basketball player finished the contest with 16 points on 5-for-11 shooting, ni

Share Tweet

dimemag.com ESPN.com grantland.com

Jan 22, 2013

Watching Derrick Rose's return to Chicago's lineup as starting point guard can feel like seeing a glacier move. You know where it's headed, but it's a slow and methodical process. That's just the reality of tearing knee ligaments for a player wh

Share Tweet

dimemag.com deadspin.com yahoo.com

Jan 22, 2013

As we write this, Kobe Bryant is live-tweeting an NBA TV re-run of his historic 81-point game against the Toronto Raptors back in 2006. You can re-live it with Kobe here, or you can watch him enact his wrath in under three minutes here: Related: Re-Live…

Share Tweet

Kawhi Leonard apparently hurt his knee on a nail on the 76ers' home floor, which is weird

Kawhi Leonard missed more than a month earlier this season with quadriceps tendinitis, leaving the San Antonio Spurs without their top option at the small forward position and temporarily derailing what had been a strong start to the season for the seco…

Share Tweet

ESPN.com dimemag.com

Jan 22, 2013

Jimmy Butler helped limit Kobe Bryant to 16 points in another loss for the reeling Los Angeles Lakers, but the Chicago Bulls swingman said Tuesday he's no "Kobe Stopper" as his teammates called him after the game.

Share Tweet

The Truth Hurts: With the All-Star starters in place, it's time to…

With the All-Star starters in place, it's time to pick the reserves. The unlikeliest candidate? Paul Pierce, who's making a big impact despite receiving little help, writes Rob Mahoney.

Share Tweet

yahoo.com grantland.com

Jan 22, 2013

From the Golden State Warriors' Jan. 2, 2013, 115-94 home win over the Los Angeles Clippers: From the Warriors' 106-99 home win over the Clippers on Monday afternoon: Never stop rocking, Kent Bazemore and the Warriors bench. I don't have any hard eviden…

Share Tweet

nytimes.com deadspin.com

Jan 22, 2013

After being released by the Nuggets last offseason, Chris Anderson has been looking for N.B.A. work and the Heat have signed him to a 10-day contract.

Share Tweet

Stan Van Gundy says 'there's no question the comments I've made about David Stern kept them from hiring me' at ESPN

Stan Van Gundy does not want to do what you expect him to do. If you were expecting him to bash Dwight Howard at his lowest point — in a week where Howard was thrown out of a game against Toronto and made into a non-entity offensively in a loss to Chica

Share Tweet

The Memphis Grizzlies traded Marreese Speights, Wayne Ellington, Josh Selby and a future first-round draft pick Tuesday to the Cleveland Cavaliers for Jon Leuer.

Share Tweet

nytimes.com

Jan 22, 2013

Nets guard Joe Johnson may not be the explosive scorer he was with Atlanta, but he still makes the game easier for his teammates.

Share Tweet

In order to make it to the .500 mark and give itself a chance to grab the last playoff spot in the East, the 17-24 Philadelphia 76ers will have to reverse that record in the second half of a season that starts Tuesday night in Milwaukee. That would be q…

Share Tweet

Utah's Foye still fighting to forge his own way

nba.com

Jan 22, 2013

For better or worse, through success and roadblocks, accolades and disappointments, some careers are forever linked. On Draft night in 2006, the Timberwolves traded the No. 6 overall pick, Brandon Roy, to the Trail Blazers for No. 7 pick Randy Foye. Roy…

Share Tweet

Charlie Villanueva is a tattoo now

Good news, everybody: One member of our human race has finally found an appropriate way to express our shared love for Detroit Pistons forward Charlie Villanueva. And all it cost him was his left arm, a bunch of dollars and (at least) a couple of hours.…

Share Tweet

Report: Memphis Trades 2 Key Bench Players To Save Money, Plans To Sign Delonte West

According to ESPN's Brian Windhorst, Memphis has agreed to a multiplayer trade with Cleveland that'll take $6 million off their payroll and get them under the luxury tax line. Remember all those rumors about a possible Rudy Gay trade? The Grizz may be

Share Tweet

Damian Lillard's Nasty Dunk In Nene's Face

The Wizards won the game on a wild Jordan Crawford three-pointer, but Damian Lillard had maybe the nastiest highlight of the night with this serious facial on Nene's head. Check out Washington's bench on this one. They couldn't help themselves. Whoâ

Share Tweet

Jordan Crawford's Unreal Buzzer-Beater To Beat Portland

There was so much holiday action yesterday that most probably missed this game-winner from Jordan Crawford. Too bad. A 32-footer on the road to beat a potential playoff team is pretty big. Did you know the Wizards are 5-2 over their last seven games? A …

Share Tweet

O'Connor: In clutch, Melo's aim must be truer

For Knicks to win it all, Melo needs to hit shots like the one he missed on Monday

Share Tweet

A Star Grows In Indy

Paul George has emerged as a go-to scorer and potential All-Star for Indianapolis. And in a year with many good candidates, he's the favorite for Most Improved, says Ian Thomsen.

Share Tweet

Cartwright hired to coach Osaka team in Japan

Former NBA player and coach Bill Cartwright has been hired as coach of the Osaka Evessa in Japan's professional basketball league.

Share Tweet

yahoo.com deadspin.com ESPN.com

Jan 22, 2013

Washington Wizards guard Jordan Crawford is a frustrating player. In addition to possessing so little tact that he once said he plans on being a better player than Michael Jordan - a ridiculous statement that nevertheless speaks to the self-belief neces

Share Tweet

Bulls win, deal Lakers 6th straight road defeat

Kirk Hinrich scored 22 points, Marco Belinelli added 15 points, and the Chicago Bulls pulled away down the stretch to beat the struggling Los Angeles Lakers 95-83 on Monday night.

Share Tweet

The Clippers' Worst Nightmare Resurfaces; The Lakers Are Falling Apart

The Clippers really don't want to see the Warriors in the playoffs. We'd like it, but they certainly wouldn't, not after Golden State beat them for the third time this season, 106-99. "There are shooters and then there are just the indescribable.â

Share Tweet

The Grizzlies and Cavs Huddle Up for a Mutually Beneficial Deal

A few quick notes on the Grizzlies trading Marreese Speights, Wayne Ellington, Josh Selby, and a future first-round pick to Cleveland for Jon Leuer in...

Share Tweet

Christian Slater Sang 'The Heat Is On' at a Miami Heat Charity Karaoke Night

My man was in Heathers. Respect him. You can see a bunch of other photos of the "Battioke Night" — a benefit for the Take Charge Foundation (how...

Share Tweet

Irving Pours In 40 Points In Cavs' Win

Jan 22

Kyrie Irving scored 40 points and had five assists in the Cavaliers' 95-90 win over the Celtics.

Coast to Coast: Showcase Showdown

Jan 22

Durant vs. LeBron. Who's been the MVP of the first half of the season?

Grizzlies, Cavaliers Agree To Trade

Jan 22

Brian Windhorst discusses the multiplayer deal between Memphis and Cleveland, which sheds more than $6 million off the Grizzlies' payroll.

David Thorpe: 25 Under 25

Jan 22

The best young players in the NBA are, David Thorpe points out, not so different from the best players in the NBA, period.