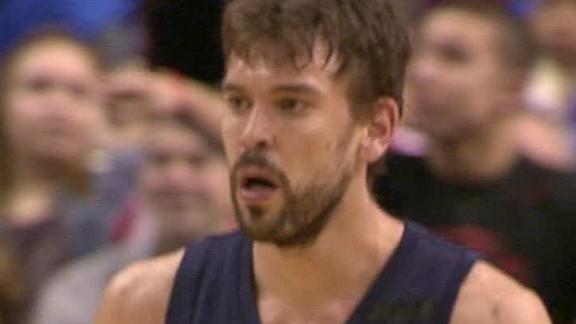 Updated Jan 28
Share
Tweet
The last time Rudy Gay posted up Evan Turner, the Sixers appointed nerd damn near ripped Gay's arm out of his socket. That was back in 2011, and since then, Gay, Zach Randolph and the Grizz can't go a week without someone pointing out that their marri
Sources:
dimemag.com
ESPN.com
CNNSI.com
Updated Jan 28

Share Tweet

Dwight Howard and Kobe Bryant acknowledge that airing their differences in a recent, much-discussed team meeting has

Sources:

ESPN.com dimemag.com

Updated Jan 28

Share Tweet

Center Andrew Bogut was in the starting lineup for the Golden State Warriors' 114-102 win Monday against the Raptors, his first action since Nov. 7.

D-Will helps Nets earn 8th straight home win

Updated Jan 28

Share Tweet

Deron Williams had 20 points and nine assists, and the Brooklyn Nets beat the Orlando Magic 97-77 on Monday night for their eighth straight home victory.

Updated Jan 28

Share Tweet

Chicago Bulls All-Star forward Luol Deng was in the starting lineup Monday night against the Charlotte Bobcats.

Updated Jan 28

Share Tweet

Nuggets center JaVale McGee was ruled out of Denver's game against the Indiana Pacers on Monday night due to soreness in his left shin.

Pacers re-sign Sam Young

Updated Jan 28

Share Tweet

Forward Sam Young was re-signed Monday by the Indiana Pacers, three weeks after being released by the club.

Source:

nba.com

Updated Jan 28

Share Tweet

The National Basketball Developmental League was created primarily so that young players, drafted or otherwise, could develop their games and improve their chances of staying in the NBA for many years. In recent D-League seasons, though, we've seen form…

Updated Jan 28

Share Tweet

Los Angeles Lakers guard Steve Blake went through a full practice with the team Monday and will return to the lineup Tuesday when the Lakers play the New Orleans Hornets.

Updated Jan 28

Share Tweet

Grizzlies rally from 17-point deficit to knock off Sixers

Source:

CNNSI.com

Updated Jan 28

Share Tweet

MINNEAPOLIS (AP) - Rick Adelman is back on the court and coaching basketball after three weeks away to help his wife through a health scare.

Lorenzen Wright's ex-wife spent most of his $1 million life insurance in ten months

Updated Jan 28

Share Tweet

When money rolls in, tragedy soon follows. Over the course of his NBA career, Lorenzen Wright earned an estimated $55.2 million in salary. He died in 2010, shot to death, his body left to decompose in the woods southeast of Memphis. But the battle over …

Updated Jan 28

Share Tweet

Rajon Rondo was having his best season for the struggling Boston Celtics.

Sources:

nba.com CNNSI.com dimemag.com yahoo.com

Updated Jan 28

Share Tweet

Kyrie Irving capped an incredible week with a deserved award.

Source:

nba.com

Updated Jan 28

Share Tweet

At this point in our media-saturated lives, we've seen enough athlete visits to the White House that a single random meeting of sports stars and our president does not register as a year-defining event. However, it's always notable when the NBA champion…

Jeremy Lin's "Linsanity" Documentary Hits The Sundance Film Festival

Updated Jan 28

Share Tweet

Filmmaker Evan Jackson Leong did not call up Jeremy Lin last February and ask to document his life once Lin became an international star. He had contacted Lin, and been turned down every time, routinely ever since contacting him around four years ago. S…

Best N.B.A. Games of the Week

Updated Jan 28

Share Tweet

The best N.B.A. games of the week feature Indiana at Denver, Miami at the Nets and Washington at Memphis.

Source:

nytimes.com

A Russian Basketball League coach fires a sweet pass that won't result in an assist (VIDEO)

Updated Jan 28

Share Tweet

We don't know much about this video, other than it features a team from the Russian Basketball League, and a member of Spartak-Primorye taking a pass from Torey Thomas before sending it along to … just watch: The coach that grabbed the dish and made t

Yao Ming checks in to discuss Jeremy Lin's rise, and the disappearing NBA center

Updated Jan 28

Share Tweet

On Feb. 10, the Chinese New Year hits. And as part of his partnership with the NBA, former Houston Rockets All-Star Yao Ming will take part in a series of events that will start on Feb. 8, promoting 23 games that will be nationally televised in China as…

Is Stoudemire Returning to Form?

Updated Jan 28

Share Tweet

Amar'e Stoudemire's Knicks comeback has taken a turn for the promising in recent games.

Source:

nytimes.com

Jeff Van Gundy goes off on Dwight Howard in a nationally-televised rant (VIDEO)

Updated Jan 28

Share Tweet

We've attempted in several ways, over nearly a day, to write a column around Jeff Van Gundy's televised rant about Dwight Howard. The vent, pitched in the second quarter of Los Angeles' 105-96 win over the Oklahoma City Thunder on Sunday, was on point a…

Boston Celtics Ray Allen Tribute Video

Updated Jan 28

Share Tweet

There were a ton of story lines going on in Boston yesterday (a major one emerged during the game), one of which included a return to Boston for one of the greatest shooters in Celtics' history. Check out the Ray Allen tribute video that the team ran on

J.J. Redick went to a Justin Bieber concert because 'a happy wife is a happy life'

Updated Jan 28

Share Tweet

Before we dig in to J.J. Redick's choices on a date night, it bears mentioning that we all do things we don't want to for our partners. For instance, in my relationship I've had to … well, hmm. There's not a lot that's too embarrassing. My wif

Blake Griffin With A Hammer Dunk Right Through Portland's Defense

Updated Jan 28

Share Tweet

Last night, for the second time in as many nights, Blake Griffin caught Portland with a nasty slam. Whereas on Saturday night, Griffin's left-handed dunk put Nic Batum on a poster, this time it was J.J. Hickson who got a piece of Quake's wrath. At lea

Updated Jan 28

Share Tweet

Since his jump to Miami in 2010, eight-time All-Star forward/center Chris Bosh has turned into a bit of a punch line. His smart batch of humor, slender build of frame, and status as a distant third among the Heat's Big Three triptych including LeBron Ja

Clippers snap 4-game skid by bouncing Blazers

Updated Jan 28

Share Tweet

Blake Griffin had 23 points and nine assists and the Los Angeles Clippers ended a four-game losing streak with a 96-83 victory over the Portland Trail Blazers on Sunday.

Carmelo Anthony's red-hot 3-point shooting saves NY Knicks from poor defensive effort... again

Updated Jan 28

Share Tweet

Clearly, these are not your father's Knicks anymore. The crowd may still chant "Dee-fense" at the Garden, but on Sunday the fans didn't often complete those two full syllables before Atlanta penetrated for an easy basket in the paint or buried a w

Source:

nydailynews.com

Boston Gets A Huge Win And Devastating News; Carmelo Rains Fire On The Hawks

Updated Jan 28

Share Tweet

Boston coach Doc Rivers set the scene after his Celtics' dramatic double-OT win over Miami. It's Sunday afternoon, the NBA's first national matinee game of the season, and the Celtics are prepping to play Miami when the team doctor pulls him aside r

Daily Dime: Don't bury Rondo-less Celtics

Updated Jan 27

Share Tweet

Bring out the skepticism, the trade rumors and the shovels. But don't assume the Celtics to change who they've become even with the Rondo loss, Brian Windhorst writes.

We Went There: Heat-Celtics, Ubuntu in Winter

Updated Jan 28

Share Tweet

You know it's just a nickname, right? That was Glenn "Doc" Rivers's response to a postgame reporter who had just asked him whether Rajon Rondo would...

Source:

grantland.com

Bulls Charge Past Bobcats, 93-85

Jan 28

Jimmy Butler leads Bulls with 19 points.

Nets Slam Magic, 97-77

Jan 28

Nets win eighth straight home game.

Grizzlies Claw Past 76ers, 103-100

Jan 28

Grizzlies come back to top 76ers.

Warriors Win In Bogut's Return

Jan 28

Andrew Bogut scored 12 points in his return and David Lee added 21 points and 12 rebounds for the Warriors.

Sports Columnists

Rudy Gay subject of active trade discussions between Toronto Raptors, Memp…

Jan 28

The Memphis Grizzlies continue to field calls from teams interested in Rudy Gay and are engaged in active trade discussions with the Toronto Raptors, sources with knowledge of the talks told ESPN.com.