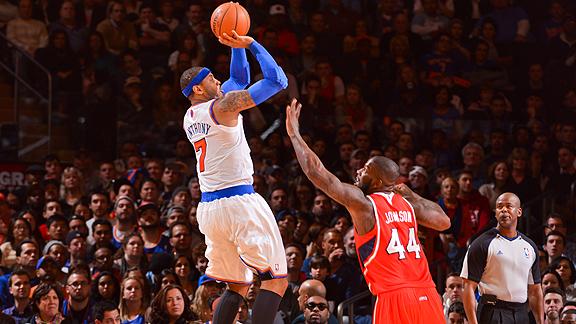 Orlando forward Glen Davis broke his left foot in the first half against the New York Knicks on Wednesday night.
Share
Tweet
NEW YORK (AP) -- San Antonio Spurs coach Gregg Popovich will coach the Western Conference All-Stars for the third time in his career.

Share Tweet

LeBron James had 24 points, nine rebounds and seven assists, and the Miami Heat blew out Brooklyn in the second half for a 105-85 victory Wednesday night, their 13th in a row over the Nets.

Share Tweet

Griffin's double-double too much for Wolves

Blake Griffin had 26 points and 13 rebounds and DeAndre Jordan added 16 points and 12 boards to lift the Los Angeles Clippers to a 96-90 victory over the Minnesota Timberwolves on Wednesday night.

Share Tweet

Robinson erupts in 2nd quarter as Bulls coast

Nate Robinson scored 16 of his 24 points in the second quarter, leading the Chicago Bulls to a 104-88 victory over the Milwaukee Bucks on Wednesday night.

Share Tweet

Dennis Rodman is known for many things: historically fantastic rebounding, ridiculous action movies in which Jean-Claude Van Damme fights a tiger, wedding dresses, etc. What he's not known for, though, is being anything close to family-friendly. He like…

Share Tweet

ESPN.com yahoo.com CNNSI.com nba.com dimemag.com

Jan 30, 2013

The Grizzlies, Raptors and Pistons agreed to a six-player trade Wednesday that sent star swingman Rudy Gay to Toronto.

Share Tweet

Paul Pierce scored 16 points and the Boston Celtics won their second game since losing Rajon Rondo for the season with a knee injury, beating the Sacramento Kings 99-81 on Wednesday night.

Share Tweet

Clippers' Barnes ejected for forearm to Stiemsma

Los Angeles Clippers forward Matt Barnes was given a flagrant foul-2 and ejected in the second quarter against Minnesota on Wednesday night after delivering a forearm to Wolves center Greg Stiemsma.

Share Tweet

Hunter unveils reforms for players' association

NEW YORK (AP) -- Executive director Billy Hunter has unveiled a series of reforms at the NBA players' association to improve areas that were criticized in a recent review of the union.

Share Tweet

Celtics rookie Sullinger exits with back spasms

Boston Celtics rookie forward Jared Sullinger left Wednesday's game against the Sacramento Kings due to back spasms and will not return.

Share Tweet

nytimes.com nba.com ESPN.com

Jan 30, 2013

Jason Kidd, the Knicks' 39-year-old guard, missed Wednesday's game against Orlando, his fifth of the season, because of back spasms.

Share Tweet

Chicago Bulls forward Carlos Boozer missed his first game of the season on Wednesday against the Milwaukee Bucks because of a right hamstring injury.

Share Tweet

Andre Iguodala explains his approach to defense (VIDEO)

For the past several seasons, Denver Nuggets wing Andre Iguodala has been readily identified as one of the best defenders in the NBA. Those skills earned him a spot on the 2012 Olympic team, an All-Star spot last season, and a strong reputation as the s…

Share Tweet

The 10-man rotation, starring the Boshes in Miami with 'Bosh in Venice'

A look around the league and the Web that covers it. It's also important to note that the rotation order and starting nods aren't always listed in order of importance. That's for you, dear reader, to figure out. C: Nina's Color Lab. Nina Fike painted a …

Share Tweet

Steve Nash returns to Phoenix tonight as a member of the Los Angeles Lakers. He's "returned" to Phoenix before, as a member of the Dallas Mavericks back in 1999 on a night that saw him miss all three of his shots, but this turn is different. Nash wa

Share Tweet

NBA: Mistake made during Mavs-Blazers finish

The NBA office admitted that a critical charge call on Dallas Mavericks guard O.J. Mayo in the final seconds of Tuesday's 106-104 loss to the Portland Trail Blazers was incorrect.

Share Tweet

NBA acknowledges two incorrect calls

The NBA has acknowledged a pair of costly incorrect calls from the final seconds of recent games.

Share Tweet

Nets' Lopez replaces injured Rondo as All-Star

NBA commissioner David Stern has selected Brooklyn Nets center Brook Lopez to replace Boston Celtics point guard Rajon Rondo on the Eastern Conference All-Star roster, the league announced Wednesday.

Share Tweet

Kyrie Irving, the MVP of last year's Rising Stars Challenge, will return to the game featuring top rookies and second-year players.

Share Tweet

Rose partakes in full-contact practices with Bulls

Share Tweet

Fast 5: Tracking This Year's NBA Draft Class, Vol. 9

Each Wednesday, we'll be assessing how the top prospects of the 2013 NBA Draft are faring in college and overseas. Stick with us each week for assorted thoughts, including the biggest risers and fallers, the standouts, the sleepers and what we know and

Share Tweet

San Antonio Spurs, New Orleans Hornets, Charlotte Bobcats, Indiana Pacers and Dallas Mavericks have been monitoring the rehab of Greg Oden and are in the running for his services, according to sources.

Share Tweet

Fan fundraising effort's goal: Raise $1 million to get LeBron James in the Slam Dunk Contest

LeBron James kind of gave us the ol' "bah humbug" just before Christmas when he told Fox Sports Florida's Chris Tomasson he'd never compete in the Slam Dunk Contest at the NBA's annual All-Star Saturday festivities. The Miami Heat star's annou…

Share Tweet

After Breaking Records, All Eyes Are Still On Jameer Nelson

Bold capital letters displaying Tupac's "All Eyes On Me" stretch across the top of Jameer Nelson's back, slightly grazing his shoulders and the bottom of his neck. It's been there since was a junior at Saint Joseph's. You can't see the ink u

Share Tweet

Upcoming free agent Smith thinks he's worth max deal

Upcoming free agent Smith thinks he's worth max deal

Share Tweet

Jazz's Hayward (shoulder) to miss second straight game

Utah Jazz guard Gordon Hayward will miss his second straight game Wednesday night against the New Orleans Hornets with a sprained right shoulder.

Share Tweet

Deal Or No Deal: What should Atlanta do with Josh Smith? The soon-…

What should Atlanta do with Josh Smith? The soon-to-be free agent believes he's a max player, but opinions vary. Ben Golliver and Rob Mahoney debate what the future holds.

Share Tweet

The Monster Potential Of Andre Drummond & Why Detroit Won't Unleash It

Andre Drummond has been excellent through the first half of his rookie year. But he's not getting the playing time many feel he deserves. Critics of keeping Drummond on the bench point to his high efficiency and his defensive dominance on the block. If

Share Tweet

Butler Comes to Bulls' Rescue

nytimes.com

Jan 30, 2013

Nothing has come easy in Jimmy Butler's life or career, but he has made things easier for the Chicago Bulls during Derrick Rose's absence.

Share Tweet

yahoo.com dimemag.com

Jan 30, 2013

You guys: The Los Angeles Lakers are BACK! It's been hard to keep track of whether the Lakers were done or back this season, after they struggled to a 1-4 first start to the season, then restarted the season by firing Mike Brown, then staggered for like…

Share Tweet

Minnesota's Kevin Love receives Kia Community Assist Award

NEW YORK -- Minnesota Timberwolves forward Kevin Love is the recipient of the "Kia Community Assist Award" for December in recognition of his outstanding efforts in the community and his ongoing philanthropic and charitable work, the NBA annou…

Share Tweet

deadspin.com yahoo.com

Jan 30, 2013

The Trail Blazers seem to have some magic about them this season. Knocking on the door of the playoff picture, Portland overcame a 21-point second-half deficit to pull out a last-second win over Dallas, thanks to a pair of unlikely sharpshooters. Nicola…

Share Tweet

The Lakers Aren't Dead Yet, Even If Some Of Their Fans Are

deadspin.com

Jan 30, 2013

The Lakers improved their record to 20-25 and avoided what would have been a soul-crushing loss when they held off a late New Orleans surge to beat the Hornets 111-106. It should never have been that close, and L.A. needed some generous officiating in t…

Share Tweet

dimemag.com yahoo.com ESPN.com

Jan 30, 2013

LaMarcus Aldridge not only hits the three-pointer to tie the game, but Aldridge also banks in the fadeaway jumper with only 1.5 seconds left in the game.The post LaMarcus Aldridge Hits Game Winner At The Buzzer appeared first on Dime Magazine (dimemag.c…

Share Tweet

Dwight Howard scored 24 points, Kobe Bryant had 14 points and 11 assists in another pass-first performance, and the Los Angeles Lakers hung on to beat the New Orleans Hornets 111-106 on Tuesday night.

Share Tweet

CourtVision: The Worst Shooters So Far

grantland.com

Jan 30, 2013

So far this season, the Nuggets' Danilo Gallinari is shooting 42 37 percent from behind the 3-point line. This is kind of impressive, although unremar...

Share Tweet

Trade Machine Madness: A Three-Team Al Jefferson Deal That Makes the Jazz a Force in the West

grantland.com

Jan 30, 2013

Much like their Northwest Division rival Denver Nuggets, the Utah Jazz are a collection of talented youngsters and productive veterans void of a super...

Share Tweet

Howard jam

Jan 30

Kobe Bryant finds Dwight Howard for the dunk

Hawks Sneak Past Raptors, 93-92

Jan 30

Al Horford's late dunk lifts Hawks over Raptors.

Bench Powers Bulls Past Bucks

Jan 30

Nate Robinson and Jimmy Butler combine for 42 points off the bench to lead Bulls to 104-88 win over Bucks.

Celtics Improve To 2-0 Without Rajon Rondo

Jan 30

Kevin Garnett dishes out five assists in Rajon Rondon's absence to lead the Celtics to a 99-81 win over the Kings.