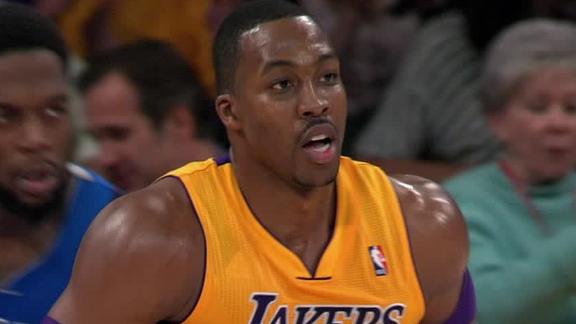 ESPN.com
Updated Jul 1, 2013
As the Lakers finalized the pitch they will make to Dwight Howard Tuesday afternoon, the free-agent center met with his hometown team, the Hawks, Monday afternoon and met with the Warriors Monday night, sources told ESPNLosAngeles.com.
Share
Tweet
Andray Blatche will return as a backup in the Brooklyn Nets' soon-to-be upgraded frontcourt.

Share Tweet

Bynum won't work out for interested teams

Free-agent center Andrew Bynum will provide medical reports to NBA teams interested in signing him, but won't work out for them, his agent told Yahoo! Sports on Monday.

Share Tweet

dimemag.com ESPN.com nba.com yahoo.com

Jul 1, 2013

It is being reported today that the New Orleans Pelicans made a huge offer to restricted free agent Tyreke Evans during their meeting with him on Sunday night. There are conflicting reports of of the dollar amount, but both numbers being thrown around a…

Share Tweet

Free-agent forward Mike Dunleavy has verbally committed to sign with the Chicago Bulls later this month, according to sources close to the process.

Share Tweet

Shaquille O'Neal has plans to open a free children's hospital in Baton Rouge

Throughout his time in public life, Shaquille O'Neal has cultivated an image as basketball's great jokester, a man always ready to toss off a quip or come up with another goofy nickname. For the most part, that approach has served Shaq well, although re…

Share Tweet

Draft pick Nedovic ready to make NBA transition

Golden State Warriors first-round pick Nemanja Nedovic has had a dozen different coaches in the last six years. He went through three coaches last season alone playing for Lietuvos rytas of the Euroleague, and he has never had much stability in his life…

Share Tweet

Michael Jordan knocks $8 million off asking price for Chicago-area mansion, now just $21 million

NBA legend Michael Jordan is most closely associated with the city of Chicago, his home during 13 seasons with the Bulls and the site of his greatest accomplishments. However, Jordan put up his Chicago-area mansion for sale in February 2012 at $29 milli…

Share Tweet

Miami Heat, San Antonio Spurs among five suitors for Greg Oden, according to source

Greg Oden will likely choose from a group of suitors that includes the San Antonio Spurs, Miami Heat, Cleveland Cavaliers, Boston Celtics and Memphis Grizzlies, a source close to Oden told ESPN.com.

Share Tweet

The 10-man rotation, starring Mikhail Prokhorov backing up the Brink's truck

A look around the league and the Web that covers it. It's also important to note that the rotation order and starting nods aren't always listed in order of importance. That's for you, dear reader, to figure out.C: The Brooklyn Game. Once the massive dra…

Share Tweet

The Celtics plan to continue cleaning their roster and Danny Ainge said he welcomes all calls on his team's talent, but stressed again Monday that Boston does not currently plan to move Rajon Rondo as part of the rebuilding process.

Share Tweet

5 Teams That Should Sign Al Jefferson In Free Agency

Each summer's NBA free agency crop is usually headlined by one or two marquee names. This year is no different. The NBA world will be waiting for the decisions of Dwight Howard, Chris Paul (reportedly will re-sign with the Clippers) and Andrew Bynum thi…

Share Tweet

deadspin.com

Jul 1, 2013

For a few NBA teams, the mad dash to sign Dwight Howard has begun, and the Houston Rockets have emerged as a frontrunner to land the free-agent big man. The Rockets already had Yao Ming and Hakeem Olajuwon do their part to get Howard to Houston, and now…

Share Tweet

Kings introduce draft picks McLemore, McCallum

One grew up in such poverty he had days when he wondered where he would find his next meal. The other is a coach's son who attended the same high school as a player whose jersey is retired in the rafters.

Share Tweet

ESPN.com nba.com yahoo.com grantland.com

Jul 1, 2013

The New York Knicks have finalized a trade for power forward Andrea Bargnani, league sources confirmed.

Share Tweet

The Clippers made all the moves needed to prove they were worthy of Chris Paul's prime years. He rewarded those efforts by agreeing to a five-year deal Monday, says Lee Jenkins.

Share Tweet

NBA Rumor: Warriors Willing To Offer Andrew Bogut & Klay Thompson or Harrison Barnes For Dwight Howard

The Warriors are interested enough in acquiring Dwight Howard that they're willing to offer Andrew Bogut and either Klay Thompson or Harrison Barnes for him, according to The Contra Costa Times. Howard has already been linked to Houston and Dallas, as m…

Share Tweet

Mavericks' Larkin wants to play with Howard

Shane Larkin wants to lead the public relations campaign to bring free agent center Dwight Howard to the Dallas Mavericks.

Share Tweet

The Indiana Pacers definitely want David West back next season.

Share Tweet

Bulls GM says he laid off Thibodeau's top assistant

Chicago Bulls general manager Gar Forman insisted it was his call to let Tom Thibodeau's top assistant go and downplayed the idea there's friction with the coach.

Share Tweet

SI Now: Lakers' unusual courtship

CNNSI.com

Jul 1, 2013

On Monday's SI Now, Sports Illustrated managing editor Chris Stone and media reporter Richard Deitsch discuss the Lakers' uncharacterstic public attempts to keep Dwight Howard in Los Angeles.

Share Tweet

When the Minnesota Timberwolves officially introduced first-round draft pick Shabazz Muhammad on Friday, the UCLA product spoke about entering the NBA with "a chip on his shoulder" after a pre-draft process that didn't go exactly has he'd plan…

Share Tweet

Another Dwight Howard derby has begun. The All-Star free agent is meeting with five teams but which makes the most sense? Rob Mahoney ranks Howard's potential destinations.

Share Tweet

Here's Why The Jrue Holiday Trade Was A Move The Sixers Had To Make

In Malcolm Gladwell's 2005 book, Blink, he tells the story of the Getty kouros, a statue brought to the J. Paul Getty Museum in Southern California. Before the purchase of the statue (said to be going for around $10 million), Thomas Hoving, a former dir…

Share Tweet

NBA TV to televise 62 Summer League games, title game

NBA Digital's extensive NBA Summer League 2013 coverage -- the first opportunity to see many of the league's top rookies in action -- will include 62 live game telecasts in 16 days on NBA TV, and all games live via the NBA Summer League Live subscriptio…

Share Tweet

CNNSI.com dimemag.com

Jul 1, 2013

Knicks reportedly express interest in Bucks' Ellis

Share Tweet

Chris Paul has verbally agreed to a five-year, $107 million contract extension to remain with the Clippers, his agent, Leon Rose, confirmed Monday.

Share Tweet

deadspin.com

Jul 1, 2013

Yes, there is intense demand for Aaron Hernandez jerseys, which are fetching hundreds of dollars at online auctions despite Hernandez having perhaps killed a dude or three. No, this is not a symbol of the decline of Western civilization.Read more...

Share Tweet

NBA Trade Rumors: Warriors Trying to Move David Lee to Multiple Teams

In a vacuum, you'd probably think the the Warriors would be crazy to be doing their best to unload David Lee this summer. The guy is coming off of what was arguably the best season of his career, averaging 18.5 points and 11.2 rebounds per game and maki…

Share Tweet

Kevin Durant told The Oklahoman that his decision to change his representation to Jay-Z's Roc Nation Sports doesn't mean he's looking to leave Oklahoma City when his contract expires.

Share Tweet

Josh Smith meets with Pistons, sources say

Free agent forward Josh Smith meets with Detroit Pistons.

Share Tweet

The Dallas Mavericks received word Monday morning from Israeli point guard Gal Mekel that he is committing to sign a multiyear guaranteed contract for the league minimum, sources told ESPN.com

Share Tweet

Lakers general manager Mitch Kupchak met briefly with Dwight Howard face-to-face shortly after 12:01 a.m. ET Monday night when NBA free agency officially opened up, a league source told ESPNLosAngeles.com.

Share Tweet

grantland.com

Jul 1, 2013

Being able to put NBA players into neat little boxes helps fans, writers, and executives alike conceive of their value, be it around the league or to ...

Share Tweet

NBA Free-Agency Rumormonger: Houston's D12 Red Carpet, New York Blows Kisses to Monta Ellis

grantland.com

Jul 1, 2013

It's the most wonderful time of the year. Early this morning, at midnight, NBA free-agency season officially got under way. Consider this a clearingho...

Share Tweet

Heat, Spurs Show Interest In Oden

Jul 1

Jeff Goodman breaks down the teams showing interest in Greg Oden.

Israeli Point Guard Headed To Mavs

Jul 1

Marc Stein discusses Israeli point guard Gal Mekel's verbal commitment to sign with the Dallas Mavericks.

Paul Agrees To Extension With Clippers

Jul 1

Marc Stein reacts to the report that Chris Paul has verbally agreed to a five-year, $107 million contract extension to remain with the Clippers.

Smith Meets With Pistons

Jul 1

Tom Penn discusses Josh Smith's meeting with the Pistons and their reported four-year contract offer to Smith.