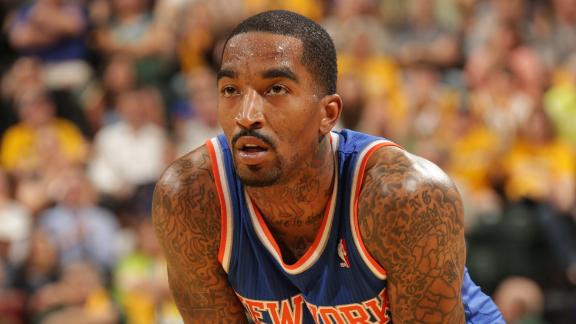 ESPN.com
dimemag.com
Updated Jul 3, 2013
With the New York Knicks working feverishly to complete a contract agreement with free-agent guard J.R. Smith, Smith's father, Earl, said Wednesday night that his son was still weighing his options and is expected to make a decision by Friday.
Share
Tweet
dimemag.com yahoo.com nba.com ESPN.com

Jul 3, 2013

After all this time, Derrick Rose finally, officially, sat down and discussed his injury and rehab with BullsTV. I've always been amazed at how much hate Rose got for sitting out the season. His reasoning — "This is something I had to be selfish with. I…

Share Tweet

Sources close to the situation told ESPN.com on Wednesday night that Kyle Korver has agreed to terms on a four-year deal with the Atlanta Hawks worth an estimated $24 million.

Share Tweet

CNNSI.com yahoo.com nba.com deadspin.com ESPN.com

Jul 3, 2013

Historically, college coaches haven't fared well in the pros. But the conditions in Boston are ideal for Brad Stevens, a bright coach with an incredible work ethic, writes Ben Golliver.

Share Tweet

Lawrence Frank, Jason Kidd's lead assistant in Brooklyn, was given a four-year deal worth more than $1 million a season, a league source told ESPNNewYork.com

Share Tweet

ESPN.com dimemag.com

Jul 3, 2013

Former NBA Rookie of the Year Tyreke Evans is ready to leave the Sacramento Kings, according to sources familiar with his thinking.

Share Tweet

The 10-man rotation, starring Dwight Howard, duh

A look around the league and the Web that covers it. It's also important to note that the rotation order and starting nods aren't always listed in order of importance. That's for you, dear reader, to figure out. C: CBSSports.com, The Basketball Jones an…

Share Tweet

Chris Copeland 'might bronze' the Disney Princesses backpack he had to wear as a rookie

"I'm keeping that for life [...] But seriously, it means a lot to me. I might bronze it or something. At first I was like, 'Are you serious?' And when we'd go out people would laugh at me, yell jokes and stuff. But when I really look back at what it too…

Share Tweet

Lakers remove Howard banner as scheduled

The Los Angeles Lakers will have to wait to find out if Dwight Howard will stay with the team, but they didn't waste any time removing a banner outside of Staples Center asking him to do so.

Share Tweet

The NBA Draft's Most Questionable Pick & 5 Teams That Are Ready To Tank

Each Wednesday for the past few months, we assessed how the top prospects of the 2013 NBA Draft were faring in college and overseas. You stuck with us each week for assorted thoughts, including the biggest risers and fallers, the standouts, the sleepers…

Share Tweet

Ken Pomeroy investigates whether NBA teams should go two-for-one at the end of quarters.

deadspin.com

Jul 3, 2013

Ken Pomeroy investigates whether NBA teams should go two-for-one at the end of quarters. The answer? It doesn't really do much. [KenPom]Read more...

Share Tweet

He's a legend, and there's always the very good chance a summer off could heal what ails future Basketball Hall of Famer Manu Ginobili, but doesn't $7 million a year seem like quite a bit for Ginobili's talents, at this point in his career? That's what …

Share Tweet

In 5 Years, Here Are The 5 Players From This Draft Class Most Likely To Be Stars

The word "star" is such a vague term in basketball language. Everyone has their own definition. Many people don't consider a player to be a star until their first All-Star selection, which is unfair. Guys like Stephen Curry, Monta Ellis and Josh Smith h…

Share Tweet

yahoo.com dimemag.com ESPN.com

Jul 3, 2013

Writing anything that credits a team for not signing a certain player runs the risk of dismissing and disrespecting the player in question. We like Andre Iguodala's game. Quite a bit, actually, and think that his defensive know-how and "you-first" offen…

Share Tweet

Martin reportedly leaves OKC for 4-year deal in Minny

CNNSI.com

Jul 3, 2013

Martin reportedly leaves OKC for 4-year deal in Minny

Share Tweet

Revisiting the James Harden trade

CNNSI.com

Jul 3, 2013

Kevin Martin filled in admirably for James Harden after they swapped places. With Martin headed to Minnesota, is it fair to say OKC came up short in the deal? Rob Mahoney examines.

Share Tweet

ESPN.com dimemag.com nba.com

Jul 3, 2013

Free-agent center Dwight Howard is hoping to make a decision on which team he will sign with by this Friday, a source close to the talks told ESPN's Adam Schefter.

Share Tweet

Which NBA Pundit Has Made The Worst Picks Over The Last Four Years?

deadspin.com

Jul 3, 2013

Republished with permission from PunditTracker.Read more...

Share Tweet

Thanks in large part to a broken right shooting hand that limited All-NBA power forward Kevin Love to just 18 games, the Minnesota Timberwolves finished the 2012-13 NBA season ranked 25th among 30 NBA teams in offensive efficiency. Rick Adelman's team b…

Share Tweet

Miami Heat Summer League invitee D.J. Stephens kisses the rim (Video)

If you're an NBA fan who didn't pay much attention to NCAA hoops last season, your introduction to D.J. Stephens probably came during March Madness, when the undersized Memphis Tigers jumping jack wowed the national audience with his thunderous throwdow…

Share Tweet

adidas Unveils The New D Rose 3.5 x Jeremy Scott

After revealing the new adidas adizero Crazy Light 3 yesterday, adidas came back today and gave us our first official look at the new D Rose 3.5 x Jeremy Scott. The shoe is designed exclusively for the Chicago Bulls superstar by iconic fashion designer …

Share Tweet

Tony Allen's 'back on [his] / Grizzly,' returning to Memphis on a 4-year, $20 million deal

If you're reading us, you probably already know that Tony Allen's really good at Twitter. Well, "really good" in a "randomly stringing together letters, vowel sounds and half-sentences to create something akin to stream-of-consciousness r…

Share Tweet

yahoo.com grantland.com

Jul 3, 2013

It does seem a bit strange to watch the Phoenix Suns actually making moves worth applauding, doesn't it? To pull in someone like Eric Bledsoe, seemingly for precious little in return save for the sort of cap space they'd hope to use on him anyway. To wo…

Share Tweet

Here's 1:30 Of Nerlens Noel Blocking Everything In Sight In High School

An official mixtape of Nerlens Noel from his high school days plays out exactly like you would think: he dunks and blocks everything in sight. The rookie was a part of the most shocking move from NBA Draft night, and hopes to be ready to hit the floor b…

Share Tweet

5-on-5: Good or bad NBA free-agent fits?

Which of the reported and rumored talks would actually pan out? Our panel has answers.

Share Tweet

The San Antonio Spurs develop role players as well as any organization in the NBA, and on Tuesday they locked up one of those success stories to a long-term deal. As reported by Yahoo!'s own Adrian Wojnarowski, the Spurs agreed to terms with center Tiag…

Share Tweet

Detroit Pistons make trade offer to Toronto Raptors for Rudy Gay, sources say

ESPN.com

Jul 2, 2013

The Detroit Pistons were among the bidders for forward Rudy Gay when the Memphis Grizzlies made him available last season and they are once again going after him now that there's been a management changeover in Toronto.

Share Tweet

nba.com

Jul 3, 2013

The Indiana Pacers wanted David West to stick around and lead a championship run. The 32-year-old power forward never planned on leaving town.

Share Tweet

nba.com

Jul 3, 2013

The Memphis Grizzlies have re-signed Tony Allen to a four-year contract worth $20 million, a person familiar with the agreement said Tuesday.

Share Tweet

Sources: Knicks, Smith Nearing Deal

Jul 3

ESPN New York's Ian Begley discusses the latest in the negotiations between J.R. Smith and the Knicks.

Celtics Hire Brad Stevens

Jul 3

The Celtics hire Brad Stevens to be the 17th head coach in franchise history.

Celtics Hire Butler's Stevens As New Head Coach

Jul 3

J.A. Adande breaks down the Celtics' hiring of Brad Stevens.

Sources: Martin To Sign With Wolves

Jul 3

Amin Elhassan discusses Kevin Martin's decision to leave the Oklahoma City Thunder and sign with the Minnesota Timberwolves.