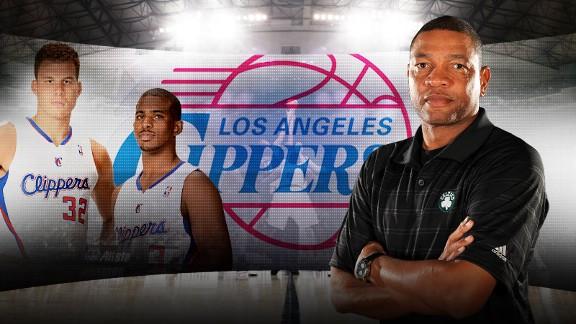 ESPN.com
dimemag.com
yahoo.com
grantland.com
Updated Jun 24, 2013
The NBA has approved the Los Angeles Clippers' acquisition of coach Doc Rivers in a deal with the Boston Celtics, a league source confirmed to ESPNBoston.com's Jackie MacMullan.
Share
Tweet
How To Get Fired: Air A Commercial Featuring The 2013 "NBA Champion" San Antonio Spurs

dimemag.com

Jun 24, 2013

Yep, this really happened. Someone at NBATV screwed up and aired a championship ad featuring… the 2013 San Antonio Spurs? What do you think? Follow Dime on Twitter at @DimeMag. Become a fan of Dime Magazine on Facebook HERE.The post How To Get Fired: Ai…

Share Tweet

Philadelphia 76ers center Andrew Bynum has completed his rehabilitation from season-ending knee surgery and is set to resume basketball workouts next week.

Share Tweet

nba.com dimemag.com ESPN.com

Jun 24, 2013

At long last, Brian Shaw is getting his first chance to coach an NBA team.

Share Tweet

"Factor in that Wall is expected to receive a huge payday from the Wizards next month, and the timin

deadspin.com

Jun 24, 2013

"Factor in that Wall is expected to receive a huge payday from the Wizards next month, and the timing of his tattoo revelation raises questions about his decision making. For a franchise with a history of backing the wrong players, that's food for …

Share Tweet

Healthy Warrior Curry looking to take next step

A healthy Stephen Curry is looking forward to spending this offseason improving his game instead of than rehabbing from another ankle surgery.

Share Tweet

Kobe Bryant sees himself playing 'three to four more years' (Video)

Los Angeles Lakers icon Kobe Bryant saw his 2012-13 campaign end under the difficult and depressing circumstances of tearing his Achilles tendon on the final weekend of the regular season. While that injury is a serious setback for any player, it perhap…

Share Tweet

Darko Milicic says he won't seek an NBA contract this summer

The NBA career of Darko Milicic qualifies as one of the weirdest in recent memory. After being picked second in the 2003 draft — ahead of such likely Hall of Famers as Carmelo Anthony (No. 3), Chris Bosh (No. 4), and Dwyane Wade (No. 5) — Darko won an N…

Share Tweet

Allen Iverson brags about playing Russian Roulette in a distressing chat with Adrien Broner (Video)

Adrien Broner is a former featherweight boxer who took the WBA's welterweight belt after a split-decision on Saturday evening. He also fancies himself a bit of a filmmaker, as evidenced by this clip from his long and definitely not safe for work series …

Share Tweet

Big men entering NBA draft face steep learning curve

CNNSI.com

Jun 24, 2013

Facing bigger, faster opponents in a league that wants increasingly diverse skills, young big men may have the hardest adjustment of any players in the NBA, writes Paul Forrester.

Share Tweet

Pippen questioned in alleged assault in California

Share Tweet

Heat focus on bringing back Allen in '13-14

ESPN.com

Jun 24, 2013

Soon after stepping off the double-decker buses that carried them through the city for Monday's championship parade, the Miami Heat quickly shifted their focus to keeping Ray Allen on board for another title run.

Share Tweet

New Nuggets executive Tim Connelly will have seven NBA GMs at his August wedding

When Masai Ujiri left the Denver Nuggets to sign a lucrative deal to serve as primary personnel man for the Toronto Raptors, the West's third-best team this regular season was left to search for a quality replacement for the NBA's Executive of the Year.…

Share Tweet

A look around the league and the web that covers it. It's also important to note that the rotation order and starting nods aren't always listed in order of importance. That's for you, dear reader, to figure out. C: ESPN. Brian Windhorst with a fantastic…

Share Tweet

Kevin Durant has become the first NBA star to sign with Jay-Z's Roc Nation agency.

Share Tweet

9 weird, noteworthy things that happened during the Miami Heat's championship celebration

After a rousing, fun and briefly kind of dangerous parade through the streets of downtown Miami, fans poured into AmericanAirlines Arena on Monday afternoon to continue celebrating the Miami Heat beating the San Antonio Spurs in the 2013 NBA Finals to s…

Share Tweet

Nets' Lopez to undergo third surgery on right foot

Share Tweet

yahoo.com ESPN.com dimemag.com nba.com

Jun 24, 2013

Fans packed the streets of downtown Miami on Monday to fete the Miami Heat during a parade celebrating the back-to-back NBA champions that wound its way from SW 8th Street up to U.S. 1, across the Miami River, and all the way up Biscayne Boulevard to th…

Share Tweet

Now that a deal has finally been reached that will allow Doc Rivers to become the next head coach of the Los Angeles Clippers, the Boston Celtics find themselves in need of a new sideline leader. With what could be a difficult rebuilding process ahead, …

Share Tweet

From A (Adams) to Z (Zeller): Scouts weigh in on NBA draft prospects

CNNSI.com

Jun 24, 2013

This year's draft is considered one of the weakest in history. But there is still talent to be found. Seth Davis spoke with several scouts to get the inside scoop on all the top prospects.

Share Tweet

CSKA Moscow coming to America to take on Spurs, Timberwolves

Euroleague Basketball and the NBA announced Monday that CSKA Moscow will make its third trip to North America in the past five seasons this October when the team headlines the Euroleague American Tour 2013. The Russian champion and 2013 Turkish Airlines…

Share Tweet

Dirk Nowitzki "Flops" In A Charity Soccer Match

deadspin.com

Jun 24, 2013

Dirk pretty much fessed up to "selling" contact in NBA games to draw a whistle, but said the league needs to get rid of "the really obvious ones." Like, say, toppling over at a charity soccer match in Germany yesterday. Read more...

Share Tweet

NBA Job Interview: Kelly Olynyk (With Scouting Report!)

Jalen Rose and Bill Simmons talk to NBA draft prospect Kelly Olynyk about playing on the no. 1 team in the country, adjusting to the physicality of th...

Share Tweet

The John Wall-Led Wizards and the Three Other Teams Facing a Crucial 2013 NBA Draft

After being instantly dismissed from the national consciousness following a dreadful 4-28 start, few people noticed when the Washington Wizards quietl...

Share Tweet

Jalen Rose and Bill Simmons talk to NBA draft prospect Michael Carter-Williams about transitioning from Syracuse's zone defense to man-to-man defense ...

Share Tweet

Why Brian Shaw?

Jun 24

Nuggets beat writer Benjamin Hochman from The Denver Post breaks down the hiring of Brian Shaw.

The Biggest Mistake

Jun 24

Chad Ford says one of the biggest mistakes NBA teams make is holding private pre-draft workouts, which he says can do a lot to mislead. He also picks the Cavaliers as the team most likely to get draft day right.

Clippers Acquire Doc Rivers

Jun 24

Jackie MacMullan talks about the Clippers' acquisition of coach Doc Rivers for a 2015 1st-round pick, Boston's reaction to Rivers leaving, and the futures of Paul Pierce and Kevin Garnett.