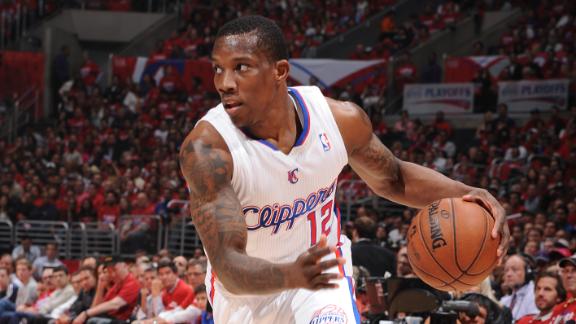 Report: Magic, Clips talking Afflalo-Bledsoe trade
Share
Tweet
MIAMI (AP) -- LeBron James has this summer on his mind, and is already starting to plan for next season.

Share Tweet

Sixth Man of the Year J.R. Smith has informed the New York Knicks that he will decline the option in his contract for next season and become a free agent.

Share Tweet

Report: T'wolves reject Cavs' trade offer for Love

Share Tweet

Boston Celtics president of basketball operations Danny Ainge admitted Tuesday that he didn't think a deal that would send Doc Rivers to Los Angeles to coach the Clippers would get done.

Share Tweet

As Good As Advertised?

One team's steal is another team's reach in the NBA draft. Andy Glockner analyzes the most overrated and underrated prospects who'll hear their names called Thursday.

Share Tweet

James Jones and Rashard Lewis have exercised their player options to remain with the Miami Heat next season.

Share Tweet

New Phoenix Suns coach Jeff Hornacek has hired four assistants, two of them his former teammates.

Share Tweet

Utah Jazz CEO Greg Miller said Tuesday that he pleaded with Jerry Sloan not to quit mid-season two years ago after a clash with star guard Deron Williams, but that the longtime head coach couldn't be talked out of it.

Share Tweet

The Sacramento Kings have extended a qualifying offer to guard Tyreke Evans, making him a restricted free agent.

Share Tweet

Boston Celtics general manager Danny Ainge thought Doc Rivers was going to be the next Gregg Popovich, Jerry Sloan or even Red Auerbach - coaches who stayed with one team for decades.

Share Tweet

Metta World Peace won't opt out of the final year of his contract with the Lakers, according to his agent, Marc Cornstein.

Share Tweet

The 49ers' Anthony Davis Just Gave Away His Dog On Twitter

deadspin.com

Jun 25, 2013

Trend story! Last week, it was the OKC Thunder's Kendrick Perkins. Today, it was Niners offensive tackle Anthony Davis.Read more...

Share Tweet

A look around the league and the Web that covers it. It's also important to note that the rotation order and starting nods aren't always listed in order of importance. That's for you, dear reader, to figure out. C: Grantland. With the 2013 NBA Draft com…

Share Tweet

Udonis Haslem started pitching Ray Allen to return to the Miami Heat in the shower after Game 7

The Miami Heat's triumph over the San Antonio Spurs in Game 7 of the NBA Finals was cause for great celebration from every member of the organization. Yet, as befits a league where players and coaches seek any competitive edge possible, the afterglow of…

Share Tweet

Two days before the NBA draft, Pacers coach Frank Vogel was handed a new task -- finding another assistant coach.

Share Tweet

New Kings coach Malone hires father as assistant

New Sacramento Kings coach Mike Malone has officially hired his father as one of his assistants.

Share Tweet

Report: Bulls talking contract extension with Deng

Report: Bulls talking contract extension with Deng

Share Tweet

The NBA says regular-season games will be played next season in London and Mexico City.

Share Tweet

Pelicans coach Monty Williams would 'rather get a massage by a cat than' join Twitter

New Orleans Pelicans head coach Monty Williams recently accepted an invitation to serve as an assistant on Mike Krzyzewski's staff with the United States men's national basketball team, joining Chicago Bulls head coach Tom Thibodeau alongside Syracuse's…

Share Tweet

Finals push NBA Digital to new heights across all platforms

NBA Digital, jointly managed by the NBA and Turner Sports, generated all-time cross-platform consumption records during the 2013 NBA Finals -- won by the Miami Heat over the San Antonio Spurs in seven games -- including its largest audience ever for pre…

Share Tweet

Julio Iglesias celebrated the Miami Heat's championship by huggin' a few bellies

Grammy-winning singer Julio Iglesias owns two percent of the champion Miami Heat. He is also a thoughtful, loving individual of average height, one that loves to dole out good cheer, both in song, and in physical interaction. Here's how Julio describes …

Share Tweet

The NBA remains the industry leader among men's professional sports leagues for racial and gender hiring practices, according to a study released Tuesday.

Share Tweet

ESPN.com NBA Draft Player Rankings: 21-30

The ESPN Forecast panel rated the top available players in the 2013 NBA draft and came up with this ranking based on their projected NBA status.

Share Tweet

NBA TV aired an ad selling 'San Antonio Spurs 2013 NBA champions' gear (Video)

It's been well established, for years, that leagues prepare to sell merchandise celebrating both potential outcomes in a championship round – which is why so much bootleg Buffalo Bills Super Bowl-winning paraphernalia has been floating around for two de…

Share Tweet

Pat Riley joined a late-night tape session with three bottles of wine during Miami's lowest Finals moment

Miami Heat president Pat Riley has seen quite a few roads, and taken a few forks in his basketball lifetime. He's also popped a few corks, and broken down more than his fair share of game tape over the years. The same goes for Heat coach Erik Spoelstra,…

Share Tweet

2013 NBA Mock Draft 5.0

Just a few days before the NBA draft and one thing is clear: Nothing is clear. Draft boards across the league are fluctuating wildly and teams are cramming to gather as much information as possible on prospective picks.

Share Tweet

Philadelphia 76ers center Andrew Bynum has completed his rehabilitation from season-ending knee surgery and is set to resume basketball workouts next week.

Share Tweet

Manu Ginobili writes Argentinian newspaper column saying he doesn't feel ready to retire

Heading into the 2013 NBA Finals, Manu Ginobili made clear in no uncertain terms that — despite turning in arguably his least productive season for the San Antonio Spurs since his rookie campaign (you can argue for Year 2 if you'd like) — he wasn't plan…

Share Tweet

Memphis is negotiating with assistant Dave Joerger to become the Grizzlies' head coach, said a person familiar with the situation.

Share Tweet

All hail San Antonio's Coyote, inventor of the t-shirt cannon

While covering Game 4 of the Eastern Conference finals in May, an Indiana Pacers employee loaded up a t-shirt into a long cannon, and fired it in my direction. I caught the yellow shirt, not so much because I wanted the free souvenir or root for the Pac…

Share Tweet

dimemag.com

Jun 25, 2013

Did you catch this yesterday during the Miami Heat championship parade? Apparently the planners of the parade route didn't take into account the fact that they'd have giant basketball players atop double-decker buses. It made overpasses potentially mess…

Share Tweet

Someone Wrote The World's Dumbest Column About John Wall's New Tats

deadspin.com

Jun 25, 2013

This, from the Washington Post's Jason Reid, is not so much a column as it is an extended pageant answer. It's as if someone had just asked: "Miss DC, do you think the Washington Wizards should give John Wall a max contract in light of his recently…

Share Tweet

NBA Trade Rumors: Blazers Say No to No.1 Pick in the Draft

dimemag.com

Jun 25, 2013

Now that we're on the other side of the NBA Finals and just hours from the NBA Draft, trade rumors are revving up. Add to it the fact that this is one of the weakest, most flat drafts in recent memory, and you have lots of teams trying to move lots of a…

Share Tweet

LeBron James' recipe for surviving without social media: Old Michael Jordan videos and '24′ (Video)

After leading the Miami Heat to a second straight NBA championship with a brilliant Game 7 that cemented another NBA Finals MVP trophy, LeBron James sat down with Turner Sports' Rachel Nichols to talk about the differences between his two title runs, ma…

Share Tweet

Spoelstra not letting place in history change him

The list of coaches with back-to-back NBA championships includes some of the game's giants - names such as Red Auerbach, Phil Jackson, Chuck Daly, and of course Pat Riley.

Share Tweet

Las Vegas Summer League Tournament Bracket and Schedule

Please check back. This page will be updated soon.

Share Tweet

Orlando Summer League Schedule and Championship Day

Orlando Summer League schedule and criteria for the final Championship Day (July 7).

Share Tweet

Four Ideal Prospect-to-Team Fits in the 2013 NBA Draft

When Paul George was drafted out of Fresno State in 2010, he came to the NBA as an underachieving 3-point gunner with loads of raw talent but a tenden...

Share Tweet

Who's That Draft Pick? Meet the Mid-Major Sleepers

Every year there are a handful of awesome prospects who slip past the lottery in the NBA draft. These are the players you want your team to steal late...

Share Tweet

Jalen Rose and Bill Simmons talk to NBA draft prospect Otto Porter Jr. about how he plans to guard LeBron James, the parts of his game he needs to imp...

Share Tweet

Joerger Elevated To Griz Head Coach

Jun 25

Kevin Arnovitz discusses Dave Joerger's promotion to head coach of the Memphis Grizzlies.

Ainge Responds To Rivers Heading To L.A.

Jun 25

Danny Ainge addressed the media on Doc Rivers' departure to the Clippers and the search for a new head coach in Boston.

Clippers Set To Introduce Doc Rivers

Jun 25

Doc Rivers becomes Clippers head coach and senior VP of basketball operations.

Centerpiece: NBA Draft

Jun 25

Chad Ford discusses who he thinks the Cavaliers and Magic will select with the top two picks in the NBA draft.