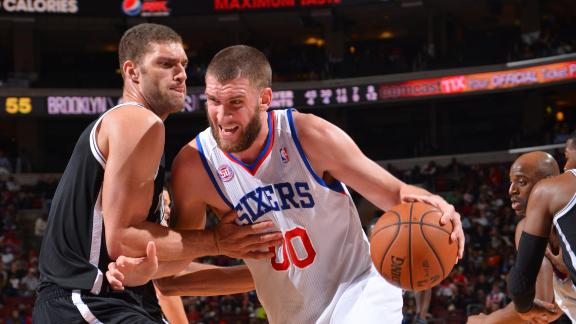 Updated Mar 11

Share Tweet

New York Knicks big man Amar'e Stoudemire has undergone surgery on his right knee.

Updated Mar 11

Share Tweet

The Miami Heat's Dwyane Wade and the Los Angeles Lakers' Kobe Bryant today were named Eastern and Western Conference Players of the Week, respectively, for games played Monday, March 4 through Sunday, March 10.

Source:

nba.com

Updated Mar 11

Share Tweet

Carmelo Anthony will suit up for the New York Knicks' road game Monday night against the Golden State Warriors.

John Wall says he deserves a max contract, claims 'everywhere' is his sweet spot

Updated Mar 11

Share Tweet

It is no great shock to learn that NBA players are confident in ways that exaggerate their measurable on-court contributions. However, that's not even typically a mark of a delusional personality - irrational confidence is often a necessary component of

Updated Mar 11

Share Tweet

The prospective owner of the Sacramento Kings is calling on fans in Seattle to sign up for a "priority ticket waitlist" as a way to show the NBA how much interest there is in bringing pro basketball back to the area.

Updated Mar 11

Share Tweet

Caron Butler suffered a left elbow strain Sunday in the Clippers' 129-97 win over the Pistons and will be out approximately one week.

Updated Mar 11

Share Tweet

Dallas Mavericks shooting guard Vince Carter has played a lot of roles in his career, from rookie sensation to franchise cornerstone to malcontent to valued scorer to journeyman veteran. Yet, despite that convoluted history and the likelihood that he'll…

Sources:

yahoo.com nytimes.com

The 10-man rotation, starring a tight squeeze atop the Atlantic Division

Updated Mar 11

Share Tweet

A look around the league and the Web that covers it. It's also important to note that the rotation order and starting nods aren't always listed in order of importance. That's for you, dear reader, to figure out. C: CelticsHub. As it stands, five games s…

The Golden State Warriors are hosting a 'Bollywood Night', leading to a fantastic look for the team's arena (PHOTO)

Updated Mar 11

Share Tweet

On Monday, for the third consecutive season, the Golden State Warriors will hold a "Bollywood Night" at Oracle Arena, celebrating Indian culture and cinema. Tonight's game against the New York Knicks proved to act as a fun one as it stood to begin,

Updated Mar 11

Share Tweet

The Knicks plan to raise season ticket prices by an average of 6.4 percent next season, while the Rangers will increase season ticket prices by 4 percent.

Blake Griffin And DeAndre Jordan's Top 10 Dunks Of March (So Far)

Updated Mar 11

Share Tweet

We're not even two weeks into March yet and DeAndre Jordan and Blake Griffin have combined to amass enough top-10 worthy dunks for their own personal highlight reel. In just five games the stars of Lob City have staked their claim to not only the two be

Updated Mar 11

Share Tweet

INDEPENDENCE, Ohio (AP) - Cavaliers guard Kyrie Irving could miss the next month - and maybe the rest of this season - with a sprained left shoulder, the latest injury to sideline the All-Star guard.

Sources:

CNNSI.com dimemag.com yahoo.com nba.com ESPN.com

Updated Mar 11

Share Tweet

Carmelo Anthony is expected to be back in the Knicks' lineup Monday night to face the Golden State Warriors after missing three games because of a stiff right knee.

Sources:

nytimes.com ESPN.com

Updated Mar 11

Share Tweet

In the wake of another incident in a career full of incidents, DeMarcus Cousins' teammates are responding to his latest ejection (and likely suspension) with a round of shrugged shoulders. Playing out the string on another miserable lottery-bound season

Best N.B.A. Games of the Week

Updated Mar 11

Share Tweet

Best N.B.A. games of the week include Thunder at Spurs, Knicks at Nuggets and Grizzlies at Clippers.

ESPN News And NBA TV Both Aired Shows Two Weeks Ago That Had Zero Nielsen Viewers

Updated Mar 11

Share Tweet

Kate Aurthur took a look around the TV world to find shows that earned Nielsen's dreaded 0.0 rating-that's the fancy Nielsen metric that means nobody watched-from a random week in late February and early March. NBA Gametime, the NBA cable channel's fl

Source:

deadspin.com

Section 15: Born and Raised a Nets Fan

Updated Mar 11

Share Tweet

Deron Williams's long-distance shooting made the first trip to Barclays Center memorable for one 16-year-old Nets fan.

The NBA's Top 10 Facial Dunks Of All Time

Updated Mar 11

Share Tweet

What makes NBA games so special and electrifying are the epic in-game dunks. Of course, we love the flashy passing and heart wrenching buzzer-beaters, but to be capsulated in a moment where someone gets posterized is beyond blissful. Let's start by sayi

Updated Mar 11

Share Tweet

For all the flak we've given Dwight Howard over the last year and change about the way he weaseled out of Orlando, it's time to give the Los Angeles Lakers center some credit for admitting some culpability in this annoying mess. With the Lakers set to

Dunk of the Year? DeAndre Jordan vs. Harrison Barnes

Updated Mar 11

Share Tweet

You make the call. Hit us on Twitter (@Dimemag) with your vote… For breaking news, rumors, exclusive content, and contests sent right to your inbox, sign up here for the Dime Email Newsletter. Follow Dime Magazine on Twitter Become a fan of Dime Magazin

Create-a-Caption: If only the Warriors' new alternates provided more coverage

Updated Mar 11

Share Tweet

Sure, the rest of us might be a bit skeptical about the whole "short sleeves on an NBA jersey" thing, but Jarrett Jack is mad that adidas didn't go far enough. Any chance we can hook the Golden State Warriors point guard up with a full-on body…

The Fundamentals: Clips need further evolution from Blake Griffin to contend

Updated Mar 11

Share Tweet

Contrary to popular belief, Blake Griffin is more than just a highlight-reel dunker. But he must continue his evolution if the Clippers want to contend for a title, writes Rob Mahoney.

Source:

CNNSI.com

Mavericks to sign PG Chris Wright, who will become first NBA player with multiple sclerosis

Updated Mar 11

Share Tweet

Unless you're a Dallas Mavericks die-hard, a Georgetown alum or a D-League aficionado, you might have missed or disregarded the Sunday night report by ESPN.com's Marc Stein that the Mavs planned to call up point guard Chris Wright from the developmental…

The Denver Nuggets: Contenders Or Pretenders?

Updated Mar 11

Share Tweet

The NBA is notorious for having a small number of teams with realistic championship expectations. While nearly half of the NFL can claim to be in the running, the NBA normally only has a handful of true contenders. The Heat, Thunder and Spurs have all e…

How Far Can They Punt A Football?

Updated Mar 11

Share Tweet

A Scientific Study. Joe Eskenazi, SF Weekly: Under 48.1 yards. Sean Pronger, former NHL player: 43 yards. Aimee Mullins, athlete/model/actor: 40 yards. John Salley, former NBA player: 40 yards (approx). Rodney Fort, University of Michigan: 35 yards (win…

Source:

deadspin.com

Updated Mar 11

Share Tweet

On Friday, we brought you the odd and disconcerting story of ex-NBA player Renaldo Balkman losing his mind after what he felt was a missed foul call in the closing minute of a loss suffered by the Petron Blaze Boosters, the Philippine Basketball Associa…

Jeff Green Had A Nasty Baseline Reverse Dunk In His Old Home

Updated Mar 11

Share Tweet

We have to give Jeff Green some credit. He really wanted to play well against his former teammates in OKC, and he was as aggressive as we've seen him all year. But it rarely worked out in his favor. Green finished yesterday's loss shooting 2-for-11 fr

Raptors' Landry Fields nails floor-mopper in head with full-court buzzer-beater try (VIDEO)

Updated Mar 11

Share Tweet

Hey, dude? Head's up. Three things about this: 1. The mop gent had rushed out to clean up after a possession that hadn't seen anyone hit the deck or anything; on the Toronto Raptors' previous trip down the floor, Jonas Valanciunas had gotten fouled on a…

Call of the Weekend: Brandon Knight's expert Twitter response, post-lob

Updated Mar 11

Share Tweet

When DeAndre Jordan threw down a massive alley-oop flush on Detroit Pistons guard Brandon Knight on Sunday evening, the reaction was swift, and Knight was the butt of it all. The play was packaged in video clips, Vine'd, and tweeted dozens of times befo

Updated Mar 11

Share Tweet

While there were bigger games, there was no bigger moment Sunday than DeAndre Jordan's dunk over Brandon Knight. Yeah, we're going to lead with this from the Clippers' 129-97 destruction of the Pistons in L.A. because it's the one thing everyone i

Sources:

dimemag.com yahoo.com

5-on-5: The sizzling state of the Miami Heat

Updated Mar 11

Share Tweet

Riding an 18-game win streak, just how good are the defending champions?

Clippers put on a show in pasting of Pistons

Updated Mar 11

Share Tweet

Blake Griffin led seven players in double figures with 22 points on 9 of 12 shooting and the Los Angeles Clippers beat the Detroit Pistons 129-97 on Sunday night for their 10th win in 13 games.

Best B.S.: Chris Paul and Bill Simmons

Updated Mar 11

Share Tweet

Chris Paul tells Bill Simmons about his offseason recruiting of free agents for the Clippers and what it's like playing with (and against) his new ros...

Source:

grantland.com

Q&A: John Wall on Elite Point Guards, the Wizards' Season, and Whether He's a Max Contract Player

Updated Mar 11

Share Tweet

The NBA is funny this way: We still don't know all that much about John Wall, but from now until the end of October, the Wizards will already have to ...

Source:

grantland.com

Spurs Take Battle With Thunder

Mar 11

Tiago Splitter's double-double of 21 points and 10 boards leads Spurs to 105-93 win over Thunder.

Hawes, 76ers Snap Five-Game Slide

Mar 11

76ers end Nets' three-game winning streak with a double-double from Spencer Hawes leading to the 106-97 win.

Meet 'Kobe's Knee Doctor'

Mar 11

Dr. Peter Wehling, the man behind one of the cutting edge procedures in sports medicine, explains how his Regenokine treatment has helped athletes like Kobe Bryant and Andrew Bynum.

When Will Heat Streak End?

Mar 11

Antonio Davis looks at the Heat's upcoming schedule.

Sports Columnists

NBA: Coast to Coast - Dwight Howard and Carmelo Anthony return to former t…

Mar 11

Dwight Howard's or Carmelo Anthony's return. Which is more bitter? J.A. Adande and Israel Gutierrez decide.