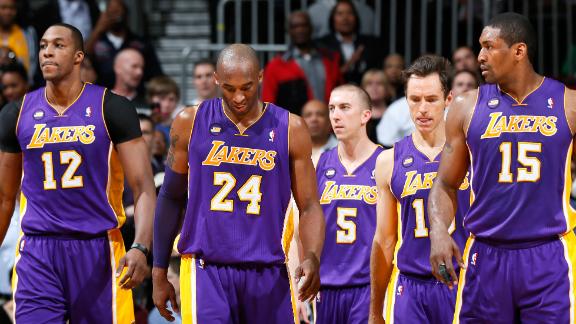 nba.com
ESPN.com
deadspin.com
Updated Mar 13, 2013
The Lakers' push for the playoffs might be without Kobe Bryant for a while.
Share
Tweet
Kevin Durant scored 23 points, Russell Westbrook added 19 and the Oklahoma City Thunder cruised to a 110-87 victory over the Utah Jazz on Wednesday night.

Share Tweet

The Los Angeles Lakers dropped a close one to the Atlanta Hawks on Wednesday night, but might have lost much more than one game - All-Star shooting guard Kobe Bryant suffered what the team called a severe left ankle sprain late in the fourth quarter and

Share Tweet

deadspin.com

Mar 13, 2013

This is just tremendous. Sanders was ejected from the Bucks game against the Wizards after picking up two technical fouls. Before leaving the court, however, Larry handed out a trio of thumbs ups to the officials calling the game. Sanders finished the g…

Share Tweet

Garnett, Pierce climb scoring list as Celts cruise

Kevin Garnett scored 12 points, passing Jerry West for 15th on the NBA's career scoring list, and Paul Pierce joined him among the top 20 scorers in league history with 15 points as the Boston Celtics beat the Toronto Raptors 112-88 on Wednesday night.

Share Tweet

Minnesota Timberwolves forward Kevin Love met with a specialist on Wednesday to examine his surgically repaired right hand, and it doesn't appear the former All-Star will be ready to hit the court anytime soon.

Share Tweet

Wall exchanges words with coach, lifts Wizards

John Wall had 23 points and 10 assists, and the Washington Wizards Milwaukee Bucks 106-93 Wednesday night.

Share Tweet

Hibbert too much as Pacers rough up Wolves

Roy Hibbert had a season-high 27 points and 12 rebounds to lead the Indiana Pacers to a 107-91 victory over the Minnesota Timberwolves on Wednesday night.

Share Tweet

Heat 4th team to win 20 straight in one season

LeBron James scored 27 points and the Miami Heat became the fourth team to win at least 20 consecutive games in a season, rallying to beat the Philadelphia 76ers 98-94 on Wednesday night.

Share Tweet

David Stern is hopeful that new union leadership can solve some secondary NBA issues

With Billy Hunter now deposed as the NBPA's executive director, the players' union is entering a new era that brings fresh opportunities for reform and improvement. The next executive director, whomever that may be, has a chance to lead a newly unified …

Share Tweet

Despite win, D'Antoni rips 'Hack-a-Howard' plan

The Los Angeles Lakers won on Tuesday with the Orlando Magic resorting to "Hack-a-Howard" and constantly parading Dwight Howard to the foul line, but that doesn't mean that coach Mike D'Antoni approves of "Hack-a-Whomever."

Share Tweet

Gasol talks return to court, future with Lakers

Pau Gasol's immediate future as he continues to recover from torn plantar fascia in his foot is clearing up some as he's eyeing a return to the court next week. His long-term concerns, like his future with the Los Angeles Lakers, remain murky.

Share Tweet

nytimes.com

Mar 13, 2013

Back in Denver, where he started his career, Carmelo Anthony said he had reached the "pinnacle" with the Nuggets, who have never reached the finals.

Share Tweet

Wizards' Beal to miss fifth straight game

nba.com

Mar 13, 2013

Bradley Beal is expected to miss his fifth straight game for Washington Wizards on Wednesday night against the Bucks.

Share Tweet

Point guard Chris Wright joins Dallas Mavericks as he battles multiple sclerosis.

Share Tweet

The 10-man rotation, starring Pope Sheed

A look around the league and the Web that covers it. It's also important to note that the rotation order and starting nods aren't always listed in order of importance. That's for you, dear reader, to figure out. C: The Knicks Wall. Not to be Johnny T-sh…

Share Tweet

Mavs sit Marion as calf 'isn't getting any better'

Dallas Mavericks forward Shawn Marion has been ruled out of Thursday's game against the San Antonio Spurs and will be re-evaluated Friday morning by team doctor T.O. Souryal.

Share Tweet

Tracking This Year's NBA Draft: The 5 Best Fits For OKC

Each Wednesday, we'll be assessing how the top prospects of the 2013 NBA Draft are faring in college and overseas. Stick with us each week for assorted thoughts, including the biggest risers and fallers, the standouts, the sleepers and what we know and

Share Tweet

Create-a-Caption: 'Look! Up in the standings!'

"It's a bird! It's a plane! It's ... 27 other teams. Oh, man. That's kind of a bummer. Like, we've been pretty good for a while, and it's still that bad. Dang." It's OK, Washington Wizards. You're still sneakily fun and OK in our books (especi…

Share Tweet

For Cavaliers, Tristan Thompson Keeps Getting Better

nytimes.com

Mar 13, 2013

Tristan Thompson of the Cavaliers was not impressive in his debut season, but his improvement since then has been noteworthy.

Share Tweet

DeMarcus Cousins Doesn't Get It, Vol. 492: DeMarcus claims his elbow shot wasn't intentional

Sacramento Kings center DeMarcus Cousins may think that his protests may prevent him from the suspension the NBA is ready to send his way on Wednesday, but he's wrong about that. He was wrong to elbow Milwaukee Bucks wing Mike Dunleavy Jr. in a game on

Share Tweet

Hey, Stephen Jackson, what did you think of the Minnesota Timberwolves hitting 60 percent of their 3-point shots - which is, like, way better than the league-worst 29.3 percent mark they took into Tuesday - in a blowout win over your San Antonio Spurs

Share Tweet

The Miami Heat's winning streak stands at 19 games, and there's good reason to believe it could be snapped any day now. Not only is there the popular notion that every dog team could have its day, or every alpha dog could be a few missed free throws a

Share Tweet

Toronto Raptors forward Andrea Bargnani is expected to miss the rest of the season with an elbow injury.

Share Tweet

Dwight Howard responds to heckling Orlando fan with 'yo mama' joke, because of course (VIDEO)

I have to say - it was really nice getting to spend the morning working on a post about how sharp and dominant Dwight Howard was during the Los Angeles Lakers' Tuesday night win over the Orlando Magic - a season-high 39 points, 16 rebounds and three b

Share Tweet

SBNation: How will Denver fans welcome back 'Melo?

CNNSI.com

Mar 13, 2013

SBNation: How will Denver fans welcome back 'Melo?

Share Tweet

The Indiana Pacers: Contender Or Pretender?

The NBA is notorious for having a small number of teams with realistic championship expectations. While nearly half of the NFL can claim to be in the running, the NBA normally only has a handful of true contenders. The Heat, Thunder and Spurs have all e…

Share Tweet

DeAndre Jordan's post-Brandon Knight dunk face is a T-shirt now

With all due respect to the "NBA Jam"-ification and Jim Ross-ing of it, the part of DeAndre Jordan's mammoth dunk on Brandon Knight that's stuck with me most is the face Jordan made afterward - an acknowledgement of the evil he'd just done and how disgu

Share Tweet

2013 NBA draft Big Board 5.0

CNNSI.com

Mar 13, 2013

It's March, which means it's the time of year for huge upsets, exciting finishes and would-be NBA players to improve their draft stock. Year after year, the NCAA tournament is a proving ground for NBA prospects, with the likes of Dwyane Wade (2003), Tyr…

Share Tweet

yahoo.com deadspin.com dimemag.com

Mar 13, 2013

You're not going to believe this, but after he spent months trying to force his way out of Central Florida, worked behind the scenes to undermine his coach and general manager, picked up a one-year contract option because he wanted everyone to love him …

Share Tweet

Nuggets' Faried receives Kia Community Assist Award

nba.com

Mar 13, 2013

Denver Nuggets forward Kenneth Faried is the recipient of the "Kia Community Assist Award" for February in recognition of his outstanding efforts in the community and his ongoing philanthropic and charitable work, the NBA announced today.

Share Tweet

yahoo.com dimemag.com

Mar 13, 2013

The Minnesota Timberwolves are out of the playoff hunt, a full 10 games behind the eighth-seeded Los Angeles Lakers with 20 to play, and unsure if All-Star forward Kevin Love is even ready to resume team workouts, much less returning to actual games. It…

Share Tweet

Some double trouble, brother-on-brother violence. Brook Lopez throws down a monster dunk over his twin brother Robin Lopez.The post Double Trouble: Brook Lopez Posterizes His Twin Brother Robin appeared first on Dime Magazine (dimemag.com) : Daily NBA N…

Share Tweet

nydailynews.com

Mar 13, 2013

Back in New York, the only thing that matters isn't the reception Carmelo Anthony gets here when he plays his old team for the first time since he decided he needed to get out of town. Now, it's all about whether Anthony, on a bum knee, can get the Kn

Share Tweet

Why Matt Barnes, of All People, Could Be the Key to a Clippers Playoff Run

grantland.com

Mar 13, 2013

Two nights ago, as the Spurs and Thunder tangled in a rematch of last season's most exciting playoff series, it was easy to drool over another San Ant...

Share Tweet

Lakers Fall To Hawks

Mar 13

Lakers' four-game winning streak comes to an end with the 96-92 loss to the Hawks.

Kobe Sprains Left Ankle

Mar 13

Bruce Bowen breaks down Kobe Bryant's injury.

Heat Hold On For 20th Straight Win

Mar 13

Miami Heat become the fourth team in NBA history to win at least 20 straight games with the 98-94 victory over the 76ers.

With Thomas Robinson

Mar 13

New Rocket Thomas Robinson joins Henry Abbott to discuss being traded to Houston, playing with James Harden and Jeremy Lin and the use of advanced stats.