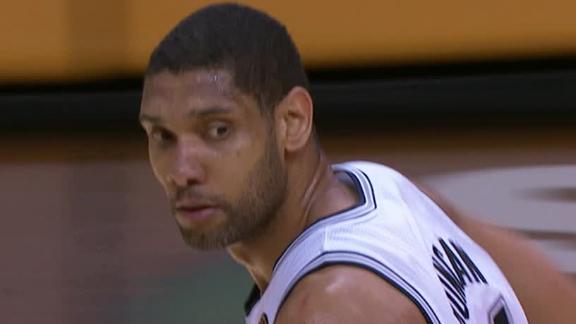 ESPN.com
nytimes.com
Updated Mar 14, 2013
Tim Duncan had 28 points and 19 rebounds and the San Antonio Spurs escaped with a 92-91 victory over Dallas on Thursday night, sweeping their season series with the Mavericks for the first time in 15 years.
Upvote
Share
Tweet
Forward Thompkins released by Clippers

The Los Angeles Clippers have waived forward Trey Thompkins, who didn't play in a game this season because of a bone bruise in his left knee.

Upvote Share Tweet

New York Knicks center Tyson Chandler will miss Thursday's game against the Portland Trail Blazers due to a left knee contusion.

Upvote Share Tweet

Draft Watch: Hoosiers swingman Oladipo rising up

Executives and scouts continue to deliver very positive reviews on Indiana University swingman Victor Oladipo, about his unexpected rise into the lottery as a junior and realistically the top half of the lottery, about his ability to defend multiple pos…

Upvote Share Tweet

The top story in the NBA right now, by a wide margin, is the ankle sprain suffered by Kobe Bryant in the final seconds of the Los Angeles Lakers' Wednesday night loss to the Atlanta Hawks. The Lakers are holding on to the last playoff spot in the West b…

Upvote Share Tweet

Gilbert Arenas discusses his experience in China in new interview

Erstwhile NBA combo guard Gilbert Arenas, once the internet's favorite basketball player, had about as unceremonious an exit from the league as a three-time All-Star can have. After several lackluster years following his controversial gun charges while …

Upvote Share Tweet

The 10-man rotation, starring Mark Jackson's thoughts on Brandon Knight

A look around the league and the Web that covers it. It's also important to note that the rotation order and starting nods aren't always listed in order of importance. That's for you, dear reader, to figure out. C: Detroit Free Press. Mark Jackson can e…

Upvote Share Tweet

In his defense, Raymond Felton said "maybe" he'll drop 50 when he returns to Portland to play his former team. Maybe, in a game that could be played without Carmelo Anthony, Tyson Chandler, and Amar'e Stoudemire, Felton will shoot and score enough

Upvote Share Tweet

nytimes.com

Mar 14, 2013

A couple of Crimson Tide fans from Mississippi were most impressed with the dining options at Barclays Center.

Upvote Share Tweet

The Potential New Sonics Arena Sure Would Have A Lot Of Standing Room

deadspin.com

Mar 14, 2013

The optimistic Seattle ownership group led by Chris Hansen has released some mock-ups of what the interior of a new arena might look like, and huh-it looks a lot more crowded than the last time the Sonics played in Seattle. Remember, Kings-to-Seattle is

Upvote Share Tweet

With uncertainty surrounding the condition of Carmelo Anthony's right knee, New York Knicks coach Mike Woodson admitted that he's "worried" about his star forward.

Upvote Share Tweet

Atlanta Hawks swingman Dahntay Jones outspokenly defended himself against criticism from Kobe Bryant, claiming that he did not intentionally attempt to injure the Los Angeles Lakers superstar in the final seconds of Wednesday night's game.

Upvote Share Tweet

Rose plans to pay for funeral of slain 6-month-old

Upvote Share Tweet

Denver in Overdrive: The Denver Nuggets are really fast. How far will …

nytimes.com

Mar 14, 2013

The Denver Nuggets are really fast. How far will that take them?

Upvote Share Tweet

Johnson to return; Humphries back in rotation?

Brooklyn Nets shooting guard Joe Johnson says he'll "definitely" play on Sunday night against the Atlanta Hawks.

Upvote Share Tweet

Potential Seattle SuperSonics owners release artist's renderings of a potential new arena (VIDEO)

At this point, because of the rules of engagement that NBA commissioner David Stern has unofficially laid down, the fight for the current Sacramento Kings franchise has gone tit for tat. The Kings have established a season ticket wait list for their hop…

Upvote Share Tweet

deadspin.com ESPN.com

Mar 14, 2013

Nobody knows much about the Anschutz Entertainment Group, the massive sports/entertainment entity that owns Staples Center (and the whole L.A. Live complex), a healthy slice of the Los Angeles Lakers, and majority stakes in the Los Angeles Kings, L.A. G…

Upvote Share Tweet

Create-a-Caption: 'I will *tell* you what the deal with Dirk's beard is'

Come on to do some comedy, wind up getting actual answers to your set-up rhetorical questions. It's a tough spot to be in, Jerry Seinfeld, but at least you're getting to have a fun chat with Dallas Mavericks owner Mark Cuban (you usually have to go to S…

Upvote Share Tweet

Insurance will pick up the $16.9 million tab if Andrew Bynum sits out the season

It's not exactly the most warming of stories in this economy — one millionaire will still be paid even after a season-long sick day, while another group of millionaires will be able to save money — but it is interesting to note that the Philadelphia

Upvote Share Tweet

CNNSI.com

Mar 14, 2013

The first point guard to jump from high school to the NBA, Sebastian Telfair entered the league with the highest of expectations. So where did things go wrong? Telfair looks back.

Upvote Share Tweet

Take your kids to see an NBA game in person; it is affordable and very much worth the price

Up until this week, the biggest NBA fan you know had never bought an NBA ticket. I've had League Pass since 2000, and have watched endless amounts of games through the years. I've written about the NBA since 1997 online, during off hours in high schoo

Upvote Share Tweet

Jack Curran, who spent more than a half century at Archbishop Molloy High School and was among the nation's winningest prep coaches in basketball and baseball, has died. He was 83.

Upvote Share Tweet

With Sessions out, Bobcats sign Pargo to 10-day deal

The Charlotte Bobcats have signed guard Jannero Pargo to a 10-day contract.

Upvote Share Tweet

Game-by-game review: Miami Heat's win streak

Take a look at the game-by-game results for the Miami Heat during their 20-game win streak during the 2012-13 season:

Upvote Share Tweet

Some basketball players freak out when they get ejected, screaming and cursing and carrying on. Others throw up their hands and wail in a woe-is-me plea for pity from punishing officials. Others, like J.R. Smith on Monday night, just bow their heads and…

Upvote Share Tweet

LeBron James Throws Down A Sick Double-Pump Reverse In The Lane

Jrue Holiday caught LeBron James sleeping once last night, but in the end, the King had the last laugh with a win and this nasty double-pump reverse. That's 20 wins in a row for the Heat, and they're doing it with ease. Last night was the easiest four

Upvote Share Tweet

Al Horford Posterizes Antawn Jamison & The Lakers

Because the Lakers decided they didn't really feel like using Dwight Howard that much last night, there were many opportunities for the Hawks to get to the rim. This one from Al Horford was by far the best take, however. Antawn Jamison isn't known for

Upvote Share Tweet

Jrue Holiday dunks over LeBron James (VIDEO)

Omnipresent Miami Heat superstar LeBron James is having the sort of regular season that reconfigures expectations of what the best player in basketball can and should be able to do. He's been so good, in fact, that it's sometimes hard to imagine that he…

Upvote Share Tweet

Grizzlies trip Clippers, notch sixth straight win

Marc Gasol scored 21 points, Tayshaun Prince added 18 and the surging Memphis Grizzlies beat the Los Angeles Clippers 96-85 on Wednesday night for their 14th victory in 15 games.

Upvote Share Tweet

Carmelo Anthony will cut his trip short and return to New York to have his balky right knee examined.

Upvote Share Tweet

nydailynews.com ESPN.com

Mar 14, 2013

The Knicks think they won the Carmelo Anthony trade. The Nuggets will point to their amazing home record and lofty standing in the Western Conference and argue to the contrary. They're both wrong.

Upvote Share Tweet

Behind Evans, Kings stomp Bulls by 42 points

Tyreke Evans had 26 points and seven assists in the Sacramento Kings' most lopsided victory of the season, a 121-79 rout of the Chicago Bulls on Wednesday night.

Upvote Share Tweet

Grizzlies drop Clips for 14th win in last 15 games

CNNSI.com

Mar 14, 2013

Grizzlies drop Clips for 14th win in last 15 games

Upvote Share Tweet

Miami's Winning Streak Is Now 20; The Nuggets Ruin Carmelo Anthony's Homecoming

The word of the day yesterday was white smoke (well, technically that's two words). In the NBA, the word was twenty, as in Miami has now won 20 games in a row after bludgeoning Philly down the stretch in a 98-94 W. LeBron James did his thing (27 points,

Upvote Share Tweet

Stray Shots: Examining the Lakers in a Post-Kobe World, the Knicks' (Barely) Walking Wounded, and the Continued Genius of Marc G

After a crazy night of NBA injuries, wild finishes, and resounding wins, a smorgasbord of random thoughts that don't merit their own posts: • Th...

Upvote Share Tweet

NBA Shootaround: Frustrated Incorporated

So much amazing is happening, and the Shootaround crew is here to help you keep track of it all. You'll find takes on moments you might've missed from...

Upvote Share Tweet

Spurs Pick Up 50th Win Of The Season

Mar 14

Tim Duncan scores 28 points and grabs 19 rebounds in the Spurs' win over the Mavs.

Joe Johnson Plans To Return Sunday

Mar 14

Joe Johnson plans to return Sunday to face his former team the Atlanta Hawks.

LA Daily Download

Mar 14

Cary Chow recaps the day in LA sports which saw the Lakers and the Clippers both lose and Kobe Bryant suffers an ankle injury.

Dahntay Jones Responds To Kobe

Mar 14

Hawks G/F Dahntay Jones discusses the play from Wednesday night's game in which Lakers G Kobe Bryant sprained his ankle.