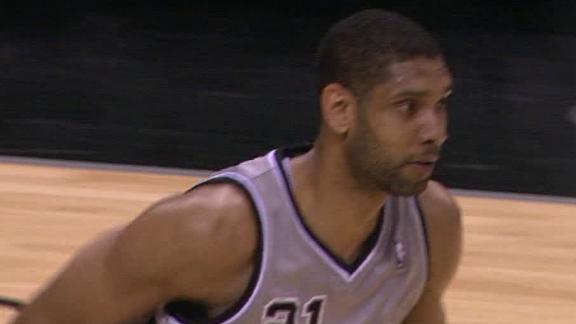 Paul Pierce had 14 points, eight assists and six rebounds before sitting out the fourth quarter, and the Boston Celtics won their 11th straight at home, beating the Charlotte Bobcats 105-88 on Saturday night.

Share Tweet

The New York Knicks are planning to take the floor without Carmelo Anthony and Tyson Chandler on Sunday.

Share Tweet

CNNSI.com

Mar 16, 2013

Pacers' Hill rips fans for lack of support after loss

Share Tweet

Boston Celtics forward Kevin Garnett will miss Saturday night's game against Charlotte with a strained left thigh muscle.

Share Tweet

CNNSI.com

Mar 16, 2013

After an unsteady first couple of months, the Brooklyn Nets are climbing up the standings. The biggest reason why: Deron Williams finding his superstar form, writes Ben Eagle.

Share Tweet

nydailynews.com

Mar 16, 2013

A musician needs a keen sense of timing. James ( Guitar Jimmy ) Dolan should work on his. Around the same time he raises ticket prices, the Knicks go tumbling down on their West Toast Tour.

Share Tweet

Los Angeles Clippers forward Caron Butler practiced Saturday for the second time since he suffered a left elbow strain last week and will start Sunday when the Clippers play the New York Knicks.

Share Tweet

nytimes.com

Mar 16, 2013

With the Heat having joined the 2007-8 Rockets and the 1971-72 Lakers as the only teams to record 21 or more wins in a row, the questions now become how long the team can keep the streak going.

Share Tweet

yahoo.com

Mar 16, 2013

Unsurprisingly to some (but not me, because I saw what that dude's ankle looked like), Kobe Bryant decided to gut it out and play on what should have been a debilitating ankle sprain against Indiana on Friday night. The attempt was admirable, if not las

Share Tweet

From Jonah Kaner of TheKnicksWall comes this excellent picture of Blazers fans distracting Raymond

deadspin.com

Mar 16, 2013

From Jonah Kaner of TheKnicksWall comes this excellent picture of Blazers fans distracting Raymond Felton on Thursday night by waving pictures of delicious foodstuffs in his face. For those who don't follow the high school cafeteria feuds between NBA pl…

Share Tweet

Miami's Win Streak Enters Rare Company; Golden State Loses In Inexcusable Fashion

dimemag.com

Mar 16, 2013

We feel like we're at a basketball buffet this time of year. Between conference tournaments and early NBA games, we could easily have our fill by 7 p.m., and yet there we go, back for seconds and thirds as the night goes on. Given that many choices it t

Share Tweet

Jazz Top Grizzlies

Mar 16

Jazz outscore Grizzlies 24-9 in the third quarter en route to a 90-84 win.

Duncan, Spurs Power Past Cavs

Mar 16

Tim Duncan, Kawhi Leonard and Manu Ginobili all post double-doubles in Spurs' 119-113 win over Cavs.

Ginobilli Weaving Through Traffic

Mar 16

Manu Ginobilli finds his way through three Cleveland defenders for the slam.

Webster, Wizards Run All Over Suns

Mar 16

Martell Webster scores a career-high 34 points as the Wizards capture their third straight win with the 127-105 victory over the Suns.