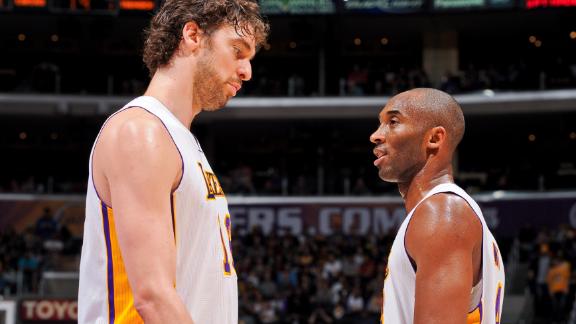 Kevin Durant scored 19 of his 31 points in the fourth quarter, and the Oklahoma City Thunder beat the Dallas Mavericks 107-101 Sunday night.

Upvote Share Tweet

Hawks keep Nets from 1st-place tie in division

Al Horford had 22 points and 11 rebounds, and the Atlanta Hawks dominated the fourth quarter to beat Brooklyn 105-93 on Sunday night, keeping the Nets from tying for first place in the Atlantic Division.

Upvote Share Tweet

The Kings, playing in the second game at Staples Center on Sunday, would have been more the Knicks' speed. Mike Woodson's team, however, had no choice but to take on the Clippers' high flyers in the opener because that's what the schedule-maker ca

Upvote Share Tweet

Derrick Williams scored a career-high 28 points and Ricky Rubio had 16 with six assists as the Minnesota Timberwolves beat the New Orleans Hornets 97-95 on Sunday night.

Upvote Share Tweet

Stephen Curry scored 29 points, Klay Thompson had 26 with six 3-pointers, and Golden State stayed ahead of Houston in the Western Conference standings with a 108-78 win over the Rockets on Sunday night.

Upvote Share Tweet

nytimes.com ESPN.com

Mar 17, 2013

The Clippers did not re-sign Kenyon Martin after last season, and despite their 93-80 win Sunday, he says their style still is not made for the playoffs.

Upvote Share Tweet

McHale caught up in Heat's streak

nba.com

Mar 17, 2013

Even Houston coach Kevin McHale is caught up in the Miami Heat's winning streak, and he wouldn't mind seeing it continue against his former team.

Upvote Share Tweet

Mavericks owner Mark Cuban said he is disappointed with how Derek Fisher left the team earlier this season, only to eventually end up signing with Oklahoma City last month.

Upvote Share Tweet

The NBA has fined Milwaukee Bucks forward Larry Sanders $50,000 for using offensive language and criticizing officials.

Upvote Share Tweet

Carmelo Anthony and Tyson Chandler won't be playing for the New York Knicks against the Los Angeles Clippers on Sunday.

Upvote Share Tweet

Monta Ellis scored a season-high 39 points, including 25 in the fourth quarter, and the Milwaukee Bucks rallied for a 115-109 over the Orlando Magic on Sunday.

Upvote Share Tweet

The Miami Heat equaled the second-longest winning streak in NBA history, pulling away in the fourth quarter Sunday to beat the Toronto Raptors 108-91 for their 22nd consecutive victory.

Upvote Share Tweet

deadspin.com yahoo.com

Mar 17, 2013

This is a weird sequence from last night's Grizzlies-Jazz Game. Early in the fourth quarter Gasol converted a quick turnaround hook and on his way back up the court, had his foot stepped on, losing his shoe. While Gasol was complaining to the referee an…

Upvote Share Tweet

CNNSI.com

Mar 17, 2013

Bucks, Sanders talk after second straight ejection

Upvote Share Tweet

Carmelo Anthony's Knee Injury May Be Worse Than We Thought; The Indiana Pacers Should Be Embarassed

dimemag.com

Mar 17, 2013

So who's ready for a sh*tstorm of drama over the Knicks (mis)handling of Carmelo Anthony's knee injury? In this NY Daily News article, Frank Isola details the unsurprising lack of transparency the team employs with relaying information between their m

Upvote Share Tweet

It was like this with Pedro Martinez once, when the Mets went all-in with him as a way of trying to make it all the way back: You bought the talent, you bought all the wonder in his game, but you bought the drama, too.

Upvote Share Tweet

Pau Gasol experienced soreness in his injured right foot Saturday after participating in a workout at the Lakers training facility, according to a Lakers spokesman.

Upvote Share Tweet

On his way out of the Student Activities Center gym at UCLA, Kenyon Martin, one of the few Knick big men not limping around or being examined by team doctors, did not have the answer for the two most pressing questions of the day: When are the Knicks go…

Upvote Share Tweet

Wolves Hold Off Hornets

Mar 17

Andrei Kirilenko's late block secures the Timberwolves' 97-95 win over the Hornets.

Heat Go For 23 Straight When They Face Celtics

Mar 17

NBA Countdown crew on the chances the Celtics beat the Heat Monday 8 p.m. ET on ESPN.

Clippers Send Shorthanded Knicks To 4th Straight Loss

Mar 17

Knicks fall to the Clippers 93-80 without All-Stars Carmelo Anthony and Tyson Chandler.

Blake Griffin Alley-Oop

Mar 17

Clippers on the break, Chris Paul throws it up to Blake Griffin who finishes with the ferocious throw down.