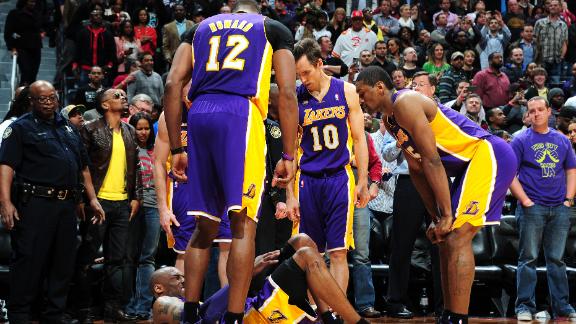 ESPN.com
Updated Mar 18, 2013
Knicks star forward Carmelo Anthony did not play Monday night against the Jazz.
Share
Tweet
Andre Iguodala's 3-pointer with 7.1 seconds left in overtime sent the Denver Nuggets to their 12th consecutive win, a 119-118 victory over the Chicago Bulls on Monday night.

Share Tweet

nydailynews.com nba.com nytimes.com

Mar 18, 2013

The only thing you knew for certain about Carmelo Anthony and his ongoing knee problem is that he did not play Monday night when the Knicks wrapped up their five-game trip from hell with an 90-83 win over the Utah Jazz. We really still don't know what c…

Share Tweet

LeBron James made the go-ahead jumper with 10.5 seconds left to lead Miami to its 23rd consecutive victory, 105-103 over the Boston Celtics on Monday night.

Share Tweet

ESPN.com nytimes.com

Mar 18, 2013

Deron Williams scored 31 points in 28 minutes, and the Brooklyn Nets routed the hapless Detroit Pistons 119-82 Monday night in the opener of their eight-game road trip.

Share Tweet

deadspin.com

Mar 18, 2013

Between the third and fourth quarters of tonight's Hawks-Mavericks game in Atlanta, a Hawks cheerleader slipped and appeared to hit her head on the court.Read more...

Share Tweet

Bobcats' late push ends Wizards' win streak

Gerald Henderson had 27 points, Kemba Walker came up big late and the Charlotte Bobcats defeated Washington 119-114 Monday night to snap the Wizards' three-game win streak.

Share Tweet

yahoo.com deadspin.com

Mar 18, 2013

Hey, do you think Jason Terry can jump as high as LeBron James? No, me neither. As we learned during the second quarter of Monday night's marquee matchup between the streaking Miami Heat and the Boston Celtics, though, the man they call "JET" …

Share Tweet

Hawes, Holiday carry Sixers past Trail Blazers

Spencer Hawes had 18 points and 13 rebounds, and Jrue Holiday scored 27 points to lead the Philadelphia 76ers to a 101-100 victory over the Portland Trail Blazers on Monday night.

Share Tweet

LeBron James Destroyed Jason Terry With a Monster Alley Oop

Holy … did you see the fast break alley oop that LeBron James caught on Jason Terry right before halftime a few minutes ago? I respect Courtney Lee for recognizing the situation and sprinting in to get a dazed Terry up off the deck. It would have only m

Share Tweet

Cavaliers guard Dion Waiters will miss the rest of Cleveland's game against Indiana with a sore left knee.

Share Tweet

The Las Vegas Summer League will end in an eight-team, NCAA-style tournament

The NBA's various summer leagues are entertaining events with no clear importance. While they function well as chances for coaching staffs to get new players up to speed on offensive and defensive sets, there's only so much that these teams can do in a …

Share Tweet

Sixers center Andrew Bynum will have season-ending arthroscopic surgery on both knees, the team announced Tuesday.

Share Tweet

Kevin Garnett is out of the lineup for the Boston Celtics as they try to stop the Miami Heat's 22-game winning streak.

Share Tweet

The NBA's amnesty clause is a peculiar thing. Under the terms of the new collective bargaining agreement, each team can release a player and take his contract off the salary cap as long as the deal was signed prior to the new CBA. The good news for the …

Share Tweet

Detroit Pistons coach Lawrence Frank returned to the team Monday after missing six games due to a family illness.

Share Tweet

Indiana Pacers forward David West is out for Monday night's game against the Cleveland Cavaliers due to a sprained lower back.

Share Tweet

ATLANTA (AP) -- A lawyer for a woman who says Michael Jordan fathered her teenage son has withdrawn her paternity suit, but left open the possibility that it could be refiled.

Share Tweet

Hornets keep Harris with second 10-day contract

The New Orleans Hornets have signed guard Terrell Harris to a second 10-day contract.

Share Tweet

The 10-man rotation, starring Mark Jackson, Chandler Parsons and Twitter beef

A look around the league and the Web that covers it. It's also important to note that the rotation order and starting nods aren't always listed in order of importance. That's for you, dear reader, to figure out. C: Houston Chronicle. Via the stalwart Jo…

Share Tweet

For Timberwolves Forward, a New Decisiveness

nytimes.com

Mar 18, 2013

Derrick Williams of the Timberwolves has become a genuine offensive threat.

Share Tweet

The Los Angeles Lakers will be without Kobe Bryant for the second game in a row when they face the Phoenix Suns on Monday night.

Share Tweet

Finally, Someone Has Created Spoiler-Free NHL Highlights

deadspin.com

Mar 18, 2013

Hockey fans: do you go to sleep before the West Coast games end? Want to relive the action, the back-and-forth scoring, and the game-winner without ruining the drama? Do we have the site for you. Last week we discovered the magic of dynamic NBA box scor…

Share Tweet

McGrady: Rockets' 22-game run 'a lot harder'

Tracy McGrady, who played on the last NBA team to win 22 straight games, says the streak his 2008 Houston Rockets went on was more impressive than the Miami Heat's current 22-game win streak.

Share Tweet

Best N.B.A. Games of the Week

nytimes.com

Mar 18, 2013

Notable N.B.A. games this week include Miami at Boston, Denver at Oklahoma City, and Utah at Houston.

Share Tweet

P.J. Carlesimo reflects on his altercation with Latrell Sprewell, 15 years later

As an unwilling victim, Brooklyn Nets interim head coach P.J. Carlesimo doesn't want to be known mostly for his Dec. 1997 incident with Latrell Sprewell, but P.J. has always been forthcoming about Spre's attack on the then-Golden State Warriors coach,

Share Tweet

Wall, Aldridge named Players of the Week

The Washington Wizards' John Wall and the Portland Trail Blazers' LaMarcus Aldridge on Monday were named Eastern and Western Conference Players of the Week, respectively, for games played Monday, March 11 through Sunday, March 17.

Share Tweet

Create-a-Caption: Dwight Howard's powers are returning, y'all

After a super successful trip back to Orlando, consecutive wins following Kobe Bryant's severe ankle sprain, 14 straight games with at least 12 rebounds and a clear defensive resurgence that's helped pace the Los Angeles Lakers' 11-3 post-All-Star-break…

Share Tweet

CNNSI.com

Mar 18, 2013

LeBron James continues his spectacular play, but is he overshadowng Dwyane Wade's recent production? Rob Mahoney examines Wade's play and more in The Fundamentals.

Share Tweet

Watch Wilt Chamberlain swat shots an arm's length above the rim (Video)

Officially, and somewhat cruelly, according to the NBA's record-keeping Wilt Chamberlain never registered a block in his NBA career. The NBA didn't begin to record blocks as an official stat until the 1973-74 season, a year that saw Chamberlain someti

Share Tweet

When Larry Sanders got himself ejected during the closing stages of last Wednesday's loss to the Washington Wizards, his sarcastic triple-thumbs-up response gave the heave-ho a somewhat jovial feel that kind of took the edge off a double-digit defeat at…

Share Tweet

yahoo.com dimemag.com

Mar 18, 2013

It was an incredible Sunday for Bucks guard Monta Ellis. Entering the fourth quarter of his team's eventual win over the Orlando Magic with just 14 points and nursing a nine-point deficit, Ellis went off for 25 points in the final period to lead Milwauk

Share Tweet

Mannix: Draft prospects who can help themselves with a strong tourney

CNNSI.com

Mar 18, 2013

It's time for the one-stop NBA draft shop known as March Madness. Chris Mannix breaks down 10 prospects who could make the market buzz with strong tourney performances.

Share Tweet

Chris Paul Debuts The Jordan CP3.VI AE

Yesterday, Chris Paul sliced up the Knicks for 20 points and eight dimes in a 13-point Clippers win. He also debuted the Jordan CP3.VI AE. These are the "artisan edition" of his signature sneakers, the ones he'll be rocking during L.A.'s (hopefull

Share Tweet

"I've Fallen and I Can't Get Up!" Kevin Durant Life Alerts Vince Carter with a Crossover

Does this qualify as some sort of abuse? Like beating-on-a-defenseless-old-man-level of abuse? In what was the equivalent of having the best, youngest, most athletic player in your pickup run single out the old man who just wants to get some exercise fo…

Share Tweet

deadspin.com dimemag.com

Mar 18, 2013

Without Carmelo Anthony, Amar'e Stoudemire, and especially Tyson Chandler, you knew this one was going to be ugly for the Knicks down low. Lob City didn't disappoint, with DeAndre Jordan and Blake Griffin going to town on a frontcourt consisting of Kurt…

Share Tweet

Norris Cole hits Dwyane Wade for 3/4-court alley-oop as Heat push winning streak to 22 (Video)

When you have decided to adopt a DJ Khaled song as a practical philosophy, even winning can get a little ho-hum. It's not enough just to keep beating whatever opponent the schedule-maker puts in front of you for six straight weeks (and counting) - you'v

Share Tweet

The Dallas Mavericks are not particularly big fans of Derek Fisher these days. In December, owner Mark Cuban agreed to release Fisher following a short stint with the club so that he could rehabilitate his injured knee and focus on a major NBPA power st…

Share Tweet

March Madness Is Finally Here; LeBron James & Miami's Win Streak Reaches 22

A few interesting subplots went down in the NBA last night, headlined by Miami invading Jurassic Park and destroying the Raptors. But it all still took a backseat to March Madness … While many predicted the top four No. 1 seeds correctly (Louisville, Ka

Share Tweet

Antawn Jamison scored 27 points, Metta World Peace added 22, and the Los Angeles Lakers won without Kobe Bryant, beating the Sacramento Kings 113-102 Sunday night for their sixth victory in seven games.

Share Tweet

We Went There: 20 Observations From the Heat's 22nd Consecutive Win

grantland.com

Mar 18, 2013

After a brief flicker of competitiveness, the Heat buried the Raptors in Toronto yesterday under a pile of smartly created open 3s — mostly by R...

Share Tweet

Mavs Roll Past Hawks

Mar 18

Dirk Nowitzki scores 22 points to power the Mavericks to the 127-113 win over the Hawks.

76ers Sneak Past Blazers 101-100

Mar 18

Jrue Holiday leads 76ers to win over Blazers.

Heat Rally To Keep Streak Alive

Mar 18

Heat erase a 17-point deficit to defeat the Celtics 105-103 and extend their winning streak to 23 games, the second longest in NBA history.

More Impressive Winning Streak: Heat Or Rockets?

Mar 18

Chris Mullin breaks down the Miami Heat's and Houston Rocket's 22-game winning streaks.