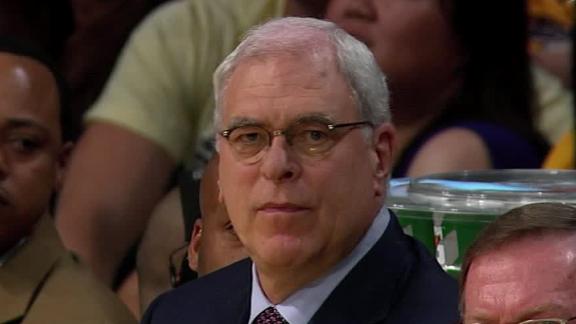 ESPN.com
Updated May 6, 2013
Phil Jackson's name tops the list of coaching candidates for the Brooklyn Nets, according to a source.
Share
Tweet
dimemag.com yahoo.com CNNSI.com

May 6, 2013

Back in the day when he was an emerging star in the Italian League with Kinder Bologna, Manu Ginobili was known for his explosive athleticism. Over the years, that aspect of his game gave way to overwhelming craft and guile, but as we saw in the first h…

Share Tweet

nydailynews.com ESPN.com

May 6, 2013

It would take someone with far more mental capacity than me to probe the mind of J.R. Smith. Or identify the true source of his inspiration for posting the "Official NBA Bandwagon Transferral Form" following the Knicks' 102-95 Game 1 loss to Indiana

Share Tweet

Nate Robinson's Two Fearless Game-Winning Shots Against the Miami Heat

Nate Robinson's line tonight in Chicago's 93-86 victory over the Miami Heat: 27 points, nine assists, three rebounds, 10 stitches (five on the inside and five on the outside of his lip), and these two serious buckets to put the Heat away (he's used

Share Tweet

Sources: Lakers dismiss Bickerstaff, Person

ESPN.com

May 6, 2013

In the first move of what's sure to be a busy offseason for the Los Angeles Lakers, coach Mike D'Antoni informed Bernie Bickerstaff and Chuck Person on Monday that they will not be retained as assistant coaches for next season.

Share Tweet

deadspin.com yahoo.com grantland.com

May 6, 2013

What the hell's going on here? The Bulls just beat the Miami Heat 93-86 and, well, what in the hell is going on here? Read more...

Share Tweet

Samuel L. Jackson and the Most Inappropriate Tweet of the NBA Playoffs

It is safe to say that Samuel L. Jackson was very fired up about his Chicago Bulls' Game 1 victory over the Miami Heat tonight: For breaking news, rumors, exclusive content, and contests sent right to your inbox, sign up here for the Dime Email Newslett

Share Tweet

Hot Hand: Stephen Curry and the Warriors' sharp-shooters pi…

Stephen Curry and the Warriors' sharp-shooters picked up where they left off in Round 1, but a furious fourth-quarter rally by the Spurs has sent Game 1 of the West semis to overtime.

Share Tweet

Coach Vinny Del Negro is proud of the Los Angeles Clippers' breakthrough season, even though he doesn't know if he'll be around for the next one.

Share Tweet

Top franchises out early from NBA playoffs

nba.com

May 6, 2013

The seconds ticked down on the Boston Celtics' season as Game 6 against the New York Knicks slipped away, a ferocious fourth-quarter comeback falling just short.

Share Tweet

Oklahoma City's Derek Fisher was fined $5,000 by the NBA on Monday for flopping in Game 5 of the Thunder's first-round playoff series against the Houston Rockets.

Share Tweet

Just in time for tonight's Game 1 of their second round series against the Chicago Bulls, the Miami Heat and Nike unveiled this massive banner outside American Airlines Arena. Click for a larger view. For breaking news, rumors, exclusive content, and co

Share Tweet

Return Engagement: The Bulls prevented the Heat from making history …

The Bulls prevented the Heat from making history in stopping their 27-game win streak. Can they derail Miami's playoff plans, too. Follow Game 1 of the East semifinals here.

Share Tweet

ESPN.com deadspin.com

May 6, 2013

The Kings' would-be new owners made a key but costly concession last week ahead of a relocation vote by NBA owners that may have been a deciding factor in keeping the team from moving to Seattle.

Share Tweet

The Chicago Bulls will be without Luol Deng, Derrick Rose and possibly Kirk Hinrich for Game 1 of their Eastern Conference semifinal against the Miami Heat on Monday, but Rose said he is not ruling out playing at some point in the series.

Share Tweet

Durant continues to shine as a closer

nba.com

May 6, 2013

Pondering Kevin Durant's latest big-time shot on the playoff stage, Lionel Hollins started listing a who's who of NBA greats from days gone by: Michael Jordan, Larry Bird, Magic Johnson, Isiah Thomas, Sam Jones, John Havlicek, George Mikan, Bob Pettit.

Share Tweet

CNNSI.com yahoo.com nba.com deadspin.com

May 6, 2013

League fines Bulls' Belinelli for 'obscene gesture'

Share Tweet

ESPN.com

May 6, 2013

Los Angeles Clippers general manager Gary Sacks wasn't in a mood to say much about any of the major decisions hanging over the franchise this summer in the first few moments after the Memphis Grizzlies knocked the Clippers out of the playoffs.

Share Tweet

Jason Collins, the NBA veteran who last week announced he was gay, is disputing reports from publishing insiders who say he is shopping a book deal.

Share Tweet

Marc Gasol, The Big Fundamental & The Top 10 Centers In The NBA This Season

Times have changed at the center position in today's NBA. It wasn't long ago that the best players in the NBA were the centers. Between Olajuwon, Ewing, David Robinson and Shaq, the center position was easily the best position in the league for much o

Share Tweet

J.R. Smith Has Something for His Critics and Haters

J.R. Smith did not have a very good Game 1 against the Pacers this weekend, going just 4-15 (plus one tremendous flop) from the field for 17 points in the New York loss. When people started tweeting that his poor shooting was a result of him partying at…

Share Tweet

After Knicks practice today, Amar'e Stoudemire told the assembled media that he is eyeing a Saturday Game 3 return to the lineup, barring any setbacks. What will he be able to provide for the Knicks after having not played for two months? He's not sho

Share Tweet

yahoo.com

May 6, 2013

With every season that ends, for the playoff teams at least, we felt it right to take a look ahead. TNT already has the rights to "Gone Fishin'," and because we're sure that someone, somewhere, still likes that Wyclef song, we're going with &q…

Share Tweet

Major X-factors: Bulls-Heat

SI.com previews the second round NBA playoff matchup between the Miami Heat and the Chicago Bulls.

Share Tweet

Heat, Spurs have emerged as conference favorites, but questions remain for each

It has been eight days since Miami and San Antonio wrapped up first-round sweeps. Can they be tested in Round 2? Rob Mahoney examines the questions facing the Heat and Spurs.

Share Tweet

ESPN.com CNNSI.com dimemag.com

May 6, 2013

Former Brooklyn Nets coach P.J. Carlesimo doesn't think winning Game 7 of the Eastern Conference quarterfinals would've saved his job.

Share Tweet

Stephen Curry & Golden State's Playoff Run: Payback For All The Fans Who Never Left Them

To say that the Golden State Warriors fan base has been tortured over the years would be a huge understatement. It would be like calling Jackie Robinson important to baseball. He's far more. There's not a word to describe Jackie's meaning to basebal

Share Tweet

Chris Paul's Top 10 Crossovers

[Happy birthday to one of our favorite players, Chris Paul. For his big day, check out this list we put together a little while back celebrating CP3's Top 10 Crossovers.] Chris Paul is the best point guard in the NBA. There's no debating that. Anything

Share Tweet

nba.com dimemag.com

May 6, 2013

The writer who did not choose LeBron James of the Miami Heat as the NBA's Most Valuable Player believes Carmelo Anthony "meant more to his team" this season.

Share Tweet

3 jokes about Carmelo Anthony colliding with a cameraman after Pacers take Game 1 (Video)

yahoo.com

May 6, 2013

1. More like Most Vulnerable Player. 2. The refs didn't call a foul on the cameraman because he went straight up; while Carmelo Anthony argued for a call, David West got wide open for another dunk. (It didn't count, because the game was already over.) 3…

Share Tweet

After All-Star forward David Lee went down with a torn hip flexor, it appeared this Golden State Warriors team was toast. The Nuggets were dealing wit...

Share Tweet

So much amazing is happening, and the Shootaround crew is here to help you keep track of it all. You'll find takes on moments you might've missed from...

Share Tweet

Roy Hibbert finished 10th in Defensive Player of the Year voting. I didn't list him among the top three of my fake ballot, in part because his own hea...

Share Tweet

Grizzlies-Thunder Game 2 Preview

May 6

Kurt Rambis looks ahead to the Grizzlies at the Thunder on Tuesday at 9:30 p.m. ET.

Bulls Stun Heat In Game 1

May 6

Nate Robinson and Jimmy Butler combined to score 48 points in the Bulls' 93-86 win over the Heat in Game 1.

Heat Rusty In Game 1

May 6

Kurt Rambis recaps the Heat's Game 1 loss to the Bulls.

The Warriors' Chances

May 6

Graydon Gordian co-founded the Spurs blog 48 Minutes of Hell, and has every expectation Stephen Curry's transcendent shooting will change the series. But he's still very comfortable with the Spurs second-round matchup.