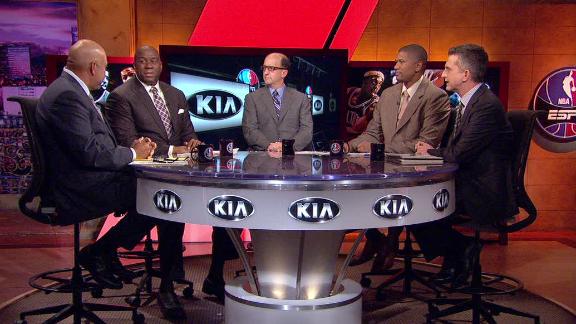 ESPN.com
nydailynews.com
yahoo.com
Updated Nov 14, 2012
After tweeting that he would remain silent if he didn't "have anything nice to say," Magic Johnson said what was on his mind anyway.
Share
Tweet
OKLAHOMA CITY (AP) Rudy Gay scored a season-high 28 points, Zach Randolph added 20 points and 11 rebounds before getting ejected along with Oklahoma City's Kendrick Perkins during a late-game altercation and the Memphis Grizzlies beat the Thunder 107-97…

Share Tweet

Harden scores 30 as Rockets hold off Hornets

James Harden scored 30 points, Omer Asik added 15 points and 12 rebounds, and the Houston Rockets held off the New Orleans Hornets 100-96 on Wednesday night.

Share Tweet

deadspin.com CNNSI.com

Nov 14, 2012

The hapless Charlotte Bobcats won in spite of themselves tonight against the Timberwolves 89-87, needing a Kemba Walker score in the final seconds to seize a lead partially frittered away when Reggie Williams called a time out the Bobcats didn't have an…

Share Tweet

Miami Heat star Dwyane Wade will play in Wednesday night's game against the Los Angeles Clippers despite a sprained left foot.

Share Tweet

Paul Pierce hit two free throws with 19.5 seconds left and finished with 23 points, lifting the Boston Celtics to a 98-93 win over the Utah Jazz on Wednesday night.

Share Tweet

Golden State Warriors center Andrew Bogut will be in the Los Angeles area during part of the team's upcoming road trip to rehabilitate his surgically repaired left ankle.

Share Tweet

Nets' Wallace (ankle) to miss 6th straight game

Brooklyn Nets forward Gerald Wallace will miss his sixth straight game Thursday against the Boston Celtics due to a sprained left ankle.

Share Tweet

Greg Monroe had 19 points, 18 rebounds and six assists to help the Detroit Pistons beat the Philadelphia 76ers 94-76 on Wednesday night for their first win of the season.

Share Tweet

NBA's most surprising (and unlucky) team

CNNSI.com

Nov 14, 2012

There are unlucky teams, and then there are the Timberwolves. But in the face of early misfortune, Rick Adelman has his team off to a hot start. Rob Mahoney examines their success.

Share Tweet

CNNSI.com

Nov 14, 2012

Timberwolves lose Budinger for 3 months after surgery

Share Tweet

See an NBA game for $0.10 … seriously 10 cents

Interested in hosting a party for you and 16 of your friends at a Philadelphia 76ers game? If you've got $6.80 lying around, you're in luck, because a block of 17 tickets for Wednesday night's game against the Detroit Pistons was on sale for $0.40 a tic…

Share Tweet

Kobe Bryant visits with Los Angeles homeless in new web miniseries (VIDEO)

Pretty much every elite professional athlete in the world supports a charitable cause, whether by setting up a personal foundation or joining forces with a preexisting group. Los Angeles Lakers icon Kobe Bryant, via the Kobe and Vanessa Bryant Family Fo…

Share Tweet

Wolves' Pekovic, Roy, Barea out vs. Bobcats

nba.com

Nov 14, 2012

Brandon Roy sat down at his locker on Wednesday night as he prepared to sit out another with a sore right knee. He was asked if he planned on suiting up for the Minnesota Timberwolves in their next game on Friday night.

Share Tweet

The NBA players' association is continuing its appeal on behalf of Sacramento Kings center DeMarcus Cousins even after he has served his suspension.

Share Tweet

Ray Allen's Miami Rental Mansion Is Nicer Than Wherever You Live

How hard could the recruitment of Ray Allen been, really, for Miami? Playing alongside LeBron James and Dwyane Wade has its perks. So does this place he calls temporary home, according to Curbed Miami, for $50,000 a month. Hit the jump to see a video to…

Share Tweet

Oscar Robertson is auctioning off his 1964 MVP trophy, an award that has been in his attic for 40 years

Over a year ago, we detailed the auction set up to sell off several mementos earned by Basketball Hall of Famer Julius Erving, who was dealing with some financial woes at the time. Last week, we learned that fellow Hall of Famer Oscar Robertson will be …

Share Tweet

nba.com ESPN.com dimemag.com yahoo.com

Nov 14, 2012

Houston rookie Royce White remains absent from the team in a dispute over how the Rockets are helping him confront his anxiety disorder.

Share Tweet

ESPN.com nytimes.com

Nov 14, 2012

Brandon Roy sat down at his locker on Wednesday night as he prepared to sit out another with a sore right knee. He was asked if he planned on suiting up for the Minnesota Timberwolves in their next game on Friday night.

Share Tweet

Jordan Crawford Tries To Shoot Jan Vesely's Free Throws In Hilariously Devious Fashion

deadspin.com

Nov 14, 2012

Watch the video above carefully. The first thing you should notice is the Wizards' Jan Vesely battling for post position with the Bobcats' Tyrus Thomas. In the midst of the jostling, the referee calls a foul on Thomas, sending Vesely to the line. Or rat…

Share Tweet

There are a lot of things, despite the name of this particular blog, that we don't like about Rasheed Wallace. Longtime readers know all about our frustrations with the guy. Recent devotees will probably guess that those gripes have a lot to do with his…

Share Tweet

5-on-5: Heat-Clips, Thunder-Griz

5-on-5: Breaking down the big questions heading into ESPN's NBA doubleheader

Share Tweet

Create-a-Caption: 'I mean … maybe this time, *you* take the shot'

Listen, people can freak out all the want about whether Mike D'Antoni is the right coach to lead the Los Angeles Lakers to a title, whether the Buss family or Phil Jackson and his representatives were to blame for the disintegration of an alleged handsh…

Share Tweet

The 10 Most Interesting Story Lines Of The NBA Season

Yes, we know the season is still young. There are a lot of games left to be played in what should be a great year, but still, it seems there'll be a surprise for us waiting around every corner. This season has already given us some unexpected gut-punche

Share Tweet

A cheerleader and stunt team member is in stable condition after falling on her head during a performance at an Orlando Magic game.

Share Tweet

Taking a cue from their famous trainer, the Detroit Pistons offer health food on the home arena's menu

Some readers and even Detroit Pistons fans will take to this news as some sort of recognition of the loss of one of the great freedoms of sporting culture - the ability to go to a game and imbibe in endless amounts of terrible food, watered-down soda th

Share Tweet

deadspin.com ESPN.com

Nov 14, 2012

The Spurs' 84-82 win over the Lakers came down to a pair of plays in the waning seconds. San Antonio's relied on the element of surprise, an unlikely shooter, everyone knowing their roles. Los Angeles's consisted of Pau Gasol shooting a three. This is w…

Share Tweet

How Anderson Varejao Quietly Lit Up The Nets Last Night

deadspin.com

Nov 14, 2012

Anderson Varejao scored 35 points and grabbed 18 rebounds last night in a loss to the Nets. It feels crazy to write that, because Varejao isn't the kind of center you expect to put up such fat numbers. He's the "energy guy," the big man who ne…

Share Tweet

Belgian basketball player tries to score on own basket, misses 4 straight layups, wins Internet (VIDEO)

The Eurobasket website identifies three levels of professional basketball in Belgium: the Ethias League (the nation's top tier), Division II and Division III. The uploader of this YouTube clip tells us that the play in question - the remarkable, ridicul

Share Tweet

Carmelo Has a Mini Meltdown; The Spurs Torture the Lakers; Deron Williams & Kyrie Irving Put On A Show

Pau Gasol, we hope you surround yourself with protection tonight. You might turn up along the rocks in the Pacific Ocean tomorrow morning, courtesy of a crazed Kobe Bryant. Down two on the last possession last night against the Spurs, Gasol couldn't fin

Share Tweet

Barack Obama's Advice for the Clippers

grantland.com

Nov 14, 2012

Barack Obama offers his advice to Chris Paul and asks him to relay a message to Blake Griffin about his jump shot.

Share Tweet

About the Previous Evening: Lakers Lose, Spartans Win, and All the Marlins Get Traded

grantland.com

Nov 14, 2012

Pretty much every morning, About Last Night provides you with the essential sports headlines that you need to know. This is not one of those mornings....

Share Tweet

Harden Scores 30 Points In Rockets' Win

Nov 14

Rockets hold off late charge from Hornets.

Rondo Hurt In Celtics' Win

Nov 14

After notching his 32nd straight game with 10 or more assists, Rajon Rondo hurts his ankle in Celtics' 98-93 win over Jazz.

Bucks Win Second Straight

Nov 14

Brandon Jennings and Monta Ellis both score 16 points in Bucks' win.

Pistons Cruise Past 76ers For First Win

Nov 14

Greg Monroe's 19 points and 18 rebounds lead Pistons to 94-76 win over 76ers.