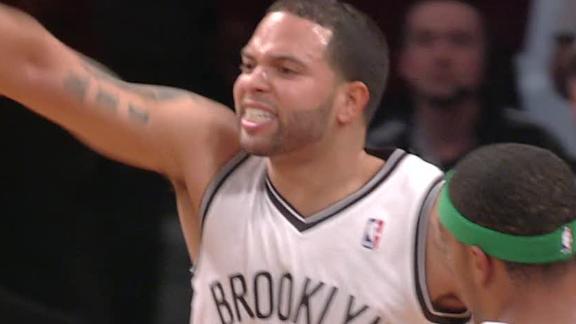 Nets top short-handed Celts for 4th straight win
ESPN.com
Updated Nov 15, 2012
Joe Johnson made the tiebreaking basket with 3:03 left, Deron Williams and Brook Lopez each scored 24 points, and the Brooklyn Nets beat the Boston Celtics 102-97 on Thursday night for their fourth straight victory.
Share
Tweet
Miami star Dwyane Wade is skipping the Heat's game at Denver on Thursday night because of a sprained left foot.

Share Tweet

EL SEGUNDO, Calif. (AP) -- Mike D'Antoni circled the court 2 feet at a time, moving smoothly on crutches while his Los Angeles Lakers went through drills orchestrated by his assistant coach and brother, Dan.

Share Tweet

Ben Golliver: Ten players who should have been on the 2013 NBA All-Star ballot

Everyone agrees that the All-Star selection process is all about the hype, but it's still an honor. Ben Golliver looks at 10 players who earned the right to be included on this year's ballot.

Share Tweet

Rondo out against Nets due to sprained ankle

Boston Celtics point guard Rajon Rondo missed Thursday night's game against the Brooklyn Nets due to a sprained ankle. Leandro Barbosa started in his place.

Share Tweet

Although Mike D'Antoni is still on crutches after his recent knee surgery, he's already at work with the Los Angeles Lakers.

Share Tweet

Taiwanese animators NMA depict the Lakers coaching search (VIDEO)

When a big NBA story hits, the fantastic Taiwanese animation studio NMA tends to provide their own take on the news. That involves not just relating what happened, but depicting the whole deal as a whackadoodle tale of overgrown children who gesticulate…

Share Tweet

ESPN.com nytimes.com

Nov 15, 2012

Apparently, the party's over for New York Knicks shooting guard J.R. Smith.

Share Tweet

Jefferson says he would 'love' to return to Boston

Jefferson says he would 'love' to return to Boston

Share Tweet

Magic: Lakers VP Buss guilty of 'critical mistakes'

Magic: Lakers VP Buss guilty of 'critical mistakes'

Share Tweet

Section 15: Crossing the Verrazano

The Off the Dribble team was interested in learning about Nets fans now that the team is in Brooklyn. We found Matthew Kipp from Staten Island in Section 15.

Share Tweet

Five Surprises of the Young N.B.A. Season

Rajon Rondo of the Celtics and Omer Asik of the Rockets have excelled. Ersan Ilyasova of the Bucks has not.

Share Tweet

The winless Washington Wizards waived Jannero Pargo and signed free-agent guard Shaun Livingston on Thursday, bringing back a player they hope can help fill the void until John Wall returns from injury.

Share Tweet

When the Memphis Grizzlies and Oklahoma City Thunder square off, Memphis power forward Zach Randolph and Thunder center Kendrick Perkins tend to see a lot of one another, and for two of the NBA's reputed stone-cold, hard-bitten low-post bangers, that ki…

Share Tweet

The Top 5 Eye-Opening NBA Point Guards So Far

Toronto is 1-4 without point guard Kyle Lowry this season after he injured his ankle Nov. 6 against Oklahoma City, and now the Raptors (2-6) have to deal with his absence for another 1-2 weeks. The team announced the wait-and-see approach to his bone br…

Share Tweet

ESPN.com nba.com dimemag.com

Nov 15, 2012

The Minnesota Timberwolves have agreed to terms with free-agent forward Josh Howard.

Share Tweet

The Charlotte Bobcats beat the Minnesota Timberwolves last night on a last-second, game-winning shot from Kemba Walker. The win moved them to 4-3 on the season. Last year, it took them 30 games before they got their fourth victory. Yes, the Bobcats smar…

Share Tweet

Nate Robinson drives, literally, through a defender's legs on his way to the score (VIDEO)

Somehow, despite the loss of all-world scorer Derrick Rose and the presence of the defensively-minded (which is a nice way of saying, "shooting 32 percent from the field") Kirk Hinrich at starting point guard, the Chicago Bulls are 12th in the…

Share Tweet

Deadspin NBA Shit List: Antawn Jamison, Captain Of Failure

A celebration of the NBA's most infuriating players, both past and present. Read other NBA Shit List entries here. More »

Share Tweet

Toronto Raptors guard Kyle Lowry will be sidelined another 1 to 2 weeks after being diagnosed with a bruised bone in his right foot.

Share Tweet

Mavericks forward Shawn Marion practiced on Thursday and will travel with the team on its trip to Indiana and Cleveland in hopes of returning to the lineup.

Share Tweet

Create-a-Caption: Erik Spoelstra is not impressed

Watching Dwyane Wade and Chris Bosh shoot a combined 5-for-23 ... allowing the Los Angeles Clippers to shoot 49 percent from the floor and score 107 points, continuing your slide to a lowly 27th among 30 NBA teams in defensive efficiency (per NBA.com's …

Share Tweet

Basketball's governing body will try to lure NBA stars to play in some World Cup qualifiers after creating a new format with more matches in their home countries.

Share Tweet

David Lee explains being unkindly compared to FEMA

David Lee will never be able to win. That doesn't mean you should feel sorry for him, not with another decade to enjoy in his NBA career and a six-year $80 million contract to currently have and to hold, but no NBA fan that is aware of his reputation or…

Share Tweet

Robin Lopez doesn't like Splash Mountain as much as Brook Lopez, apparently

Let he who has not momentarily lost it sitting near the front of a descending rollercoaster/attraction cast the first stone. I feel you, Robin Lopez. I also feel the pain of knowing that your brother saw your freak out like this while maintaining his ow…

Share Tweet

Roy Hibbert and the Indiana Pacers are struggling mightily in the face of increased expectations

With the Chicago Bulls undergoing an unfortunate waiting period with star guard Derrick Rose on the shelf, and the Boston Celtics seemingly rebuilding on the fly after watching Ray Allen take his senior act down to South Beach, the Indiana Pacers were e…

Share Tweet

Is Gay the Grizzlies' Centerpiece or Expensive Accessory?

The talents of Rudy Gay make him a star player, but also an odd fit with the rest of the Grizzlies.

Share Tweet

Houston Rockets intend to fine rookie Royce White for every day he remains away from the team or does not attend sessions with a therapist arranged by the team.

Share Tweet

How Damian Lillard Compares To The NBA's Best Point Guards

Portland rookie Damian Lillard has started all eight games for his team this season. In those games, he's played exceptionally well, averaging over 18 points, six assists and a steal per game. It's only eight games over a long season, but he's playi

Share Tweet

Watch DeAndre Jordan Pretend To Fart On People

Thanks to The NOC, Clippers center DeAndre Jordan has a prank show on YouTube called "Got 'Em." This is a good thing, because it has led to the creation of videos like the one above, in which Jordan uses a fart machine to make people really un…

Share Tweet

Being hurt is tough. All players want is to be out there on the field, performing to the best of their abilities and the top of their athletic intelligence, being handsomely compensated while receiving heaps of unwavering praise - y'know, the American d

Share Tweet

The Court Grip Difference Maker of the Week: Jamal Crawford Breaks Ray Allen

Each week Court Grip will bring you a prime basketball highlight made possible by having an edge — in skills, performance and technology. This week features Jamal Crawford's second appearance in the last three weeks [Watch him murder Rudy Gay with a c

Share Tweet

Greg Monroe Nailed A One-Eyed Free Throw

In the second quarter of the Pistons' 94-76 win in Philadelphia, their first of the season, Greg Monroe was poked in the eye by Spencer Hawes. With his contact lens out of place, Monroe swished a free throw. After adjusting it-and regaining binocular vi

Share Tweet

Rookie Draymond Green makes his first basket, immediately earns taunting technical foul (VIDEO)

It is hard to imagine what a man feels when he scores his first NBA basket. After years of hard work, effort, and luck, the player has followed through on one of his dreams and accomplished something truly meaningful. His name will appear in the record …

Share Tweet

PHOENIX (AP) Carlos Boozer's latest big game against Phoenix came in handy when the Chicago Bulls blew an 18-point lead.

Share Tweet

Eric Bledsoe stonewalls Dwyane Wade's dunk attempt (VIDEO)

Miami Heat star Dwyane Wade is famous for many basketball skills, but one of them is his status as the best shot-blocking guard of his generation. Whereas most shot-blockers earn their defensive reputations by patrolling the paint, Wade got his by chasi…

Share Tweet

Griffin, Paul power Clippers' romp over Miami

Blake Griffin and Chris Paul had double-doubles, with Paul keying a third-quarter spurt that helped carry the Los Angeles Clippers to a 107-100 win over the Miami Heat on Wednesday night.

Share Tweet

The Clippers Destroy The Defending Champs; Rudy Gay Makes A Statement Against OKC

It's not every day you see the defending champs get completely outclassed. But it happened in the Staples Center last night as the Clippers rolled over the Heat, 107-100. The game was never that close — a late Miami run turned what was nearly a 20-poi

Share Tweet

We See You, Utah Jazz Announcer Quoting Ludacris

grantland.com

Nov 15, 2012

David Locke getting fired up on behalf of Gordon Hayward. (Via Spencer Hall of SaltCityHoops)

Share Tweet

No, by All Means, You Dunk It: A Look at Blake Griffin's Passing vs. the Heat

grantland.com

Nov 15, 2012

In today's NBA, it's hard to find a more polarizing player than Blake Griffin. To those that despise him, Griffin is a whiny, flopping ogre capable on...

Share Tweet

Highlight Of The Night

Nov 15

Knicks win to remain undefeated.

Techin' In

Nov 15

ESPN technology expert Katie Linendoll discusses the latest trending sports news in social media and technology.

Joakim Noah's Offensive Improvement

Nov 15

NBA Tonight breaks down Joakim Noah's offensive improvement.

Kobe Bryant On The First Practice With Mike D'Antoni

Nov 15

Kobe Bryant reacts to the Lakers' first practice with new head coach Mike D'Antoni.