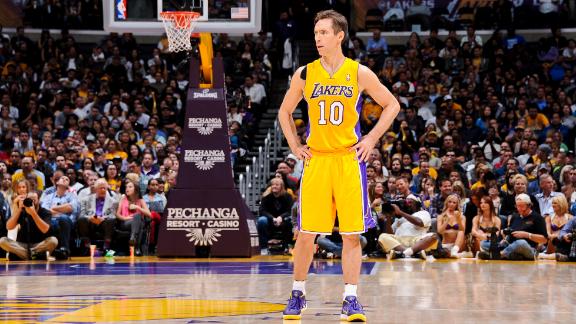 Carmelo Anthony scored 29 points and the New York Knicks extended the undermanned New Orleans Hornets' losing streak to four games with a 102-80 victory Tuesday night.

Share Tweet

Jason Richardson scored six of his 21 points late in the fourth quarter, Nick Young had 23 off the bench and the Philadelphia 76ers rallied to beat the Toronto Raptors 106-98 on Tuesday night.

Share Tweet

Somehow The Knicks Managed To Get Even Older

Popped on ESPN.com to check the boxscore of tonight's Knicks-Hornets game. Had to see how the local basketball team was doing. According to the boxscore, the Knicks have on their bench a 54-year-old guard/forward who last played in 1991. That's a vetera…

Share Tweet

OAKLAND, Calif. (AP) -- Golden State Warriors center Andrew Bogut is scheduled to miss at least the next three games as he continues to strengthen his surgically repaired left ankle.

Share Tweet

Dwight Howard says he doesn't care if Deron Williams is still his friend

About a year ago, back when it was assumed that Dwight Howard would leave the Orlando Magic as a free agent in the summer of 2012, the Brooklyn Nets were the odds-on favorite to land his services. Along with point guard Deron Williams, Howard would have…

Share Tweet

DALLAS (AP) Dirk Nowitzki says he is still about two weeks away from getting back on the court to start running and shooting. He's not sure how long after that it will be before he makes his season debut for the Dallas Mavericks.

Share Tweet

NBA players dribble in chorus to create 'Carol of the Balls' (VIDEO)

Early last week, the NBA unveiled the single-color, stencil-font jerseys that teams will wear for its high-profile slate of Christmas games. However, for a global corporation, simply announcing new products for sale is not enough. There must be a compel…

Share Tweet

Deadspin NBA Shit List: Don Nelson, Drunk On His Own Genius (And Scotch)

A celebration of the NBA's most infuriating players, both past and present. Read other NBA Shit List entries here. More »

Share Tweet

Why New York Shouldn't Be Overly Excited About The Knicks & Nets

The Knicks are 7-1 as the toast of the town, and their Jay-Z-owned brothers across the East River, the Nets, are 6-2 and second in the Atlantic Division. That means the Post and Daily News are foaming at the mouth to stir up a little New York rivalry an…

Share Tweet

The 10-man rotation, starring the brilliant Eric Bledsoe

A look around the league and the web that covers it. It's also important to note that the rotation order and starting nods aren't always listed in order of importance. That's for you, dear reader, to figure out. C: Hoopspeak. Beckley Mason on the emergi…

Share Tweet

nytimes.com ESPN.com

Nov 20, 2012

Mike D'Antoni, the new Lakers coach, will be on the bench for the game against the Nets on Tuesday night.

Share Tweet

When Chicago Bulls Luol Deng, Joakim Noah, and Jimmy Butler met Sir Paul McCartney (PHOTO)

We have no idea how Chicago Bulls forward Jimmy Butler and Luol Deng teamed with center Joakim Noah and Sir Paul McCartney to create a photo that Kelly Dwyer will someday have tattooed onto his back, but we're very happy Luol took the time to share the …

Share Tweet

Darko Milicic is likely leaving the team to be with his ailing mother.

Share Tweet

nba.com

Nov 20, 2012

When Udonis Haslem was trying to make the Miami Heat take notice of him a decade ago, assistant coach Keith Askins gave him one piece of advice.

Share Tweet

Kyrie Irving couldn't handle playing with just one hand. Now, it's the Cleveland Cavaliers turn.

Share Tweet

OK, these guys have now become way too internet famous to not be identified. We must know who they are. How did they afford those seats? Are they brothers, or just bros? Did they wear matching t-shirts to the game and buy matching jerseys to wear over t…

Share Tweet

Create-a-Caption: Bucks coach Scott Skiles is the worst Uncle Sam

I'm sure Scott Skiles thought he was pretty slick the first time he thought of pointing at his Milwaukee Bucks and saying, "I want you ... to work harder at defending the pick-and-roll." It was an especially nice touch to wear the hat and bear…

Share Tweet

ESPN.com dimemag.com

Nov 20, 2012

Miami Heat star Dwyane Wade plans to return from injury Wednesday.

Share Tweet

One of the biggest plays in Monday night's entertaining and competitive - no, really! - contest between the Charlotte Bobcats and Milwaukee Bucks came late in the fourth quarter, with the Bucks holding onto a 96-93 advantage following a 14-6 Bobcats r

Share Tweet

News Corporation, parent company of Fox Sports, is inching closer to acquiring 49 percent of the YES Network, sources who were briefed by its board of directors on Monday told ESPN.

Share Tweet

San Antonio's Championship Hopes Hinge On One Player's Back

Last week, I was ready to write Manu Ginobili off. I was going to pen a piece pronouncing him dead, his All-Star years over, the Spurs' chances at one final championship done. It wasn't only because he started off slowly this year — and he did, fail

Share Tweet

We take no great pleasure in kicking a team while it's down, but the flailing Washington Wizards just can't be ignored. The team still has yet to win a game in nine tries, following Monday night's failed comeback against the Indiana Pacers; but whatever…

Share Tweet

Gregg Popovich says Spurs were 'soft' in loss to Clippers: '… we were an embarrassment'

In the midst of another strong start that's continued a some increased experimentation along the way, the 8-2 San Antonio Spurs welcomed the similarly streaking 7-2 Los Angeles Clippers to the AT&T Center on Monday night with their hearts set on pay…

Share Tweet

By 2025, The NBA Will Have A Latino MVP

I'd like to make a $100 bet: By 2025 the NBA will have a Latino MVP. I'm willing to go one step further, I believe it will be a U.S.-born Latino MVP. I'll go one step further still and say that it won't be Carmelo Anthony (whose father is Puerto-Rican).…

Share Tweet

Lin struggles (5 of 15) in skidding Rockets' loss to Jazz

CNNSI.com

Nov 20, 2012

Lin struggles (5 of 15) in skidding Rockets' loss to Jazz

Share Tweet

Reserve Gordon Hayward scored 15 points, Al Jefferson had 14 points and 16 rebounds and the Utah Jazz beat the road-weary Houston Rockets 102-91 on Monday night.

Share Tweet

2 Special Weapons Beat The Spurs; The Nuggets End The NBA's Longest Winning Streak

Maybe the Clippers are really this good? Or maybe the Spurs just aren't THAT good? San Antonio has now lost two of their last three home games, and twice already this year to the Clippers. But we're leaning to the Clippers being pretty good, because,

Share Tweet

Gallinari's 26 help Nuggets halt Grizzlies' streak

Danilo Gallinari scored 26 points and the Denver Nuggets ended the Memphis Grizzlies' win streak at eight games.

Share Tweet

What's Wrong With the Pacers?

grantland.com

Nov 20, 2012

Three weeks into the season and it's become clear the Indiana Pacers are in big trouble. An offense that ranked in the top third of the league last se...

Share Tweet

Knicks Roll Hornets, 102-80

Nov 20

Carmelo Anthony leads Knicks to big win over Hornets.

SportsCenter Conversation: Mike Woodson

Nov 20

Mike Woodson sits down with Bob Knight to talk about their time together in Indiana and the future of the Knicks.

THTV: Knicks Thanksgiving

Nov 20

Author Alan Hahn offers Knicks fans six things to be thankful for, and one other thing to settle down about.

D'Antoni To Make Lakers Coaching Debut

Nov 20

Beto Duran has the latest on Mike D'Antoni, who will make his Lakers head-coaching debut tonight versus the Nets.