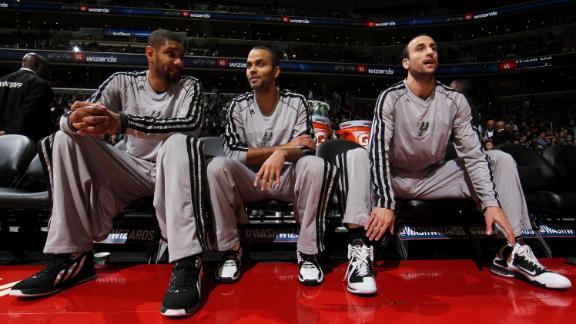 CNNSI.com
ESPN.com
yahoo.com
deadspin.com
Updated Nov 29, 2012
Gregg Popovich sent four starters home early and the NBA is mad. Why? It isn't against the rules and it was in the best interest of the Spurs and the league, says Michael Rosenberg.
Share
Tweet
Ray Allen's 3-pointer with 22.6 seconds left gave the Miami Heat the lead, and they held on to beat the short-handed San Antonio Spurs 105-100 on Thursday night to remain perfect at home this season.

Share Tweet

The Phoenix Suns have assigned first-round draft pick Kendall Marshall to the Bakersfield Jam of the NBA's Development League.

Share Tweet

Center Andrew Bogut insists he will no longer even attempt to guess when he will return to the court for the Golden State Warriors, saying he is out "indefinitely." That is how he will leave it until the day he is running layup drills to warm …

Share Tweet

Cavs sign rookie Jones, cut Harangody

nba.com

Nov 29, 2012

The Cavaliers have waived forward Luke Harangody and signed rookie forward Kevin Jones.

Share Tweet

nba.com ESPN.com dimemag.com yahoo.com

Nov 29, 2012

Boston Celtics point guard Rajon Rondo was suspended for the third time this calendar year on Thursday when the NBA told him to sit out two games without pay for starting a skirmish that sent players sprawling into the courtside seats.

Share Tweet

Did the Thunder want to deal James Harden? Of course not. But when Harden refused to sacrifice, OKC moved on. Even with a new Big Three, they remain contenders, says Ian Thomsen.

Share Tweet

David Courtney, the public address announcer for the Los Angeles Kings, Los Angeles Angels and Los Angeles Clippers, died Thursday, all three teams announced Thursday. No cause of death was released. He was 54.

Share Tweet

Here's A 1989 Episode Of Michael Jordan's Lost Television Show

deadspin.com

Nov 29, 2012

A reader named Scott alerted us to this video, which is apparently an episode of a local television show Michael Jordan had in 1989 called Michael Jordan's Airwaves. MJ sits down with Chicago sports anchor Jim Rose in front of a live studio audience to …

Share Tweet

The 10-man rotation, starring Michael Jordan's own late night talk show (VIDEO)

A look around the league and the web that covers it. It's also important to note that the rotation order and starting nods aren't always listed in order of importance. That's for you, dear reader, to figure out. C: YouTube. Via the indispensable Ananth …

Share Tweet

The Top 10 Impact NBA Players Most Missed By Injury

The return of Chauncey Billups on Wednesday night signaled a reason for optimism for the once-sagging Clippers. Even with a surplus of talent at point guard with minute-eater Chris Paul and Eric Bledsoe, Los Angeles needed to have Billups, its no-questi…

Share Tweet

The Oklahoma City Thunder have assigned rookie Jeremy Lamb to their NBA Development League affiliate in Tulsa.

Share Tweet

In Amar'e Stoudemire's defense, he has never gone on record as refusing to give up his spot as starting power forward on the New York Knicks. It was coach Mike Woodson that seemed intractable to that end, calling Amar'e his starter before the season in …

Share Tweet

The Nuggets' Split-Personality Backcourt

nytimes.com

Nov 29, 2012

At times, Andre Miller and Ty Lawson are fantastic as a pairing, but it is difficult to see how they complement each other in the Nuggets' offense.

Share Tweet

In light of the Los Angeles Lakers sending Robert Sacre to their D-League affiliate, the L.A. D-Fenders, we thought it would be an appropriate time to show our readers this tremendous Sacre tribute video we came across the other day: The good news is th…

Share Tweet

Create-a-Caption: 'Yo, Truth … you OK?'

Like, it's no big deal. Kevin Garnett's just a little worried, that's all. I know, I know, your per-minute scoring and rebounding numbers are the highest they've been in a half-dozen years, you're still draining 3-pointers ... you're still the man. We k…

Share Tweet

Veteran point guard Derek Fisher is returning to the NBA after signing a deal with the Dallas Mavericks on Thursday.

Share Tweet

nba.com nytimes.com ESPN.com

Nov 29, 2012

Brook Lopez is headed back to the sideline with more foot pain, though the Brooklyn Nets are sure his latest problem is nothing like the one that wrecked his 2011-12 season.

Share Tweet

CNNSI.com

Nov 29, 2012

Toronto expresses interest in Pietrus; deal close?

Share Tweet

yahoo.com dimemag.com

Nov 29, 2012

If there's one thing that I think we can all agree on, it's that life has been a little too smooth for Andrew Bynum lately. From the totally uneventful start to his first training camp with the Philadelphia 76ers and news that he definitely wouldn't nee…

Share Tweet

One week ago we shared a picture of members of the six-time champion (and two-time defending best record in the NBA-holding) Chicago Bulls posing with Sir Paul McCartney, a Member of the Most Excellent Order of the British Empire and possibly the most w…

Share Tweet

Jordan Melo M9 "Christmas"

Do you have your Christmas list all set? If not, you probably want to put these on there: the Jordan Melo M9 "Christmas" edition. Even though he's spent the first few weeks of the season in the Jordan Melo M8 Advance, Carmelo Anthony's newest sign

Share Tweet

deadspin.com yahoo.com

Nov 29, 2012

Paul Pierce is looking old these days. On Sunday, Jameer Nelson victimized him with a nasty crossover, leaving Pierce flat on his back. Last night, Pierce ended up looking helpless and silly yet again after being brought to his hands and knees by a Joe …

Share Tweet

The 10 Best NBA Team Rivalries Of All Time

The word "rival" is lost in the NBA today. Too often we see camaraderie between players on opposing teams. With the growing presence of AAU basketball, the players have gotten closer and closer. AAU isn't the only thing that brings the players toget

Share Tweet

Wizards give 'not losing' a try, find it to their liking, beat Blazers to reach 1-12

Shortly after tip-off in Wednesday night's game between the Washington Wizards and Portland Trail Blazers at the Verizon Center in Washington, D.C., the CSN Washington broadcast duo of Steve Buckhantz and Phil Chenier offered a lone "key to the gam…

Share Tweet

NASCAR Driver Brad Keselowski Is Tragically Bad At Basketball

deadspin.com

Nov 29, 2012

We are unabashed fans of Brad Keselowski, because he gave this awesome, boozy victory speech on SportsCenter after winning the Sprint Cup. Keselowski is a good driver and a great interview, but as you can see in the video above, he is a horrendous baske…

Share Tweet

On Thursday morning, longtime Associated Press scribe Brian Mahoney tweeted a salient point about recent news concerning Laker coach Mike D'Antoni's regrets about taking on a job with the New York Knicks in 2008. Here's Mahoney's take: Brian's not wrong…

Share Tweet

Grizzlies roll again, dish Raptors 6th straight loss

Share Tweet

Durant ties season-high with 37 as Thunder win easy

CNNSI.com

Nov 29, 2012

Durant ties season-high with 37 as Thunder win easy

Share Tweet

Chris Paul had 23 points and 11 assists, and the Los Angeles Clippers welcomed Chauncey Billups back to the lineup for the first time this season with a 101-95 victory over the Minnesota Timberwolves on Wednesday night.

Share Tweet

Nets, Celtics Get Into A Brawl In Boston; James Harden Has An Awful Reunion In OKC

With so much softness leaking into the modern game, we're always anxious to annoint the next great rivalry. Where is the next Bulls-Knicks going to come from? Or the next Sacramento-Los Angeles? Everyone loves when players get a little nasty, and last n

Share Tweet

NBA Shootaround: Boy, That Escalated Quickly

grantland.com

Nov 29, 2012

So much amazing is happening, and the Shootaround crew is here to help you keep track of it all. You'll find takes on moments you might've missed from...

Share Tweet

Heat Top Short-Handed Spurs

Nov 29

Heat beat Spurs to remain perfect at home.

Spurs Face 'Substantial Sanctions'

Nov 29

Stephen A. Smith weighs in on commissioner David Stern's comments about disciplining the Spurs and Gregg Popovich's decision to sit his stars.

Spurs Resting Starters

Nov 29

Stephen A. Smith weighs in on Gregg Popovich sitting his starters and the league's decision not to discipline the Spurs.

Rajon Rondo Addresses Role In Fight

Nov 29

Rajon Rondo talks about his role in the Celtics-Nets fight.