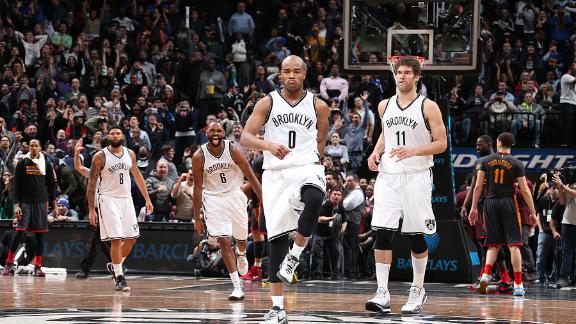 Enough has gone right for the Golden State Warriors this season that fans can be forgiven for expecting them to pull out an unlikely comeback victory. Down 108-99 to the Brooklyn Nets at Barclays Center with 3:29 left in regulation, the Warriors went on…
Upvote
Share
Tweet
Brooklyn Nets forward Mirza Teletovic, out for the rest of the season after he was diagnosed with multiple blood clots in his lungs, said Monday he expects to be able to resume playing in July once he is finished with blood-thinning medication.

Upvote Share Tweet

Celtics' Thomas, Trail Blazers' Lillard named Players of the Week

nba.com

16 hours ago

The Boston Celtics' Isaiah Thomas and the Portland Trail Blazers' Damian Lillard today were named NBA Eastern and Western Conference Players of the Week, respectively, for games played Monday, Feb. 23, through Sunday, March 1.

Upvote Share Tweet

Remember all the way back in the great month of February, when JaVale McGee swore up and down that he wanted to be part of the Philadelphia 76ers' rebuilding plan? That he wanted to mentor the team's young big men, and that he wasn't the type to go chas…

Upvote Share Tweet

deadspin.com nydailynews.com nba.com ESPN.com

20 hours ago

We'll mostly remember Anthony Mason for toughness, the way that we remember the Riley-era Knicks teams on which he made his reputation. Which, fine. He got in fights, on- and off-court; he deployed his elbows and extra-large ass with abandon and occasio…

Upvote Share Tweet

Warriors erase 26-point deficit, beat Celtics

ESPN.com

Mar 1 (yesterday)

Stephen Curry scored 37 points, making four straight free throws to clinch it in the final seconds and the Golden State Warriors erased a 26-point deficit to beat the Boston Celtics 106-101 on Sunday night.

Upvote Share Tweet

Anthony Mason: Despite surly demeanor at times, former Knick always made impact felt

nydailynews.com

Mar 1 (2 days ago)

The Knicks could use Anthony Mason right about now.

Upvote Share Tweet

nydailynews.com

Mar 1 (2 days ago)

In two weeks we celebrate the anniversary of Phil Jackson getting paid an awful lot of money by James Dolan to come out of retirement.

Upvote Share Tweet

Nets into 8th with win over Rondo, Mavs

ESPN.com

Feb 28 (2 days ago)

Deron Williams scored 25 points, Thaddeus Young had 16 points and eight rebounds off the bench and the Brooklyn Nets topped the Dallas Mavericks 104-94 on Saturday night.

Upvote Share Tweet

ESPN.com nba.com deadspin.com

Feb 28 (2 days ago)

Banged-up Raptors point guard Kyle Lowry sat out Saturday's game against the Knicks to rest, his first missed game of this season. Coach Dwane Casey said he could look to rest Lowry for a few days down the stretch.

Upvote Share Tweet

nba.com

Feb 28 (3 days ago)

Golden State Warriors center Festus Ezeli has been suspended one game without pay for initiating an altercation with Toronto Raptors forward-center Tyler Hansbrough by grabbing his throat, it was announced today by Rod Thorn, President, Basketball Opera…

Upvote Share Tweet

Clyde Frazier doing best work on Knicks broadcasts, but few around to hear it

nydailynews.com

Feb 28 (3 days ago)

The process of hiding Walt (Clyde) Frazier is about as impossible as slipping a paper bag over the Empire State Building.

Upvote Share Tweet

yahoo.com

Feb 27 (3 days ago)

The New York Knicks have given their fans little to cheer about this season. At their worst, the squad with the NBA's worst record have inspired questions about exactly where they're going, whether Derek Fisher is the right man to lead them, and the ext…

Upvote Share Tweet

yahoo.com

Feb 27 (3 days ago)

The Washington Wizards have moved from genuine contention to serious disappointment over the course of just a few weeks. Unfortunately for them, there do not appear to be easy answers to their problems. The Wizards faced the Philadelphia 76ers at Wells …

Upvote Share Tweet

Raptors Run Past 76ers

Mar 2

The Raptors topped the 76ers 114-103 to snap their five-game losing streak.

Nets Hold Off Warriors

Mar 2

Brook Lopez and Deron Williams combined to score 48 points in the Nets' 110-108 win over the Warriors.

Pacers Cruise Past 76ers

Mar 1

Roy Hibbert had 14 points and 15 rebounds in the Pacers' 94-74 victory over the 76ers.

Warriors Erase 26-Point Deficit To Top Celtics

Mar 1

Stephen Curry scored 37 points as the Warriors rallied for a 106-101 win over the Celtics.