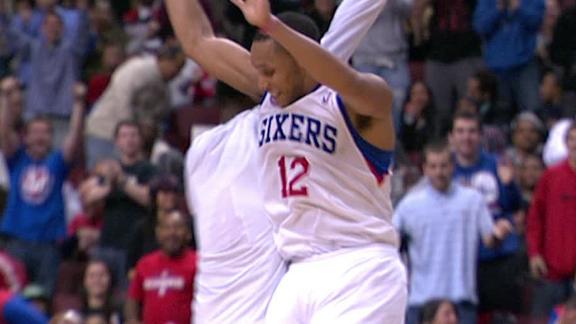 nydailynews.com

Dec 7, 2012

Maybe one of these days James Dolan will get around to explaining his reasons for waving goodbye to Jeremy Lin and signing off on acquiring Raymond Felton.

Share Tweet

David Lee had 30 points and 15 rebounds, Stephen Curry scored 28 points, and the Golden State Warriors gave coach Mark Jackson a winning return to Brooklyn by beating the Nets 109-102 on Friday night.

Share Tweet

Happy Birthday Larry Bird! The Legend's Top 5 NBA Highlights

dimemag.com

Dec 7, 2012

On this date 56 years ago, a basketball legend was born. Indeed, if you were to craft the perfect all-around basketball player, you would probably start with Mr. Larry Joe Bird. In 13 seasons with the Boston Celtics, Bird blessed fans with his passion, …

Share Tweet

Anthony's Pick-and-Roll Scoring Is Effective but Infrequent

nytimes.com

Dec 7, 2012

Carmelo Anthony of the Knicks is having a career year as a shooter, even without exploiting his elite ability as a pick-and-roll scorer.

Share Tweet

Rasheed Wallace, Captured In One 56-Second Sequence

deadspin.com

Dec 7, 2012

Perhaps lost in the action of last night's Knicks-Heat game was the sequence you see above. Nothing all that exciting happens in these 56 seconds, but they do offer a glimpse at just how wonderfully out of shape and unable to give a fuck Rasheed Wallace…

Share Tweet

The 10-man rotation, starring Andrea Bargnani's iffy future in Toronto

yahoo.com

Dec 7, 2012

A look around the league and the web that covers it. It's also important to note that the rotation order and starting nods aren't always listed in order of importance. That's for you, dear reader, to figure out. C: SportsNet. Holly MacKenzie tells us th…

Share Tweet

Melo questionable for Saturday against Chicago

Carmelo Anthony's status for the New York Knicks' game against the Chicago Bulls on Saturday is uncertain due to a laceration on the middle finger of his left hand.

Share Tweet

Section 15: A Midwesterner Visits Brooklyn

nytimes.com

Dec 7, 2012

The Off the Dribble team was interested in learning about Nets fans now that the team is in Brooklyn. David Ison, a Kansas City transplant living in Yonkers, took his future stepson to Section 15.

Share Tweet

deadspin.com yahoo.com nydailynews.com CNNSI.com

Dec 7, 2012

There were two things that were remarkable about last night's New York-Miami game, a 112-92 victory for the antique Knicks. The first, predictably, was LeBron James, who put up 18 points, five rebounds, and seven assists in the first two quarters-a perf

Share Tweet

In his first comments since tearing the plantar fascia in his left foot in a game against the Philadelphia 76ers on Saturday, Chicago Bulls guard Richard Hamilton said Friday he was originally told he would be out about four weeks.

Share Tweet

TNT's Marv Albert gave us a shoutout while talking about Rasheed Wallace's technicals (VIDEO)

yahoo.com

Dec 7, 2012

We loved it when Rasheed Wallace dusted off his time-honored catchphrase against the New Orleans Hornets a couple of weeks back. We thought it a little absurd - but perhaps appropriately so; it's Sheed, after all - when the New York Knicks big man was

Share Tweet

Raymond Felton And Steve Novak Deep-Six The Heat; Latest Pau Gasol Trade Rumors Pair Him With Kevin Love

dimemag.com

Dec 7, 2012

Holy three-point shooting, Knicks. Of all the places to go on a heat check that lasted a whole half, the Heat's own court was the backdrop of New York's statement win Thursday night by handing LeBron, Wade and Bosh their worst home loss together, 112-

Share Tweet

We Went There: Knicks-Heat in Miami

grantland.com

Dec 7, 2012

For most of the year, Miami is for Lamborghini-driving Argentines and frat bros with barbed-wire tats at Wet Willie's. But for a brief, fragile window...

Share Tweet

Warriors Hand Nets Their Third Straight Loss

Dec 7

David Lee and Stephen Curry combine for 58 points in Warriors' 109-102 win over Nets.

76ers Top Celtics In OT

Dec 7

Evan Turner leads 76ers to win over Celtics in OT.

Fluke Performance?

Dec 7

Stephen A. Smith and Skip Bayless debate whether the Knicks' win over the Heat was a fluke.

Jazz Roll By Raptors

Dec 7

Eight Jazz reach double-digit points in 131-99 win over Raptors.