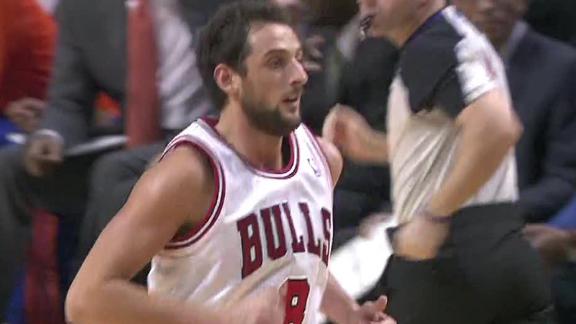 Garnett, Green lead way as Celtics rout Sixers

ESPN.com

Dec 8, 2012

Kevin Garnett scored 19 points, Jeff Green added 16, and the Boston Celtics won the back end of a home-and-home with Philadelphia, beating the 76ers 92-79 on Saturday night.

Share Tweet

Anthony Will Sit for a Second Straight Game

nytimes.com

Dec 8, 2012

A deep cut on Carmelo Anthony's left middle finger will keep him out of the Knicks' game Saturday against the Bulls. He hopes to return Sunday night against Denver.

Share Tweet

ESPN.com

Dec 8, 2012

The New York Knicks won't have Carmelo Anthony in the lineup on Saturday.

Share Tweet

How Keyon Dooling Ended Up In A Mental Hospital

deadspin.com

Dec 8, 2012

In November, David Aldridge wrote about the nervous breakdown Keyon Dooling suffered after he abruptly retired from the NBA just before the season. At 32, Dooling could have played another a few years and made a lot more money on a good Celtics team tha…

Share Tweet

nydailynews.com

Dec 8, 2012

It's not listed as an official date on the schedule, but the Knicks will be holding their version of Old-Home Week when Mike D'Antoni comes back to the Garden this Thursday and Jeremy Lin returns with the Rockets four days later. At the end of their r

Share Tweet

Celtics Take Long View on Draft Picks

nytimes.com

Dec 8, 2012

When the Boston Celtics ended up with back-to-back picks in the first round of the 2012 N.B.A. draft, they had a rare opportunity to draft a player who was ready to contribute right away and one who was more of a project.

Share Tweet

Celtics, 76ers Split Home-And-Home

Dec 8

Celtics hold 76ers to 28 points in the first half and cruise to the 92-79 win.

Bulls Stop Knicks without Carmelo

Dec 8

Knicks' five-game win streak comes to an end with 93-85 loss to the Bulls.