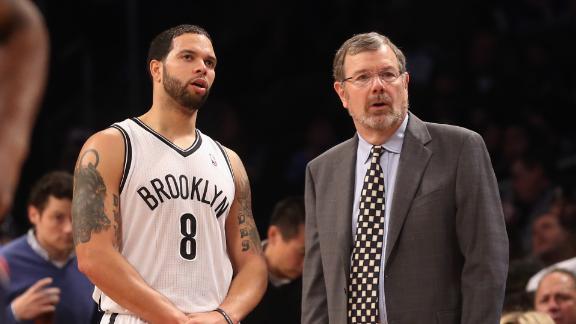 The Brooklyn Nets gave P.J. Carlesimo a victory in his debut and the Bobcats a 17th straight loss, getting 26 points from Brook Lopez in a 97-81 rout Friday.
Share
Tweet
Brook Lopez Rejects a Kemba Walker Layup

Brook Lopez denies Kemba Walker's layup in tonight's matchup between the Brooklyn Nets and Charlotte Bobcats.

Share Tweet

The Brooklyn Nets hold Jeff Van Gundy in high regard and consider him a serious candidate behind top target Phil Jackson to fill their head coaching vacancy, if he's interested, a league source told ESPNNewYork.com.

Share Tweet

Sources: Amar'e to come off bench for Knicks

As long as injuries don't necessitate otherwise, New York Knicks forward Amar'e Stoudemire will come off the bench when he returns to the team, league sources with knowledge of the Knicks' thinking said.

Share Tweet

Mike Dunleavy says that coaching his hometown's Brooklyn Nets would be 'a dream come true'

Outside of perhaps Chris Mullin, possibly Mark Jackson, or our own Dan Devine, Brooklyn's own Mike Dunleavy possesses one of the stronger borough-rich accents in the NBA. It was a constant reminder during the media back and forths we listened to during

Share Tweet

EAST RUTHERFORD, N.J. (AP) -- Mikhail Prokhorov said Friday he decided to fire Avery Johnson last week, but now wants patience with interim coach P.J. Carlesimo.

Share Tweet

Report: Kelvin Sampson's In The Mix For Brooklyn's Top Job

Houston assistant coach Kelvin Sampson was so impressive holding the Rockets together during head coach Kevin McHale's absence that apparently he's joined a list of established NBA coaches in the Nets' search for a coach. This, according to a report

Share Tweet

New York Knicks star Carmelo Anthony will miss his second straight game Friday night against the Sacramento Kings with a hyperextended left knee.

Share Tweet

DeMarcus Cousins, reinstated after suspension, on playing vs. Knicks: 'I don't expect anything'

Stop me - oh, oh, oh, stop me - if you've heard this one before, but all is not splendid and calm in the world of DeMarcus Cousins. The Sacramento Kings center - whose most notable accomplishments this season have been arguing with a color commentat

Share Tweet

Williams Dismisses View That He Caused Coach's Firing

nytimes.com

Dec 28, 2012

Point guard Deron Williams said Friday that he did not quit on Avery Johnson, but he did accept some responsibility for the Nets' poor play recently.

Share Tweet

The Not-So-Secret Problem with the Celtics

Before the season started, the Boston Celtics were the biggest threat in the East to a LeBron James, Dwyane Wade and Chris Bosh oligarchy set to control the NBA for the next few seasons. In the off-season, Kevin Garnett re-signed, Paul Pierce was still …

Share Tweet

Barkley, Shaq have harsh words for D-Will

TNT analysts Charles Barkley and Shaquille O'Neal rip Brooklyn Nets point guard Deron Williams.

Share Tweet

Avery Johnson Wasn't The Problem In Brooklyn

Avery Johnson was fired as head coach of the Brooklyn Nets yesterday, less than one month after winning the NBA's Coach of the Month award. Ownership, after spending $330 million in the offseason on roster upgrades, wasn't happy with the team's prog

Share Tweet

Doc Rivers pays Clippers championship-level compliment after 29-point blowout of Celtics

If you were watching Thursday night's NBA action on TNT, the late-running opener between the Oklahoma City Thunder and Dallas Mavericks - pushed to overtime thanks to this absurd, one-of-a-kind buzzer-beating 3-pointer by Darren Collison - meant that

Share Tweet

The Clippers Crush Defenseless Boston; Kevin Durant Tears Out Dallas' Heart

The Clippers have caught the momentum of an avalanche in this 15-game winning streak, and they're apparently stopping for nobody, no matter their reputation. The Celtics are only six months removed from losing in heartbreaking fashion to Miami in the Ea

Share Tweet

LOS ANGELES -- The 2007-08 Houston Rockets have become something of a cautionary tale in the NBA, a middling team that stood at 24-20 on Jan. 27, before they jumped into a kerosene bath. The searing Rockets embarked on a 22-game winning streak, an unfor…

Share Tweet

Knicks Injury Update

Dec 28

Frank Isola of the New York Daily News with an update on the Knicks' injuries.

Warriors Cruise Past 76ers

Dec 28

David Lee's double-double leads Warriors to their 10th win in 13 games.

Kings Hold Off Knicks In Wild Fashion

Dec 28

After surrendering 27-point lead, James Johnson's 3-pointer at the buzzer lifts Kings to 106-105 win over Knicks.

Nets Win P.J. Carlesimo's Debut

Dec 28

Nets capture just fourth win in past 14 games, handing Bobcats 17th straight loss.