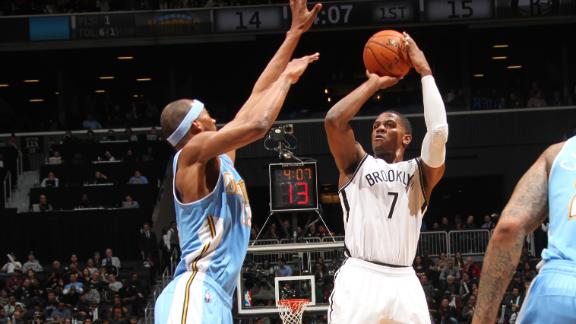 Nets sink season-high 16 3s, knock off Nuggets
ESPN.com
Updated Feb 13, 2013
Joe Johnson scored 26 points, including five 3-pointers, C.J Watson added 25 points and five 3s, and the Brooklyn Nets avoided another second-half meltdown with a 119-108 victory over the Denver Nuggets on Wednesday night.
Share
Tweet
Kevin Garnett scored eight of his 12 points in the fourth quarter and added 11 rebounds, and the Boston Celtics overcame poor shooting to beat the Chicago Bulls 71-69 Wednesday night.

Share Tweet

Alan Anderson scored 26 points in one of the few good offensive performances for either team, and the Toronto Raptors beat the New York Knicks 92-88 on Wednesday night for their fourth straight victory.

Share Tweet

Who's Better: Stephen Curry Or Jrue Holiday?

dimemag.com

Feb 13, 2013

While others are busy arguing over who the best young point guard in the league is, we spend our time watching everyone because they all have something extra to offer. And while Stephen Curry and Jrue Holiday aren't household names the way D Rose and CP

Share Tweet

Celtics' Rondo undergoes surgery to repair ACL

Boston Celtics point guard Rajon Rondo underwent surgery to repair a tear in his right ACL on Tuesday, according to Celtics president of basketball operations Danny Ainge.

Share Tweet

Anthony Randolph's missed dunk face is the best missed dunk face

yahoo.com

Feb 13, 2013

Early in the second quarter of the Denver Nuggets' 109-108 loss to the Toronto Raptors on Tuesday night - a game decided in the closing seconds by Rudy Gay's second game-winning basket in the last three games for the Canucks - Nuggets forward/longtime

Share Tweet

yahoo.com dimemag.com

Feb 13, 2013

Last Friday night, things broke a little differently. Rudy Gay was red-hot down the stretch, scoring 17 points in the fourth quarter and overtime to erase what had been an 11-point Indiana Pacers lead; it seemed only fitting that he'd raise up and drain…

Share Tweet

Section 15: A Soccer Fan Transformed

nytimes.com

Feb 13, 2013

The Knicks convinced Tim Glover to become a basketball fan, but the atmosphere at Barclays Center has lured him and his son to Nets games this season.

Share Tweet

DeMar DeRozan Dunks on Timofey Mozgov's Face

dimemag.com

Feb 13, 2013

Timofey Mozgov, the man whose very name is synonymous with getting obliterated with highlight reel dunks, caught a real beauty last night from the Raptors' DeMar DeRozan. As we said in Smack, "from now on, whenever Mozgov gets dunked on like this, sin

Share Tweet

What We Do (But Mostly Don't) Know About the Boston Celtics

grantland.com

Feb 13, 2013

The Celtics have one game left before the All-Star break, and you gotta imagine it can't come soon enough. After playing the Bulls tonight, Kevin Garn...

Share Tweet

Raptors Shut Down Knicks, Carmelo

Feb 13

Raptors hold Carmelo Anthony to 5-of-24 shooting and pick up their fourth straight win.

Joe Johnson Guides Short-Handed Nets Past Nuggets

Feb 13

Playing without Deron Williams, Joe Johnson scores 26 points and the Nets drain 16 3-pointers en route to 119-108 win over Nuggets.

Celtics Win Low-Scoring Affair

Feb 13

Kevin Garnett scores eight of his 12 points in the fourth quarter of Celtics' 71-69 win over Bulls.

The Nuggets: Contenders?

Feb 13

Now that the hard part of Denver's schedule is over, are they another solid West team, or among the elite?