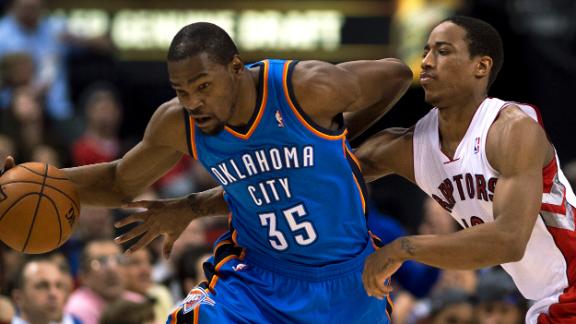 Updated Jan 6
Share
Tweet
Russell Westbrook scored 23 points, Kevin Durant had 22 and the Oklahoma City Thunder beat the Toronto Raptors 104-92 on Sunday.
Source:
ESPN.com
Russell Westbrook Maintains Control After Contact and Finishes the Tough Bucket

Updated Jan 6

Share Tweet

After a superb sequence of ball movement by the Oklahoma City Thunder, Russell Westbrook shows off his speedy drive to the hoop as he banks in a shot off the glass after contact in today's matchup against the Toronto Raptors.

Amir Johnson Throws Down Monster Dunk

Updated Jan 6

Share Tweet

Jose Calderon feeds Amir Johnson who rolls out of the pick and roll and throws down a monster slam in today's matchup between the Toronto Raptors and Oklahoma City Thunder.

Paul Pierce Leads Boston Back From The Dead; Carmelo Anthony Erupts In Disney World

Updated Jan 6

Share Tweet

Boston had every right to lose this game. They didn't get into Atlanta until 4 a.m., and they fell behind big in the first half. By the second quarter, the Hawks' announcers were asking, "Lets blow 'em outta the building. Whadda ya say?" Lou Wil

Thunder Top Raptors With Strong Second Half

Jan 6

Kevin Durant and Russell Westbrook combined for 45 points in the Thunder's 104-92 win.